Source
My new trade
Hawala.Today (HAT)
Based in Dallas, USA
Exchange
The Hawala.Today Exchange is a P2P crypto-fiat currency exchange platform that allows for near instant and secure exchanges without any geo restrictions.
The aim of hawala is to create a net work of traders who interact amongst each other, trade in crypto and fiat currencies and share the profit/rewards between them
Wallet
The Hawala wallet is ERC-20 compliant and offers a wide range of options. It includes management of token wallets, local bank account/credit cards and staking. Staked HAT tokens drive the Incentive for Stake (IFS) model which rewards proportionately to the amount staked.


The graph depicts the increase of token supply over a period of 10 years, until the 7 million cap is reached. Source
Their current competitors are Coinbase and Localbitcoins.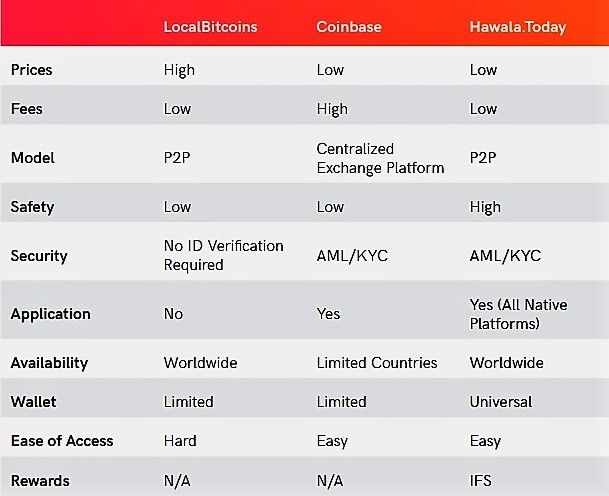 Source
Roadmap
Q1 2018
Alpha mobile wallet release on iOS and Androis
Q2 2018
Identity & security platform integration
KYC Implementation
Alpha / Beta testing of Hawala Exchange
BTC / ETH Wallet Integration
Q3 2018
Hawala Exchange goes live
ERC-20 token implementation
Testing for AMS platform
Fiat Integration
Q4 2018
---
For information:
Office Website: https://hawala.today
White paper: https://www.hawala.today/HAT_Whitepaper.pdf
Bitcointalk: https://bitcointalk.org/index.php?topic=2285591.0
Telegram: https://t.me/hawala_chat
Twitter: https://twitter.com/HawalaToday
Facebook: https://www.facebook.com/hawalatoday
---
Disclaimer:
I'm an investor who are showing what I self investing in. Do your own research before making any investment decisions