Welcome to my Cryptocurrencies Market Overview for Monday, April 23, 2018.
Today in the news:
The total crypocurrency market capitalization is back above $400 billion.
Bitcoin Cash has risen more than 80% over the last 7 days.
The Central Bank of Iran has banned the country's banks from offering services to cryptocurrency firms.
TRON has announced an airdrop for ETH holders.
A former JPMorgan Banker has said he expects the cryptocurrency market to become 'much bigger'.
And more crypto news below...
24 Hour Change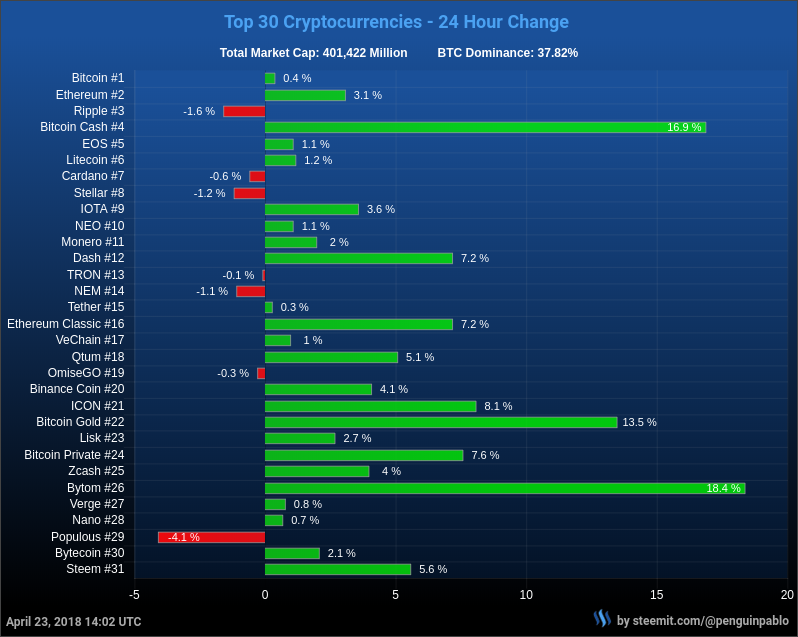 Realtime chart on my website CoinMarkets.today
7 Day Change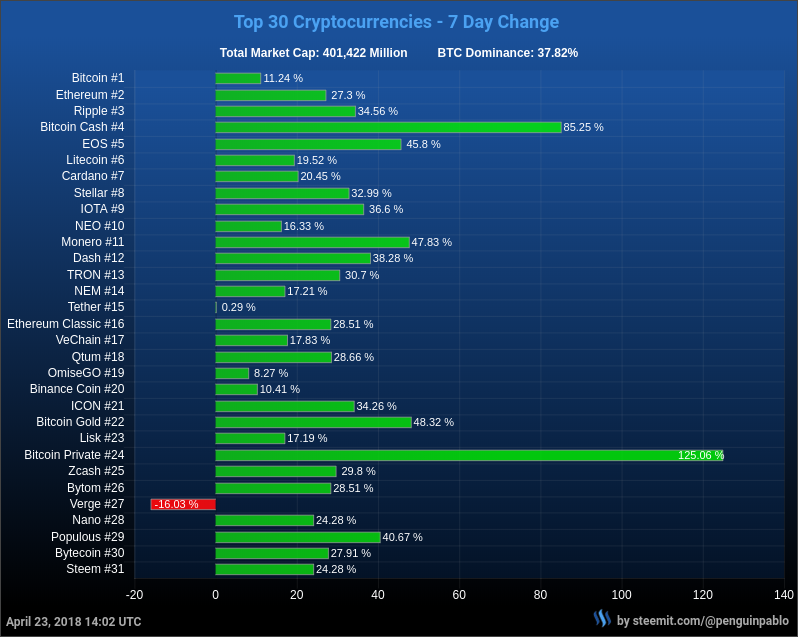 Month-to-Date Change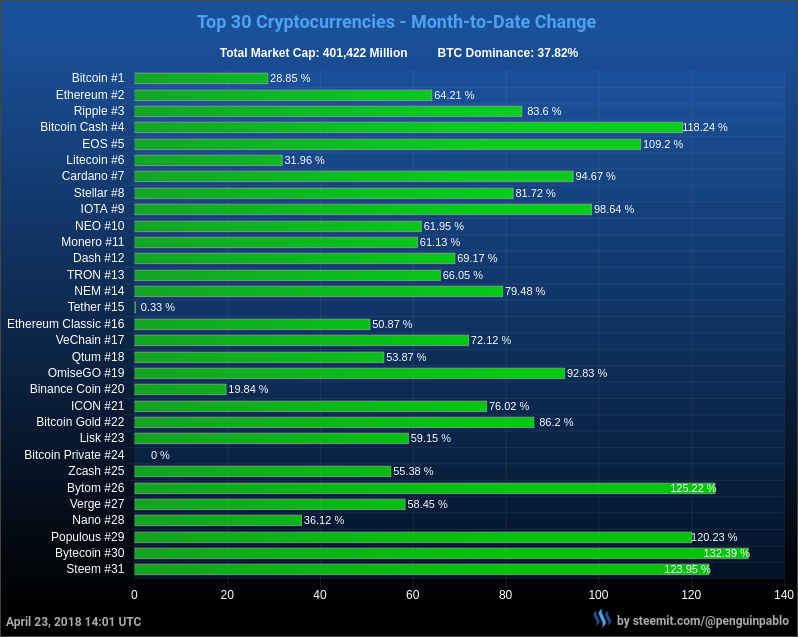 24 Hour Volume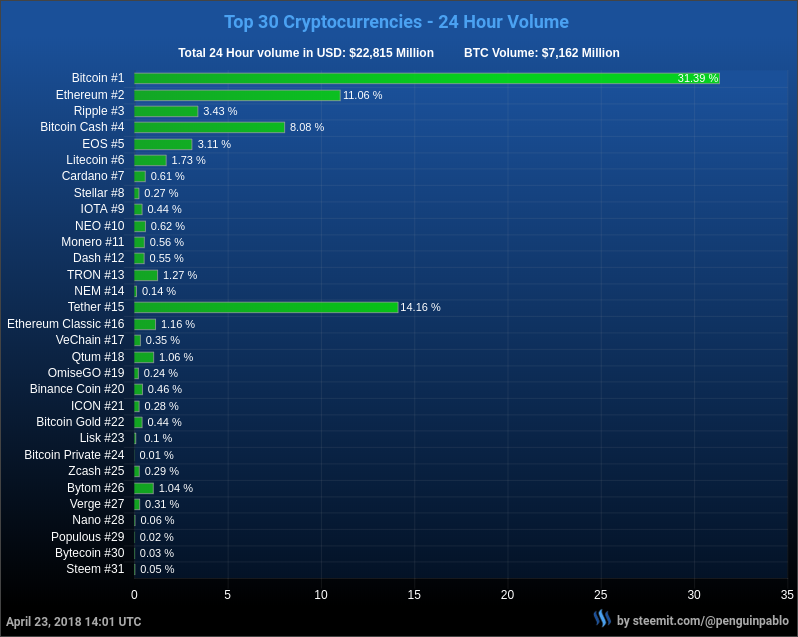 Market Capitalization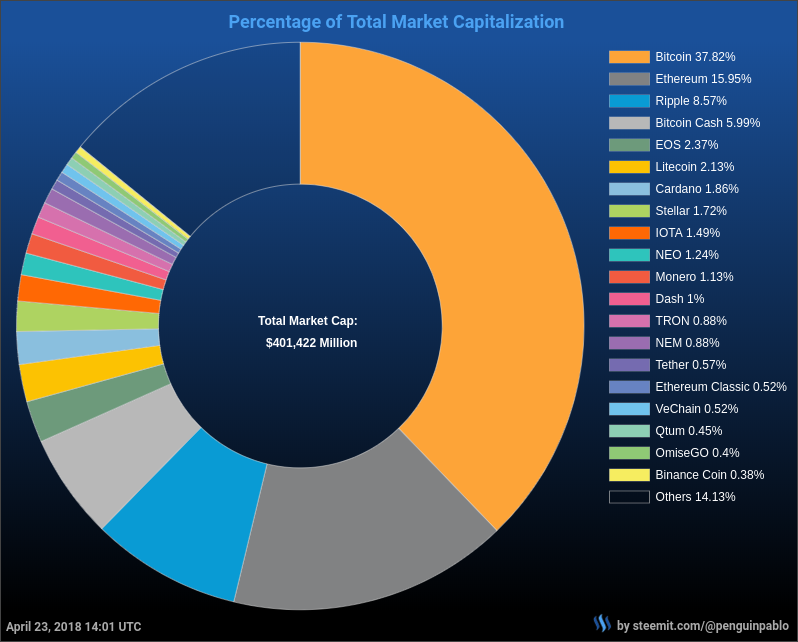 Bitcoin daily chart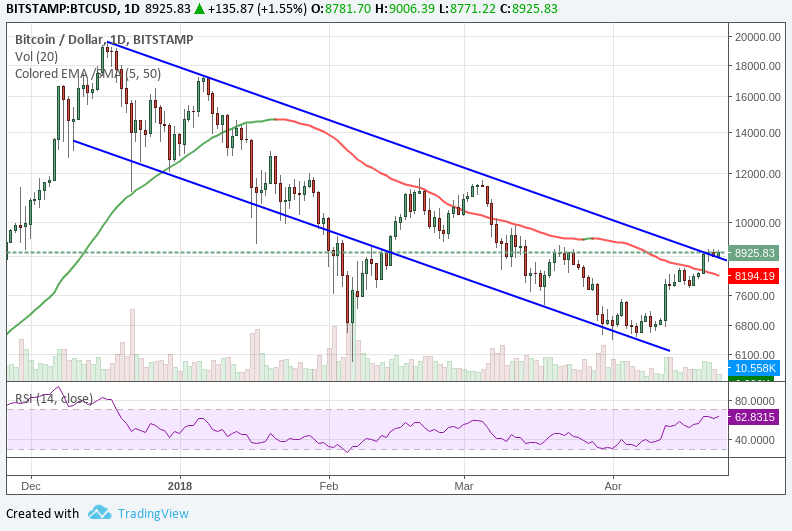 Feel free to use and share my charts, but please mention me as the author.

Latest Crypto News - April 23, 2018
The resurgence of digital currencies continues. The total value of all cryptocurrencies topped $400 billion for the first time since March 8, once again driven by the smaller coins, most notably Bitcoin Cash, which is up more than 80% in the last seven days.
Read more: www.marketwatch.com
More sources about Bitcoin's price:

Bitcoin Cash (BCH) is back with a vengeance - after suffering bad publicity throughout the bear market in February and March. But BCH showed it was capable of fast appreciation, as it added more than 22% to its daily price at one point, appreciating to above $1,402.07.
Read more: cryptovest.com
More sources about Bitcoin Cash:

Citing money laundering concerns, the Central Bank of Iran (CBI) has banned the country's banks from offering services to crypto firms or dealing in cryptocurrencies.
Read more: www.ccn.com
More sources:

Daniel Masters, who previously led JPMorgan's global energy trading desk, says cryptocurrencies are fueling a financial revolution.
Read more: www.ccn.com

The National Bank of Dubai (NBD), one of the largest banking groups in the Middle East by assets volume, has reportedly become the first bank in the region to successfully implement Blockchain technology in a check-issuance system to prevent fraud, local news outlet Arabian Business reported Saturday, April 21.
Read more: cointelegraph.com

Online travel booking agency CheapAir.com said Friday that it will switch bitcoin payment processors following a service change by Coinbase. CheapAir.com - which began accepting bitcoin back in 2013 in a first for the global travel industry - explained the move in a blog post, revealing it is eyeing a move to accept bitcoin payments through Bitpay.
Read more: www.coindesk.com

Cointelegraph had a chance to talk to Eric Ly, Chinese-American investor and businessman and co-founder of LinkedIn, where for years he also served as founding CTO.
Read more: cointelegraph.com

The city government of Shenzhen, China, is backing a dedicated blockchain investment fund, soon after Hangzhou city supported a similar effort. Announced at a blockchain event in the city on Sunday, hosted by the China Electronic Commerce Association, the fund aims to invest 500 million yuan ($80 million) in blockchain startups in Shenzhen during its first phase.
Read more: www.coindesk.com

The TRON project reaches out to the Ethereum community with an upcoming airdrop for all ETH holders. The airdrop of TRX tokens is aimed to introduce the project and its advantages.
Read more: cryptovest.com

The ban on ICOs in China is sending blockchain startups that are looking to raise funds into the arms of rival Asian regions. In particular, blockchain startups are increasingly flocking to Hong Kong, where there's more freedom than Mainland China, and Singapore to launch their token sales, according to market participants cited in a report in South China Morning Post.
Read more: www.ccn.com
More sources:

Cryptocurrencies are gaining popularity in the Baltic states where no comprehensive regulations have been introduced yet. Businesses from multiple sectors, including real estate, online trade, the hospitality industry, and even healthcare, are taking advantage of crypto payments. Some companies from the region are already offering their services globally.
Read more: news.bitcoin.com

Visit my websites:
SteemBlockExplorer.com - SteemNow.com - CoinMarkets.today
¯\___(ツ)____/¯ Follow me @penguinpablo