Edgeless 0.1 review  This is my review and opinion on the first attempt of Casino on the platform Edgeless. 
I have registered for trial version and was selected as one of  800 people to test the platform with real EDG. After registering and waiting   next day I was credited with 2 EDG to play. Edgeless is  claiming that their games have no house advantage. From the beginning this claim was impossible to verify. First of all there are no rules of play for their Blackjack game (the only one available so far).  Below you can see what I have experienced during my 30 minutes of playing so far. The only rules that you know right away are on the main interface and those are  Dealer must draw to 16 and stand on all 17's and   Blackjack pays 3 to 2. 
There is a minimum bet of 0.02 and a maximum of 0.2.  
The rules of the game you basically discover  as you play at this point.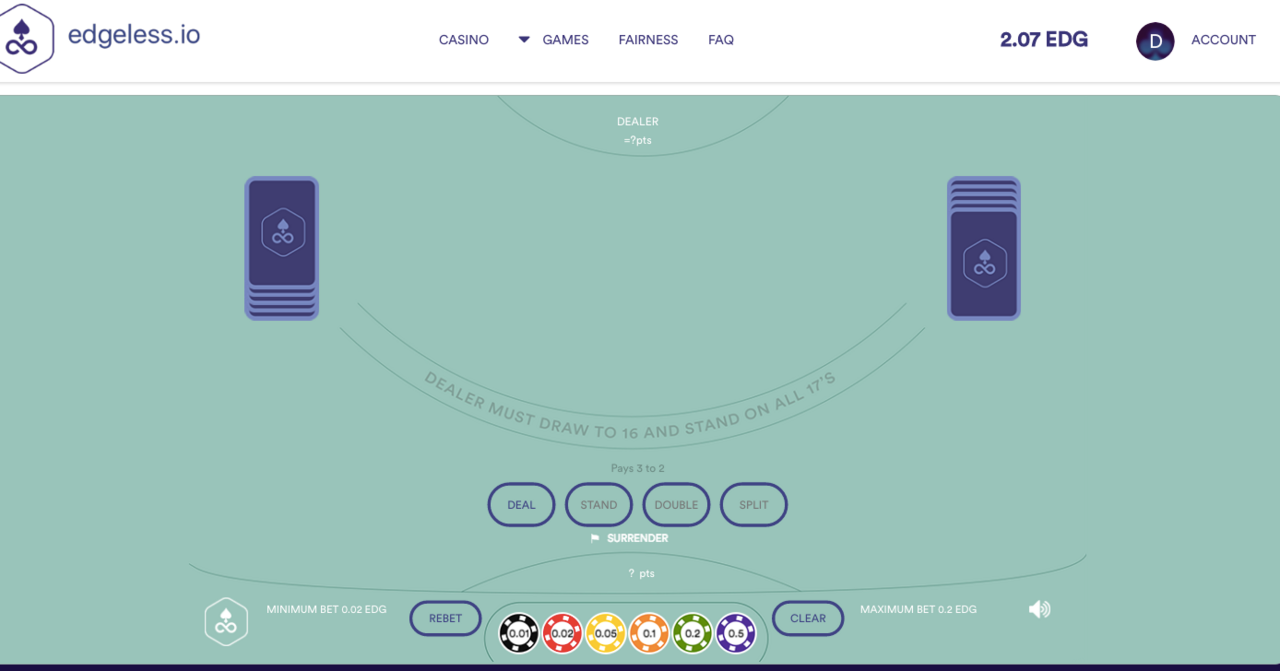 There is no real history of the games played as it only has a history of the last 20 games you played and you can only track the bets. If you are not sure what has happened during the game there is no way you can see the cards in play for a particular hand. For example I had at one point over 3 EDG and played a little more and closed the application thinking (that is what I have recalled) I had somewhere around 2.7 EDG. When I opened it next time I was surprised to see I had only 2.08. This scenario of losing money without playing is most probably unlikely. More likely I did not pay attention. But if I want to check the full history of my play to check  if any of the money disappear   you simply cannot do it .  Only last 20 games is shown... Below you can see how history of the games shows up.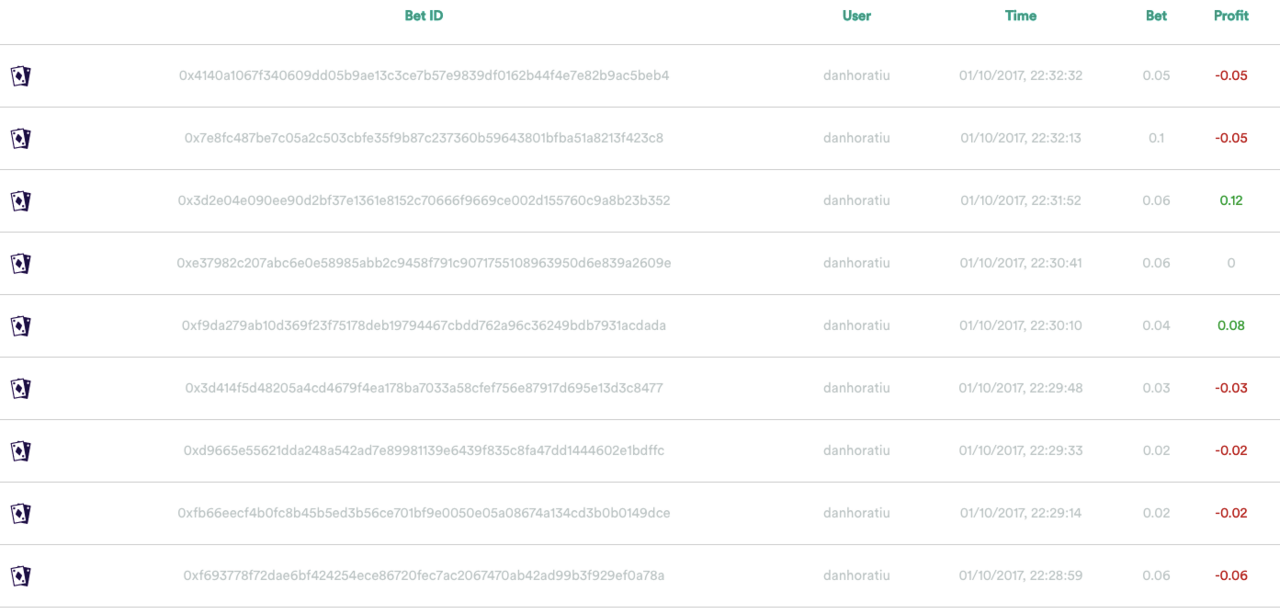 SURPRISE! The game does not have insurance at all!!!
 When the dealer shows an Ace usually the player should have an opportunity to insure their bet against house Blackjack but this Fundamental BLACK JACK game option  does not even exist. 
 You can only bet on one box.  Rebet function does not work. If player has Blackjack !!! house continues to draw unnecessarily additional cards until it gets to 17 (soft or hard) or it busts.  Once I had split of  Aces and "Dealer " Forgot to give me the second card on one of the splitted Ace cards  ( just left the Ace  all alone))) . The hand continues with the dealer drawing cards and one of the split hands had just one card (one Ace)!!! This is  really AMAZING as no card shall be left without a pair)))  !   .  When the player has a Blackjack and the dealer is showing an Ace there is no option for "even money" . And as there is no insurance option available either this feature is missing. If insurance would be available in this situation, by taking it, would basically be the 'even money".  In one history one game has been registered twice. I am not sure if the credits were double credited as I won the hand.  

 Multiple times I have bet one amount and in the history it showed a different amount. The difference was always 0.01 higher. So for example I bet 0.06 and the hand was registered as 0.07 in the history. One other difference I have noticed is when I had a bet of 0.09 and surrendered. I noticed I was charged 0.05, which is slightly higher than 50% of my bet, and when I checked the history my bet was registered as 0.1 showing a loss of 0.05. 
 I have also come across of different errors while playing.  
Failed to start the game even though I had funds.   

  Was not able to stand during a game.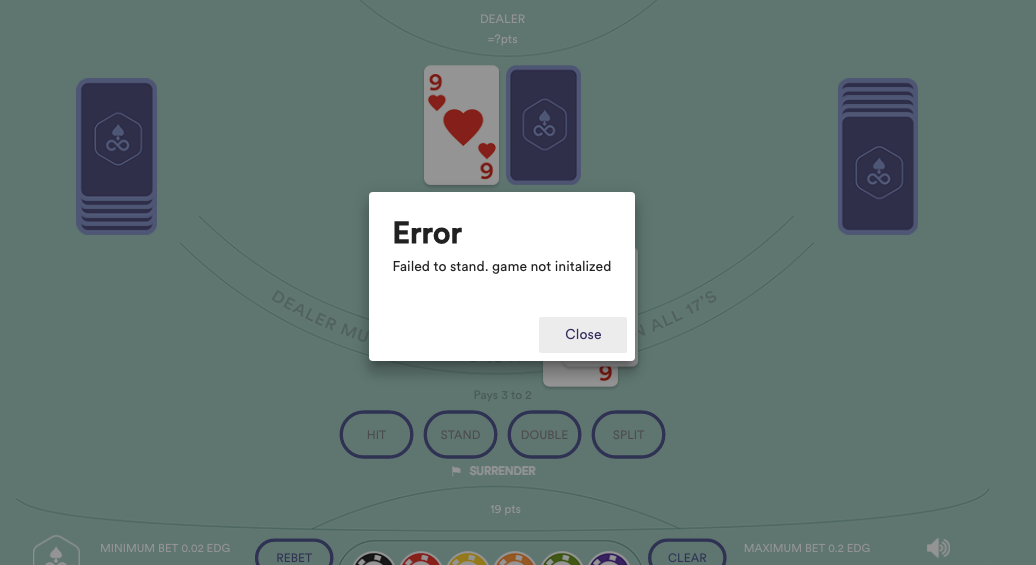 Could not get my win after a winning hand.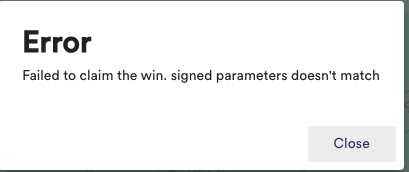 As we all know this is not a finished product and it is their first attempt on casino games. At this point it is impossible to check the claims of 0% house edge, as right now the game is not transparent. There are basic rules of Blackjack, which are not included at this point and I doubt these are not implemented in order to make it 0% house edge (that can be checked only once we know all the rules of the game).   

  Of course there is still time to fix any of the issues that are coming out and this is the idea of letting people to test the system to give their feedback and suggestions.  In my opinion it is a poor attempt and it seems that they do not have a Casino professional into their team of developers,  which could have iron out a lot of these issues before they come out with the platform.  
Note: This review was done by my husband who has more than 20 years of  Casino experience  being in charge for both tables and slots operation. On top of that he  has been a great expert in analysis. And now he is using his skills to analyse ICO))) 
BY @pravda