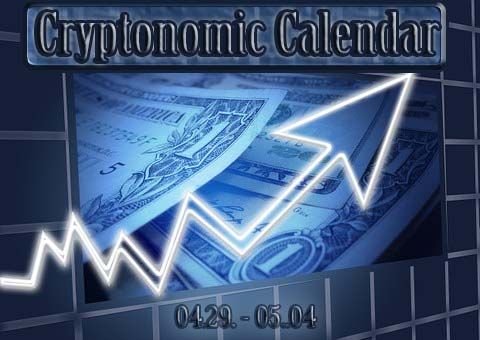 Cryptonomic Calendar for 04.28. - 05.06.:
Explanation:
The dollar sign ratings symbolisze the expectable strength of momentum in both directions.
Following explanations my personal opinion and no financial advise. Even if I checked the informations properly, I can't give you my guarantee for a 100% correctness, because there could occur in some special cases unpredictable incidents, scams, bad communications by the development team, unregular updates of roadmaps, hacks and a few more. Take resposibility for your own investment decisions and check the data on your own before investing.
04.28.
#Monero - #XMR
$$$ Monero holders will receive 2 times their holdings in MoneroCash ## (warry of a potential sell off)
04.29.
#SiaCoin - #SC
$$ Blogpost that details development ## (rebalancing portfolio,)
#Rupee - #RUP
$$ Big Announcement Sunday 18:00 UTC+1 ## (rearranging of investments)
#IOTA - #MIOTA
$$ Snapshot ## (chance to rebalance portfolio, if bought)
04.30
#Cardano - #ADA
$$$ IELE testnet around April ## (rallye till 04.30. probably expectable)
#Ripple - #XRP
$$$ Revolut plannign to add in April ## (maybe little hausse)
#Monero - #XMR
$$$ Hard Fork MoneroV ## (take your airdrops and beware of a little sell off)
#XEM - #NEM
$$$ Tradeable on Coinspark in April ## (maybe chances for little long positions with small bull market, beware for "buy the rumors and sell on good news"
#Bitcoin Cash - #BCH
$$ "Hello Group" New Trading Platform will base on BCH
on roadmap for the year ## (interesting and good circumstances for BCH)
#Neo - #NEO
$$$ Listed on Cobinhood ## (good chance for bull markets, but take care of sell off with stop loss)
#IOTA - #MIOTA
$$$ Will be listed on Cobinhood in April ## (rising prices could be expected, but expect sell on good news by the masses)
#Zcash - #ZEC
$$ First vresion of zcash which supports Overwriter (v. 1.1.0), planned for release in April (let's see what'll happen)
#Rupee - #RUP
$$$ Next will burn all unsold token ## (less coins cause a scarcity, which is driving the prices high, same as buy backs in the traditional markets)
#Substratum - #SUB
$$ Documentary on CNN will run on CNN's Headline News during April ## (we shouldn't undervalue the influence of such a docu, but I wouldn't even set up new long positions in this case)
#DeepOnion - #ONION
$$ Launch Mobile Device Wallets (IOS + Android) ## (rising bars could be expected in the future with such an important step)
#Stellar - #XLM
$$ LOBSTR is adding Stellar assets-support to the wallet ## (wouldn't expect that much or other coins)
#OmiseGO - #OMG
$$ Will deliver a short/mid-term strategy by end of April ## (rebalancing or trading setups)
05.01.
#Bytecoin - #BCN
$$ BCN/Fiat exchange ## (good signs for a bull market)
#Populous - #PPT
$$$ Launch of live Beta is on Track for 1. May ## (short term rallye could be expected)
05.02.
#Neo - #NEO
$ Restart Energy will meet NEO blockchain's founder and CEO at Conference Blockchain Smart Economy
05.03.
#Cardano - #ADA
$$$ Roadmap Update ## (maybe rebalancing of portfolio, but video of CEO before a few days sounded promising)
05.04.
#EOS - #EOS
$$$ RC2 - second release ## (I would expect a big rallye)
I appreciate your tips. critics, comments, upvotes and resteems!