Welcome to meet here again I will review a little about the ICO project which I think is interesting enough that INGOT.
Existing issues such as current financial services consist primarily of financing, investment management & advisory, trade and insurance. When it comes to trading and financing, the current financial system is lacking in efficiency and transparency. It is a complication of the market entry faced by investors and the cost of the services they demanded is quite large, which is why some of these investors discouraged from actively participating in the market today
The difficulty of transferring current ownership to the crypto market in terms of diversification, liquidity, bias against price discrimination and the lack of consistently available market services, has been considered an exponentially growing market unreliable to prospective participants and in turn limiting them entry. Moreover, the lack of knowledge in the market about blockchain, smart contracts and a variety of possible useful implications, have led participants to reject profitable investment opportunities.
INGOT COIN [IC] CAN BECOME SOLUTIONS
INGOT Coin is the first fully integrated Wallet with a Digital Bank, Brokerage, Exchange, Certifier, and ICO Accelerator. All components are rolled into a single and complete ecosystem, which rewards token holders and consumers for using and contributing to it. INGOT Coin is a decentralized cryptocurrency which provides benefits and discounts within the ecosystem itself. IC will be based on an ERC20 technology.
INGOT strives to be a pioneer in the financial industry that provides innovative techniques and solutions to connect global markets with global market players. The main objective of this ecosystem is to bridge different financial institutions through blockchain technology to provide all stakeholders and participants the freedom to diversify their funds at any given time with minimal constraints.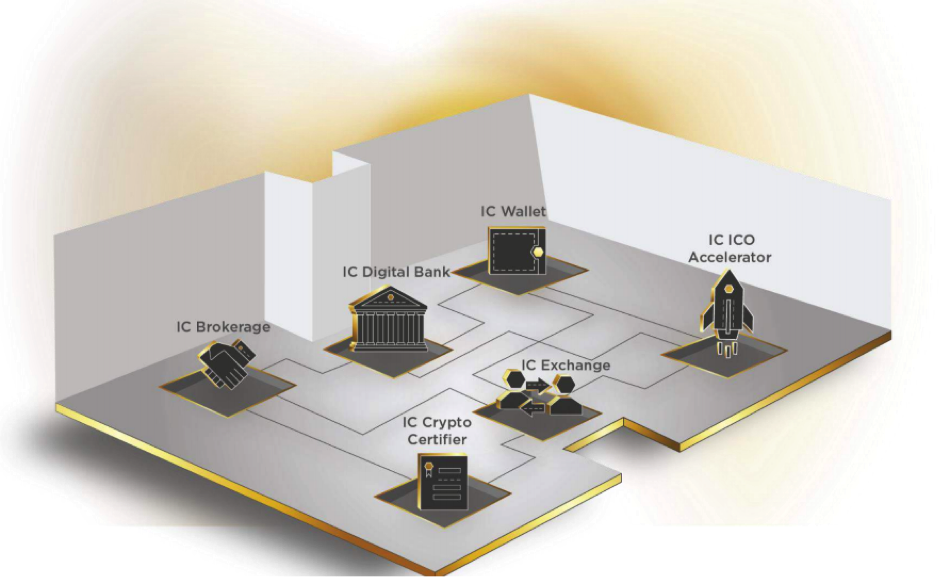 INGOT Coin will create a complete solution by integrating 6 core ecosystems components and provides a one-stop-shop for digital assets, traditional asset, and currency markets to solve all the above-mentioned challenges, thereby, creating a link between the crypto market and traditional markets.
The ecosystem will form 6 different components to work hand in hand under one umbrella, giving all members of the community an opportunity to take advantage of upcoming opportunities in all markets:
The IC wallet will be a blockchain based crypto wallet dedicated to working as a custodian for all crypto currencies in the Ecosystem. Participants will be able to use the wallet to send, receive, and store cryptocurrencies available in the market easily and safely
IC Exchange will be securely integrated with IC Wallet, IC Brokerage andIC Digital Bank through a user-friendly platform, full fledge cryptocurrency, IC Exchange exchange will register newly issued major coins and ICOs as well as provide a full diversified coin spectrum for market participants.
IC Brokerage will create a center of liquidity, market prices, and efficient access for all financial products, ranging from fiat currencies to international equities and from commodities (Agriculture, metals, and energy) to ETFs.
IC Digital Bank will provide 24/7 automatic payment process with high level web-based custodian service. IC Digital Bank will also facilitate IC Task Broker and Exchange IC, along with providing online every day
services such as electronic payments.
IC Digital Bank will offer various services including current account which will act as a fiat wallet that allows users to transact within an Ecosystem or beyond that. Also, the bank will provide an upcoming electronic payment solution at you for a low cost while including fast and efficient reporting
IC Crypto Certifier will aim to build awareness and educate all interested parties on blockchain technology, through up-to-date, robust and diversified educational services
IC ICO Accelerator will aim to unlock funding for all innovative projects paving the way for creative vision and new ideas.
TOKEN SALE
The INGOT COIN (IC) token was developed for the platform, allowing to satisfy the needs of both beginners and experienced traders. Beginners in this field will be able to start with a minimum capital. Its trade is planned on different exchanges and provides fair and equal conditions, regardless of the volume of trade and seed capital. One of the attractive points is the fact that upon achieving a solid capitalization, holders of the INGOT token will be paid dividends. Using tokens within the platform as a payment will give users discounts between 5 to 50%.
Token Details
Ticker: ICC
Type: ERC20
ICO start date: July 1 2018
ICO end date: August 11 2018
Soft cap : 37.000.000 USD
Hard Cap: 90,000,000 USD
Minimum contribution size: 100 USD
Total supply: 120,000,000 IC
Price: 1 IC = 1 USD
Accepted purchase: USD, ETH, BTC, XRP, and other cryptocurrencies.
To know more about this project please visit the following links:
Website: https://www.ingotcoin.io/
ANN: https://bitcointalk.org/index.php?topic=3581009
White Paper: https://www.ingotcoin.io/documents/en/white-paper. pdf
Twitter: https://twitter.com/ICOINGOT
Facebook: https://www.facebook.com/ICOINGOT/
Telegram: https://t.me/INGOTCoin
Author : raidal aura
bitcointalk profile link : https://bitcointalk.org/index.php?action=profile;u=1084584
Eth : 0xc8D62644DACF4e4653037D1be93C9dfA6ddF5C11