Since the success of the eBTC airdrop (which was worth over $1600 to participants) and regulation of ICO's, there have been tons cryptocurrency airdrops popping up! This can offer a fairer distribution for new coins than ICO's and mining which favor the rich. So here's my updated airdrop and free crypto list for October 2017!
In order to be transparent with this list, I'll be including requirements of each airdrop and indicate if the link is a referral one.
[info in brackets] = Requirements to participate in the airdrop such as being a member on the bitcointalk forum or having an ERC20 Ethereum address like one from MyEtherWallet.
REF = Is a referral link.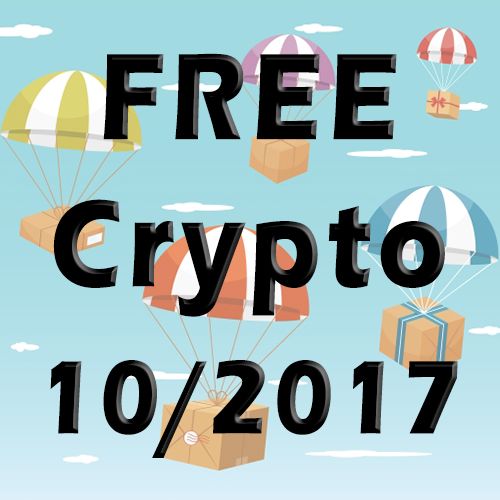 Airdrops
ACT - Answer the 4 questions correctly to receive 1000 ACT tokens. (Answers: $170,000, ACTIVATE, the extent and capability of citizens to hold the state accountable, A="100%") You can enter 0xe5Ae6ae033F076D3D5661c279651e648780A9869 for your referrer if you wish. [1. email 2. ERC20 ETH Address]
Bitbase - Get 50 BTB worth $5 for signing up. [email] REF
BitcoinStake - An airdrop for Jr. Members and above of Bitcointalk. Limit of roughly 12K people (only Member and Jr. Member slots left). Also see LitecoinStake by the same creator.[1. Bitcointalk 2. wallet download]
CoinPennant - In this crypto investing platform giveaway, get 50 CPT tokens for signing up with your email. [email] REF
CoinStarter - This aims to be KickStarter for the crypto universe. Get free 5 CoinStarter tokens for signing up and 0.5 for logging in every day. [email] REF
Engima - Get one Enigma token free with one of these links (from members of the Free Crypto facebook page member 1) [email]
Gplay - Decentralized digital gaming marketplace [1. bitcointalk 2. wallet download]
My Big Coin - If you have a Bitcointalk account you can private message the "mybigcoin" account to receive the airdrop. [1. bitcointalk 2. wallet download]
Nodum - Sign up for the airdrop here. You can put NOD12690433717 as your referral userid if you wish.
PoSToken - This is the first proof-of-stake smart contract token. 80% of the tokens will be airdropped. [1. email 2. ERC20 ETH Address 3. Bitcointalk] REF
POW - Do this one ASAP because the reward decreases slightly after each new signup. It will show you how much your share is worth at signup. [facebook]
Spectre - The round 2 airdrop goes from Oct 15th to the 20th. Round 3 is from Oct 29th to Nov 3rd. Only 1,000 entries per airdrop so act quickly! [1. bitcointalk 2. ERC20 ETH Address]
Sphere - This is a new facebook-like decenteralized social network that is free from corporations stealing your data. This will be like Steemit in that you can earn crypto for using the platform. Get free 100 SAT tokens for signing up (worth $5 at ICO). [email] REF
Universa Blockchain Protcol - Get 50 free mUTN for creating an account. [email] REF
WCX - This is a new crypto exchange that gives 20% of profits to its token holders! Get 50 WCX Tokens worth $5 for verifying your email. Ends Oct. 31st. [email] REF
Others (possibly lower quality): Adbota [1. email 2. ERC20 ETH Address 3. Bitcointalk], Bitcoin Gold [1. Bitcointalk 2. Waves Address], eTrust [1. Bitcointalk 2. Telegram 3. ERC20 ETH address 4. Twitter 5. Facebook], Funnel Token [1. Bitcointalk member+ 2. ERC20 ETH Address], GreenBits [1. email 2. ERC20 ETH Address 3. Bitcointalk], MyCash [Waves Address], PayBits [1. email 2. ERC20 ETH Address]
Giveaways / Free Earning
Bitradio - Earn cryptocurrency by listening to radio stations of all different genres from all over the world! This is a new platform, so some of the radio stations may not work. [email] REF
JSEcoin - This is an interesting platform that allows you to mine with your internet connection in your browser with javascript. And if you own a website, you can embed code in it to have your visitors mine for you! You also get a welcome bonus for signing up. [email] REF
Others - ADZbuzz [email] REF, Quoinpro Wallet [email] REF, Swift Demand [email] REF
Let me know if you know of any other airdrops and giveaways! Also let me know if any of these airdrops expire.
Faucets
Faucets give you free satoshi but most of the time they're not worth your time. Here are the only three that I still use.
Bitfun - The satoshi will build up in your account so I claim from this every few days. You can also play web games on this site. [email] REF
Free Bitcoin - Claim hourly. Gives you 4.08% interest on your wallet balance. You can also play dice and use your CPU to mine from your browser. [email] REF
Moon Bitcoin - You can claim every 5 minutes, but I find it's only worth it to claim daily to get the bonus. [CoinPot email] REF
Join the Free Crypto Facebook Group where we share info about the latest airdrops and giveaways or like the Free Crypto Facebook Page.