INTRODUCTION
Great businesses invest as much time as possible to understand the customers pain, before going ahead to try to solve the problems they encounter.
In the crypto industry, exchanges are a necessity, and they act as a bridge between users and coins/tokens.
There are a number of problems traders face when making use of exchanges, and at the top of these are high transaction costs and poor feedback to inquiries.


ONAM
is an exchange that hopes to succeed where others have not quite met the expectations of an ever growing user base.
We will look at some of the problems users face when making use of exchanges, and what ONAM hopes to do differently.
SECURITY BREACHES
Hackers seem to have a thing for exchanges, and halfway into the year 2018, exchanges had lost a total of $731m. It is predicted that this will be on the rise and exchanges need to get their act together, to be able to withstand this.
MARKET MANIPULATION
It is not a hidden fact that there are quite a number of techniques used by fraudulent people. Techniques such as pump and dump, spoofing and wash-trading are commonplace in the crypto industry. When regulations are implemented and strictly pushed, this can be cut short.
SCALABILITY
As was the case in late 2017/Q1 2018, exchanges were exposed and the fact that they are ill prepared to deal with a heavy inflow of new users was laid bare. Many top exchanges had their matching engines overloaded, and their users suffered.
POOR CUSTOMER SUPPORT
One way users can be kept happy is by ensuring that their support tickets are handled adequately and on time. Users are left with a bitter taste, when they are not attended to, especially when this has something to do with their funds.
POOR MARKET LIQUIDITY
When there are large margins between bids, it leaves room for maneuvering and manipulations.
Some exchanges use tricks to make their order books seem more buoyant than they actually are. They do this to be beneficiaries of price fluctuations.
COMPLIANCE TO REGULATIONS
New market entrants are not impressed when they do not see a form of order in the market. Lack of regulations ensure that the market will be unstable.
HOW ONAM WISHES TO TACKLE THESE PROBLEMS
SCALABILITY
When a host of new users come, ONAM will be ready. This can be attested to, by the fact that they can conveniently handle more than 10 million transactions per second, and they have very low latency of 40 nanoseconds.
This means that ONAM will not choke like other exchanges, when an unprecedented number of new users storm its exchange. Business will go on as usual, and this will also ensure that the confidence of users in ONAM will grow naturally.
SECURITY
Security is extremely crucial for user confidence to remain high, and ONAM is leaving nothing to chance. Trade Surveillance systems, Advanced Threat Prevention, and Intrusion Detection are some tactics ONAM hopes it can use to keep its platform free of hacks, and its users safe. Of course, they will still make use of other security measures such as Two Factor Authentication, DDoS protection and have anti-phishing measures in place. Their databases are also encrypted.
MARKET MANIPULATION
In order to curb the menace of market manipulation, ONAM will be closely monitoring trading activities, and they have created process such as Real-Time Market Surveillance, Supervision and Compliance system to ensure this is achievable. Pre and post-trade data will also be scrutinised by the team.
CUSTOMER SUPPORT
ONAM has a deep focus on customer support, and they will offer support to customers in more than one language. Also, when a user creates a ticket, ONAM hopes to be able to revert within 15 minutes.
Going forward, it is expected that they will have live chat support that will always be up, to meet the needs of its users.
POOR MARKET LIQUIDITY
By offering juicy incentives, ONAM will be able to on-board large market makers, miners and high volume traders. They will also make use of order books from multiple exchanges.
REGULATORY COMPLIANCE
By getting the services of a top legal entity in the USA, ONAM is ensuring that it will not go against the law and guidelines set by regulatory bodies in any way.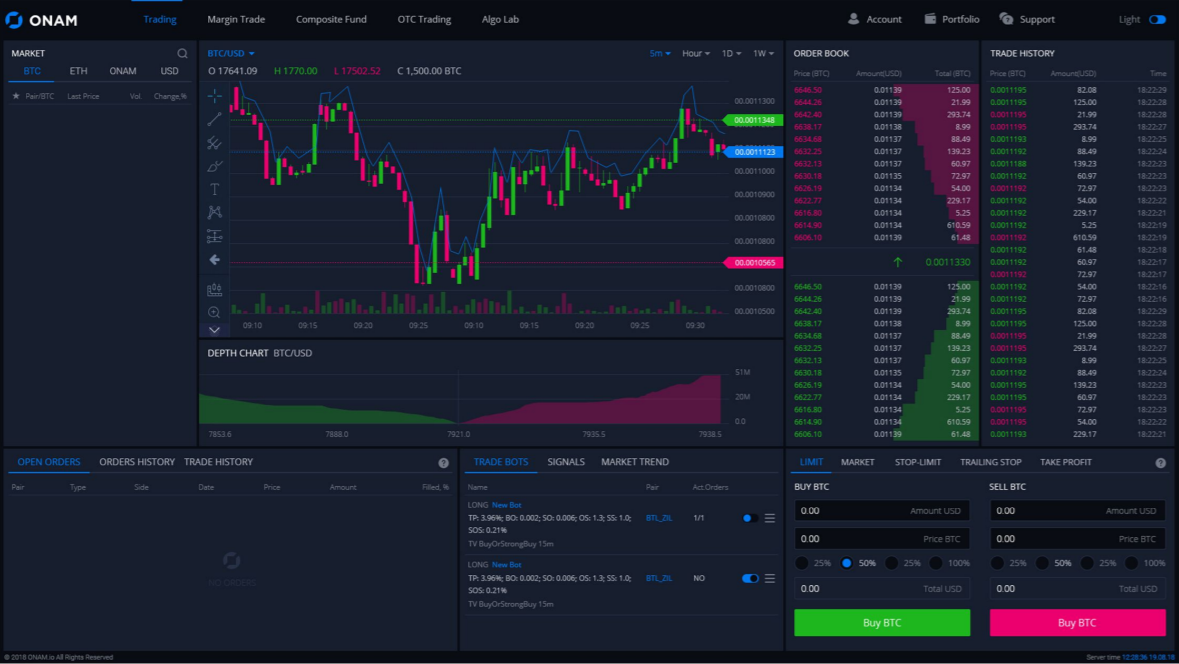 Exchange UI Preview
<a href="https://ONAM.io/">ONAM's FEATURES
<a href="https://ONAM.io/">ONAM's exchange has a Trade Surveillance, Risk Management and Advanced Trading tools.
Top notch security system.
Advanced order types like Take Profits, Trailing Stops, Iceberg Orders, Good Till Canceled and Fill or Kill.
Access to Margin Trading.
Margin lending: Traders on the platform will be able to earn residual income by giving funds to margin traders).
Composite Index Fund.
Paper Trading, which ensures that users can have a feel of how the system works.
Easy to use responsive User Interface.
Trade Assistant offering features such as trade alerts and Signals.
Auto Trading.
Access to ONAM's Social Media and Market Sentiment Analysis tool.
Market Scanning: Ensures traders can trade on specific coins/tokens, based on inputed criteria. (Available to only token holders).
Advanced Charting: Ensures users are able to chart any given asset on the platform.
Access to trading experts to educate users, so that they make less mistakes while trading.
News and announcement feed.
Push Notifications
OTC Trading
Multi-language UI
Multi-language LIVE chat support.
FIX Servers for institutional traders.
Affiliate Program
Advanced and custom API's
EXCHANGE FEES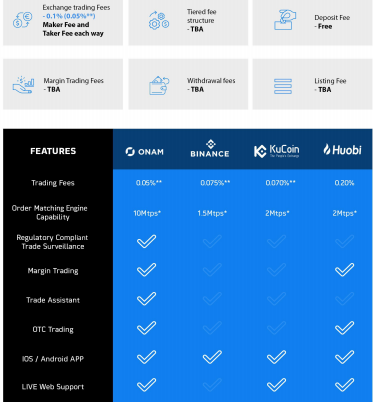 ICO/TOKEN SALES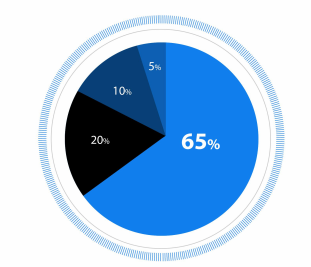 Token Allocation
65% is allocated towards its ICO.
20% is set aside for the team, and is released in installments.
10% will be for ONAM's emergency reserve.
5% is allocated to bounty programs, advisors and strategic partners.


Token Sales Fund Allocation

50% will go towards development endeavors.
25% will be set aside for marketing/Public Relations.
15% will be used in running the exchange.
10% will be set aside for legal expenses.
USE CASE
Adriano is a new entrant to the crypto industry, and so far, he has had a rough experience-especially by the high cost of transactions. He doesn't have much funds to trade with, and this has been a problem for him.
When trying to make some inquiries from the team behind his exchange, he did not get any feedback to his inquiries, and he was upset as a result of this. Soon enough, he found out that this was a normal occurrence, with regards to almost every exchange.
Adriano feels that he cannot stomach this, and begins his research about other options.
Reading about ONAM, he is able to use their Paper Trading feature to get a feel of the platform, before he dives in fully. His questions are answered quickly, and he also notices that he actually dedicates a smaller figure to transaction costs. Adriano is overjoyed and has decided to call ONAM home.
CONCLUSION
ONAM have thoroughly done their research, and they seem ready to blow the competition out of the park. When customers are handled like the focus of any business, that business will succeed. Businesses exist to meet the needs of customers, and when they can't achieve this, such businesses will pack up in no time.
Customers will only be eager to stay on, and won't mind the little hiccups along the way, as long as they are treated with respect.
Being regulations complaint will mean that ONAM's platform will not be shutdown for any reason, neither will they be the subject of any investigations. They will rather be able to focus on improving on their business model, and ensuring their users thrive.
Low fees mean that users will not have to loose too much value, and users that do not have very deep pockets can also be involved in trading activities. Lower fees will also mean that more users will be more likely to migrate to ONAM, and those that are already users will stay for the long-term.
By providing a vast array of tools, ONAM ensures that even the less experienced traders can be better prepared for the challenges that await them ahead. Users love those that have their best interest at heart, and this will mean that users will feel indebted and loyal to ONAM.
TEAM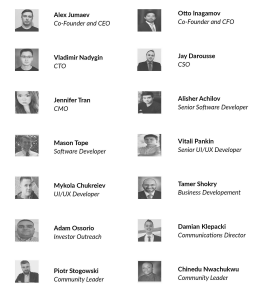 ADVISORS




ROADMAP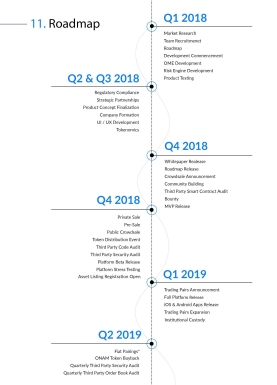 MORE INFORMATION & RESOURCES:
ONAM Website
ONAM WhitePaper
ONAM Telegram
ONAM Reddit
ONAM Medium
ONAM Instagram
ONAM Twitter
Originalworks contest entry https://steemit.com/crypto/@originalworks/1300-steem-sponsored-writing-contest-onam
Twitter link
https://twitter.com/Lifeesbelle/status/1062449468447047680
onam2018 onamtwitter