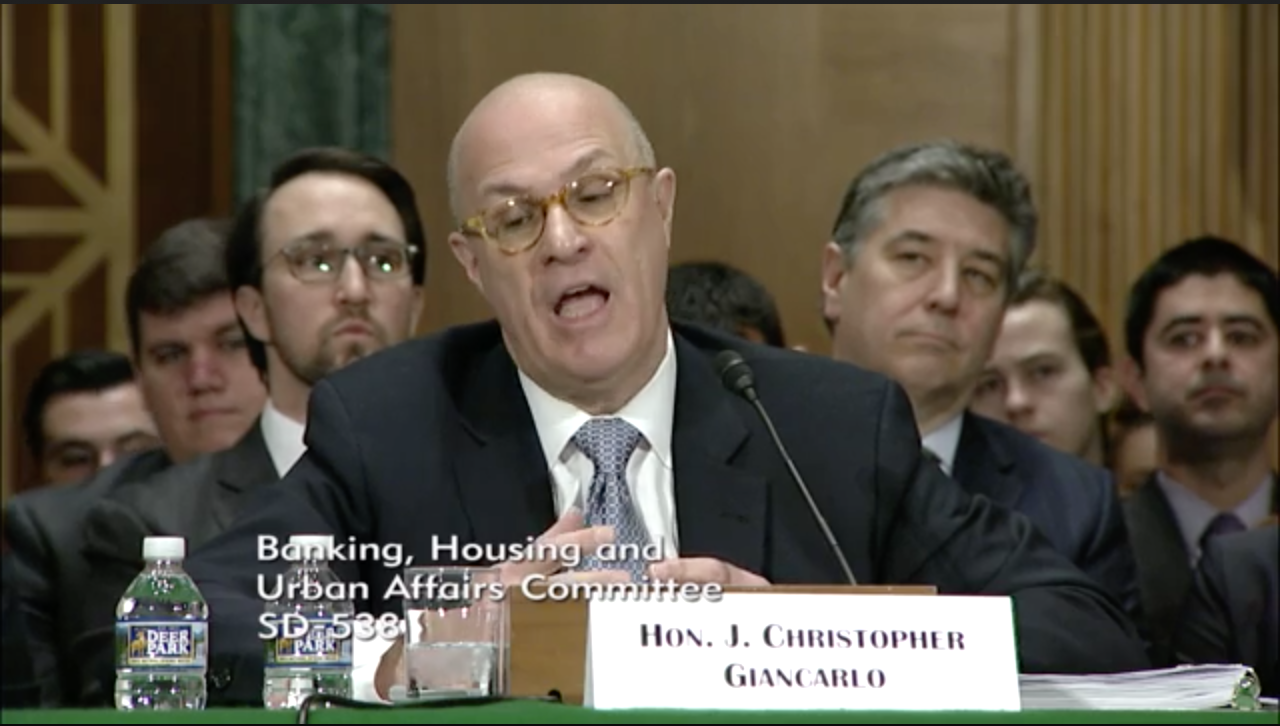 The dedicated session involving the US Securities and Exchange Commission (SEC) and Commodity Futures Trading Commission (CFTC) took place this morning, on the 6th of February 2018. Many view this as a turning point for cryptocurrencies, as the SEC and the CFTC will both be appearing before Senate Banking Committee today to discuss their regulatory approach to a crypto market, which is rife with fraud and abuse.
Good News For Crypto
As stated in the written testimonies by the chairmen of the SEC and the CFTC, the two commodities are in favor of cryptocurrencies and the technological promise they bring but are adamant on cracking down on unregulated ICOs.
And that is exactly what went down in today's hearing.
Below is a summary of what Christopher Giancarlo, chairman of the CFTC said on behalf of cryptocurrencies:
Instead of stocks, his children are more interested in cryptocurrencies. The government has to respect that the younger generation are branching out from the traditional stock market to the crypto market and develop a positive outlook towards the growing field.

While scams and fraudulent ICOs must be cracked down, the general market must be allowed to develop. A working group of SEC, FinCEN, CFTC and other group members are already working on identifying scams in this space.

When asked if cryptocurrencies have any "intrinsic value", Giancarlo replied that cryptocurrencies have an intrinsic value and relation of the value of Bitcoin and the cost of mining it.

The price of Bitcoin is just a single publicly traded company like McDonald's - the entire crypto market cap is much bigger and has a lot more potential to grow (it's currently at $357 billion). In comparison, global money supply is $7.6 trillion, while the value of all gold in the world is $8 trillion.

"We must crack down hard on those who abuse our young enthusiasm for Bitcoin and blockchain technology for their own personal gains."

"We owe it to this new generation, to respect their interest in this new technology with a thoughtful regulatory approach."
And, most importantly:
In front of the entire Congress, Giancarlo defended cryptocurrencies and preached the importance of blockchain technology for future generations. He is the kind of hero we need, but not the hero we deserve.
Finally, things are looking good for cryptocurrencies.
Side note: In contrast, conventional banking institutions took a huge bashing from Senator Sherrod Brown. Apparently, banks have had over 80 violations in the recent months.
---

If this blog post has entertained or benefitted you, please follow, upvote, resteem, reply and/or consider buying me a cup of tea.
BTC Wallet - 1B4xDRBYBb8UiFjo6zetXVNegtCUU2af2y
ETH Wallet - 0x84c53fD4CF07C2c183878C7d3261E903cb274765
NANO Wallet - xrb_3nt5ffyhbhgxkjz4aq5nucfnhiuzymr3x96ds3btb1abjyywceyztiucd7r6