Taking a better investment decision is considered as the most important moment in our life. It requires courage and ability to take risks. Today in the world there are many creative ideas looking for investments to develop their products which can ultimately change the way of our livings. Therefore understanding a particular projects vision and idea is necessary before making any investments.
For example, the well known companies like Facebook and Uber at their earlier stages required fundings to develop their products. After years of their development has now changed the world as we see it. With Facebook we can now connect with each other and with Uber we can book taxis and visit our favorite place around the world with the power of internet. It is important to note that all these companies today exist only because of venture capital's fundings helped them to develop and succeed.
Problems
Even though having a good idea and vision, many good startups face under financing issues and eventually failed to convince investors. The same kind of problem face by both traditional and cryptocurrency startups whose ideas are ready to enhance our lives in a better way.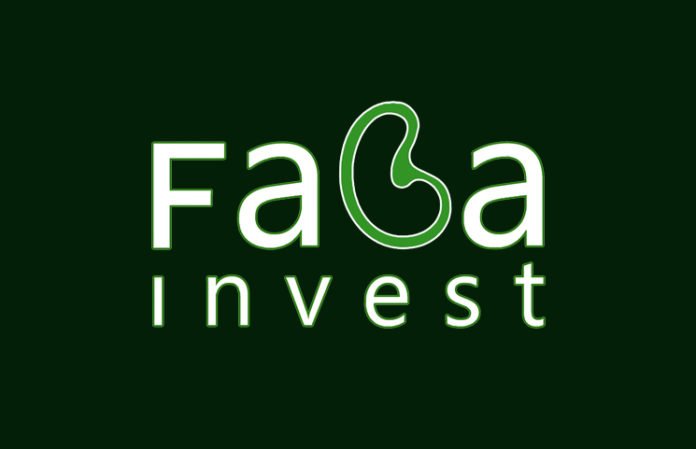 In order to provide a solution to this under funding problem a team of professionals decided to establish their own venture capital company. Which can help startups at all stages of their development, thus these startups can only focus on development not on funding issues.
About the project
In this article we are discussing about the company called Faba LTD. It is a blockchain technology powered new venture capital company which drives the investments on idealistic projects. It is a new model of investment which can bring venture capital investments to projects through cryptocurrency.
The company was founded by a well experienced team of professionals with the aim to help startups. Faba LTD has included all the sectors to their venture capital Investment such as IT technology, medicine, education and new inventions and discoveries. In order to achieve this, investors have to hold Faba tokens for making investments in projects.
Design feature
The economic model of Faba LTD is simple and clear. In the first funding round Faba will identify and support 110 projects with 11-17 successful projects in 4 years of duration. In this phase Faba will provide sufficient capital investments required to develop their products and companies only need to take care of their expenses by own.

Faba will make in depth analysis about each project to be selected for venture capital investments. In order to ease this process, Faba platform introduces voting system where Faba token holders can vote for promising and interesting projects. In order to cast their votes investors need to hold 2000 Faba tokens. This method of evaluation of projects will help developers to select promising projects chosen by investors.
Advantages
As we already said, Faba has very simple and clear business model with which promising projects can be selected which will have the ability to disrupt the market. And the best part is every project selected will be chosen by investors, with this method developers can also be able to understand investors needs.
It is worth to note that Faba LTD will invest their own percentage of share capital into the chosen projects development. This means that Faba can influence in the development and success of the project. Thus good projects can develop and grow without the fear of financial requirements.
ICO details
The Faba LTD uses its own internal tokens for all the operations. Users can purchase these tokens from ICO public sales. Totally 160 million Faba tokens are available at price 1 USD. Unsold tokens will be burned which potentially increases the token value.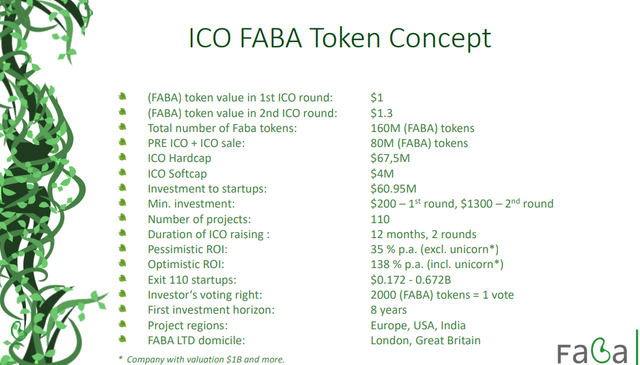 Team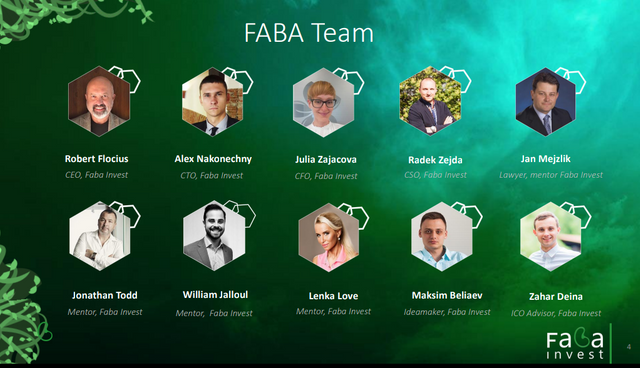 Conclusion
There is no doubt that Faba LTD will play an important role in accelerating the growth of crypto projects. Considering the present crypto market situation many good and worthy projects today are facing funding issues. This situation is very critical for every project because raising sufficient funds again is very difficult. Thus Faba LTD will help these worthy and promising projects financially to continue developing their products and amaze world. Faba LTD will initially consider candidates from countries of USA, UK, India and Czech republic for venture capital Investment. This project needs much public attention and I wish all the best for this great project.
For more information please visit links below
Website => https://vc.fabainvest.com
Whitepaper => https://www.faba-white-paper.com/FABA.pdf
ANN Thread => https://bitcointalk.org/index.php?topic=5067299.0
Facebook => https://www.facebook.com/fabainvest/
Twitter => https://twitter.com/FabaInvest
Author: Stug (BTT link: https://bitcointalk.org/index.php?action=profile;u=1947027)