I've written about this crypto-casino called Luckygames before, but today I want to talk about a different part of the website, the Chatroom!
There's crypto being thrown around left and right over here!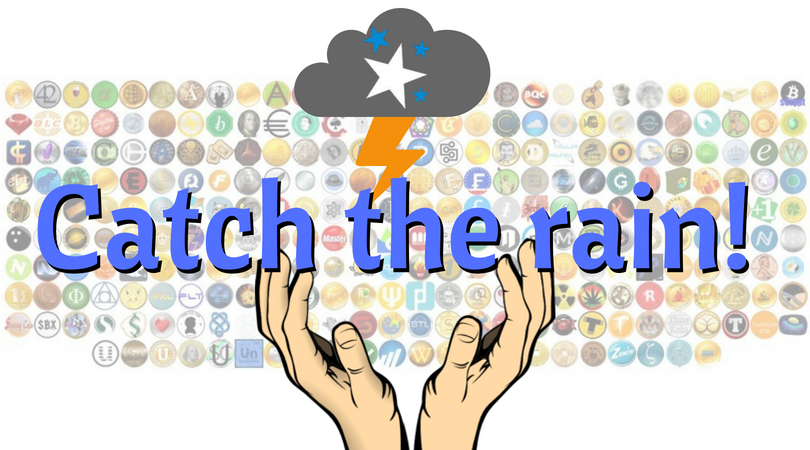 I've been playing on Luckygames every once in a while for about a year now. I saw a lot of success in my first few days, turning a 7 STEEM deposit into 64. I haven't seen another day quite as big, but I do ok when I play. Until pretty recently, I had never really payed attention to the tab labeled "Chat".
I'm not usually one for "small talk", and especially in an online casino, I wouldn't think I'd have any interest in chatting with others. Bored one day, I clicked over, and noticed something cool. A user had apparently chosen to rain some of their winnings onto a randomly selected bunch of people who had recently been active in the chatroom! It wasn't much, but then it happened again. A few moments later, things got really interesting...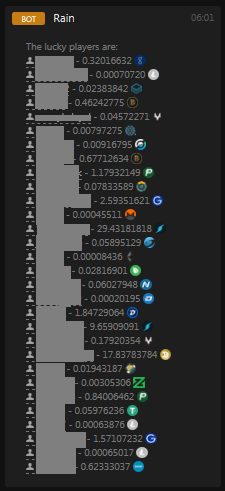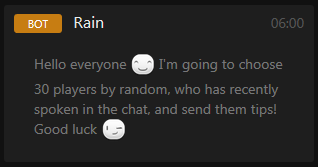 A bot made it rain, and 30 players were then given an assortment of cryptos, ranging from litecoin, dogecoin, ethereum, bitcoin, and tons of others. These tips were a bit larger than the previous ones I had seen from players, though still not quite enough to withdraw. This bot rains random crypto on active chatters every so often, and players can rain anything they have in their wallet as long as they have the minimum amount.
This minimum amount is usually the same as it would require to withdraw, or exchange for something else with the built-in coin exchange, though one can opt to rain much more, up to a maximum. I've seen some big rains, or "storms" as they're called, where players either rain a large amount all at once so that those selected get a lot, or rain many times in a row, allowing a bunch of people to benefit!
On top of that, there's a game that starts every two hours where you're given an opportunity to select a number between 0 and 99. Choose correctly, and you'll earn yourself a few thousand satoshi!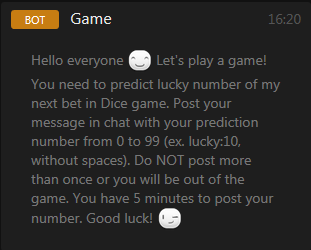 What you do with these free cryptos is completely up to you. If you're patient, you can certainly build up a nice little chunk, then withdraw it, or exchange it for another crypto of your liking.
You could also choose to play one of their provably fair games, and try your luck at multiplying your balance without waiting for people or the bot to rain.
I have a select few coins that I'll play around with, sometimes hitting, sometimes not, and then I have tokens that I save all of my rains from, and exchange them for STEEM or SBD. I've recently used some of my earnings to buy more @steemmonsters cards, and have sent some of my earnings from steemmonsters over to Luckygames. In a way, they're both a gamble, and I love playing both, so I use them to play off of one another.
---
You knew a disclaimer was coming, so listen up...
Gambling can be a sensitive subject, and can also be addictive. NEVER gamble more than you're willing to lose, and it's probably best not to be willing to lose your shirt. Be safe when gambling in any way, and know that the house always has an edge, no matter how small. No "strategy" is foul-proof, and using the exact same method someone used to earn a hoard, you could potentially lose everything.
I personally don't gamble often, and having a pace like this that allows me to get a little crypto to play with for free gives me a sense of security. Even if I play away all of my rains, what did I really lose? I have deposited to the site before, and have found it's often "easier" to make a little money if you already have some, but that's certainly not always the case. If you're not a risk-taker, you could simply hang out and chat, earning random cryptos until you could stack them together to withdraw.
You will need to reach "Level 1" on the site before you're allowed to chat, but you can earn experience pretty quickly toward leveling up in a number of ways, without having to make a deposit. You can start out by "practicing" with their in-house token, called "Lucky". You can get a free amount of Lucky to play with every hour, so even if you run out, you can get more pretty soon after. If you're successful with playing these Lucky Tokens, you can spend what you've earned on cool bonuses for the website, or even things like iPhones, PS4s, and Tablets!
One last thing: The links in this post to Luckygames are affiliate links. Sign up through my link, and I will earn a very small portion of the commissions from your bets on everything except Lucky Tokens. I earn nothing directly from your deposits. I just want to be up front with this information instead of trying to hide referral links. If you do choose to sign up under me, and comment below with your Luckygames username, I'll send you your first tip to get your started playing with real crypto, or start off your saving toward your first cashout, your choice.
---
Once you've built up that first level and are able to chat, the game is on!
This could potentially be a great way of powering up one's account, as our beloved STEEM, SBD, and Bitshares, are all listed and playable! Save up your rain in a bucket, then dump them into your account to save for that other kind of rainy day!
I hope you enjoyed reading this summary of Luckygames' chatroom, and how you can earn free crypto for taking part! If you decide to join, let me know in the comments below so I can send your bonus!
---
P.S. This is the first post I've written using the Masdacs platform! This has been cross-posted to Steemit & Whaleshares, and I hope everything goes smoothly.