Cooking things is not enough to be a top-tier Chief cook with a toque.
Doing trades is not enough to be a good trader.
What you need is a combination of different skills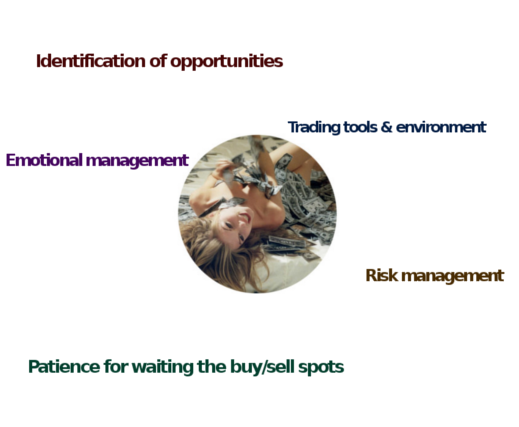 Identification of opportunities
No need to be a genius to know it's a needed skills. However, many people simply don't have it.
Watch your charts at least one time in the morning and one time in the evening.
Don't fall in the trap of digging for opportunities. If the current circumstances are not favourable, then simply don't trade, and wait for the good moment.
Patience for waiting the buy/sell spots
This is the one that will give you the best entry and exits. It can elegantly increase your profits, don't underestimate it!
If the RSI is oversold, maybe you'd better wait before selling ? Don't "fire escape" due to your fears.
Emotional management
Fear and greed at the two main assholes.
Don't let them overcome your judgement. Do meditation to master your thoughts instead of being mastered by them.
You'll keep sane, and will enjoy life without checking your Profits/Losses every 10 minutes.
Risk management
Have your stop losses and take profits ready.
Have the discipline to actually trigger them and to follow your rules: this one involve a lot of emotional management.
Trading tools and environment
By environment I mean:
Have brokers that can follow your needed liquidity
Being ready to withdraw or deposit large sum of money (Is KYC needed ? Is your bank crypto-friendly ?)
Stable internet connection, with a backup in case of failure (your 4G phone, for example)
By tools I mean:
A way to follow thoroughly your bankroll and trades. If you use a spreadsheet you must update it as soon as any action occur: never let it become outdated 
A good big screen which allows you to compare multiple charts in a second
An adequate system to receive alerts when you are outside. You can put them in your phone (with tabtrader for example) or receive SMS through tradingview.
Legal disclaimer: Sue me if you lose. I will go to jail  and give you my money. I am responsible for what you do. By reading  the article, you did accept to comment, vote, and resteem it.