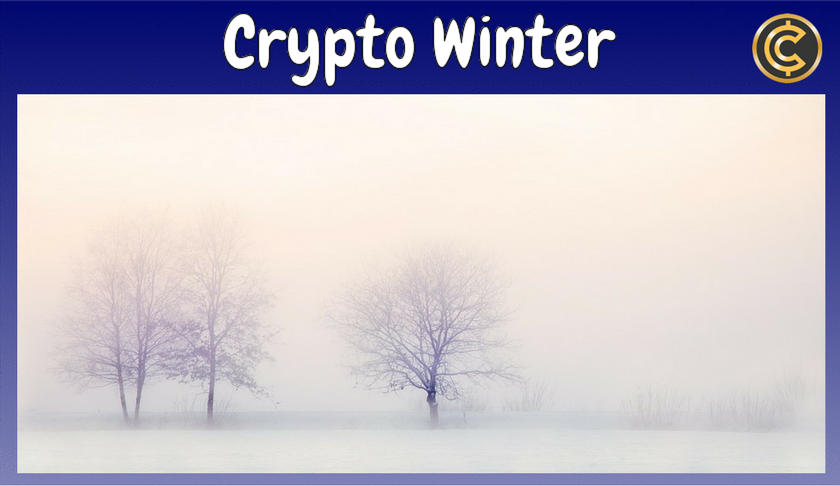 After reaching a 60 Rep I took a short vacay but now I am back to discuss the current state in cryptocurrency.

I took a short break from Steemit but during that time I have been keeping myself busy. Besides binge watching the brilliant Netflix show "Peaky Blinders" and trying out the new Destiny 2 updates I have been diversifying my cryptocurrency portfolio.
Currently we are still experiencing the effects of Crypto Winter. Yes, every crypto coin on the market has taken a big dive. As popular as Bitcoin and cryptocurrency were in December and January now the masses seem to have turned away from the alternative digital currencies after taking heavy losses.
A lot of of new people jumped on the crypto train last year when Bitcoin's value went from around $1,000 in the beginning of the year to 20,000. Because of this huge increase of value of the dominating coin all the altcoins also shot into the stratosphere. A lot of people who already owned crypto made a lot of profit. But a lot people were "late" to the party and bought coins when bitcoin was at its peak. When the price came crashing down those who bought in late were left holding the bag.
For the mainstream press this was the perfect moment to dump all over crypto in general pointing out the volatility and run around screaming: "the sky is falling, the sky is falling, we told ya this would happen".


So here we are smack in the middle of Crypto Winter with seemingly nothing else to do than wait for prices to go up again. It is also a great time to evaluate and think about what we've learned in 2017.
Lesson one: don't buy into a coin when the price has already gone up 16x. The chances of it going up more a getting smaller as the price increases. If you are late to the party there is nothing else to do to wait it out and hope for a new opportunity.
Ignore the the mainstream media news about cryptocurrency, all they are interested in are getting headlines. So they will report the highs of Bitcoin and especially the lows. There is a lot of misinformation coming from mainstream media about crypto. Stick with reputable blogger/vloggers and people who have been in crypto from the beginning.
If you sell when the market is peaking you can increase your volume when the market goes down again by buying the same coins at a much lower price, rinse and repeat for profit.
Nobody actually knows anything about the crypto market, I heard a lot of predictions but nobody could have predicted what happened, so be prepared for anything.

After rain comes sunshine so don't despair and be patient for things to come around.


As I said before buying a coin after it has already gone through the roof is not a great idea. So you might be wondering what the best time is to buy? Well that would be now, just when nobody (except the big boys) are buying and building their portfolio. It seems counterintuitive and against our natural instincts but the best time to buy assets is when the market is taking a beating, in fact bigger the drama the better it can turn out for you.
For those old enough to remember in 2007-2008 there was a financial crisis that gripped the world. Stock prices plummeted to the level of penny stocks (really cheap stocks that are not even worthy to be sold on a reputable exchange). For me this was a great opportunity to buy American Stocks like Bank of America and General Growth (real estate). At the time is seemed like the opposite of what you should be doing. Banks and Real estate were the reason for the crisis, so why would anyone in their right mind be buying those Stocks? And yes, I was taking a risk because there was no guarantee that those Stock would ever recover. But guess what this was an opportunity to buy stock that originally were worth $50 for $0.50. So I build a diversified portfolio of Stock that I felt would (hopefully) bounce back after the crisis. And guess what...my $1200 investment turned into $20,000.
The lesson is to buy in Crypto Winter so that you can sell in Crypto Summer. As soon as all the haters are laughing their asses off and yelling "bubble, bubble", when all the mainstream media are busy pointing out all the losses that people have suffered, when all your friends and relatives are telling you that they are done with crypto, when the price has gone down even more than anyone thought possible…...That's when you buy!!

If you are waiting for some sign of a turnaround, some glimmer of light at the end of the tunnel then you are already too late. Now when things seem to be at their worst is when you strike and get those bargains.
Just like I did in 2007 I have build a diversified portfolio containing ICO coins like MOAT, promising new coins like ADA and proven coins like Ether and Bitcoin. And again there is some risk involved, no-one can predict the future, it may turn out to get even worse and I might lose all that I have invested. But you know? For me it is worth the risk….
I have taken last week to prepare myself, not for the coming winter but for the Spring and the Crypto Heatwave that will come after it. If all goes well I will be able to sell those coins that I bought at that moment when everyone thought that things couldn't get any worse.
---
I am not a financial adviser, to be honest most of the time I don't know what the hell I am doing. This article is only meant to share my opinion. Always be careful when investing in cryptocurrency and never invest more than you are willing to lose.
---