Good morning friends. See the chart below of the horribly oversold BTC. We are concerned and for STEEM, well, that may be another story. I'm asking you for your opinions! I always welcome them. I too have an emotional involvement. I'd love to make some money for the efforts. But in 40 years of following markets, many as a professional we must keep emotion out.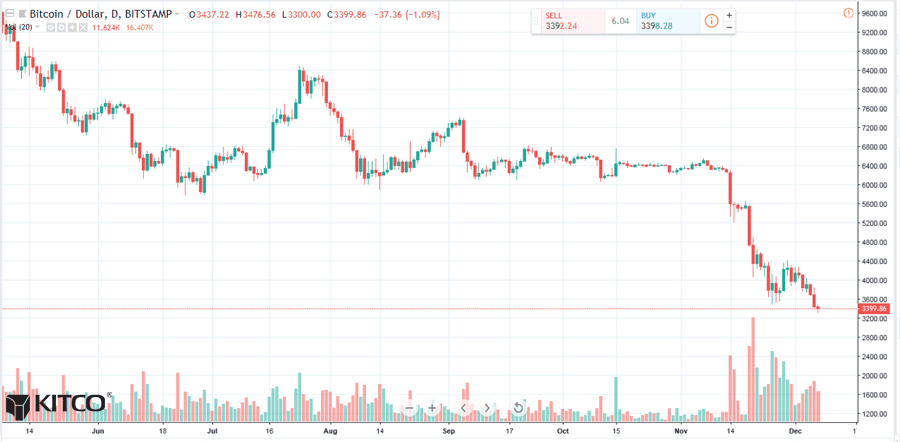 Sure, we'll get oversold bounce at 3400, but it will amount to little.
It is unbelievable to me that sentiment this A.M. is still 73-27 bulls-bears on the VERY reliable IG London client sentiment. I should have put more money where my mouth is. Those reading this blog regularly will see we have missed nothing on the DOW or BTC since writing in January. That's every tradeable rally as well....SENTIMENT, SENTIMENT, SENTIMENT..(and a simple chart). Steem is down 99 percent from the highs. Please ask some of our resident experts here (if you can find them). Are they buying.......if not maybe you should! But seriously I'll report when I see the readings 50-50..or close. Can BTC go to 1000....sure..but I never pick a number..Let the market and the Sentiment indicators show me.
As for the DOW-JONES.....we look for 20,000 sometime next year...any rallies will be bear market reaction just like you saw yesterday. New jobs numbers out today, below expectations. NO one sees recession on the horizon, except right here. No one sees rates lower..except here...and a lower dollar. Watch gold and silver closely.
Have a great day and do your own 'due diligence'.