Good morning my friends.
As BTC struggles to regain 4000 I'm seeing (as I wrote Saturday) positive signs.
WE are not going to write of our track record only to say we've since the sell at 15.000 called every major move in the crypto, including tradable 1000-2000 point moves in either direction. We said 6600 recently can't hold and down is likely, targeting 4000's as likely.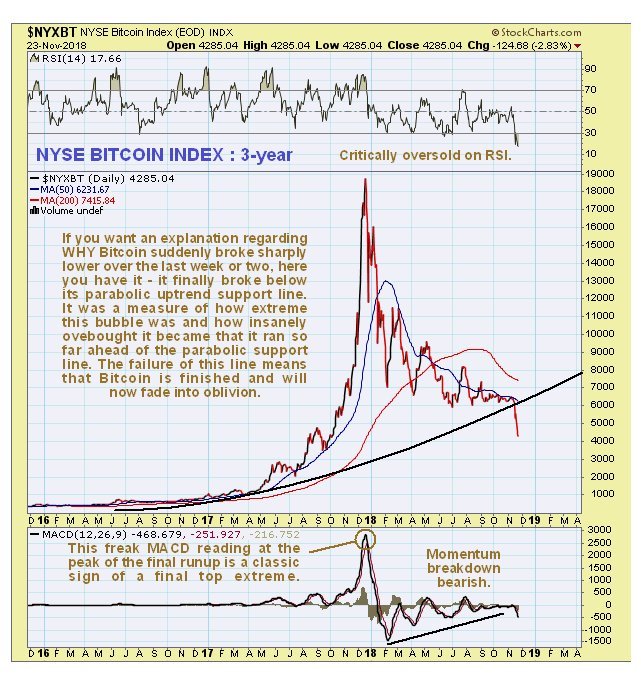 Above is the just posted work of Clive Maund of England. I have followed his work for many years on the metals and stock indexes. He has been the last few years missing big time. He started writing negative on BTC at 6000 but never a word from him prior. Actually my friends, this is just what you want to see a bottoms. I am not saying we are at a bottom, but I'm seeing positive signs. Do not be so anxious to sell! But we are not yet issuing the "all clear".
This morning IG (London) client sentiment reads 70-30. IN January at well over 15,000 it was 91-9. At the tradeable bottom in early Spring ant was about 68-32 (not terribly bullish). We need better than this, and some of you know that was my HUGE concern at 6200 and that feeble rally to 6600! Remember, the readings were about 84-16 and that told me we MUST go down. I was amazed by how long we held that straight line in the 6000's. But all the "lemmings" were literally brainwashed by the "authorities" here many who are now crying that they are broke. Hard for me to imagine some people putting a large part of their life savings in BTC (or others) and NOT taking some hefty profits just looking at the chart above. But then again that is EXACTLY what you find in "bubbles"....even tulip bulbs in Holland hundreds of years ago!
WE are going to see "parabolic again....hey, it just may be silver in 2019-20....(I should be so fortunate). I am very bullish on the metals and they are sure out of favor and grossly undervalued. And I am no fan of "fiat currency".
The Dow Jones ought to have a nice year end move up. SENTIMENT is telling me that! Put-call ratios are bullish. You'll see the "don't worry be happy" crowd entering at another top. If you didn't warrant the sell given here at 26,500 i September. You may have a second chance before we head to 20,000 Dow or lower. Remember the five letter word...CHINA...We are headed for trouble.
I hope I have helped a few of you....and remember, the opinions above are mine..you must do your own due diligence.