Good afternoon my friends, this Wednesday, Dec 5th.
We haven't posted in about one week. We saw BTC attempt to hold 4000 and we last wrote with SENTIMENT about 74%-26% bulls-bears (IG London) you'll see little upside, more likely downward pressure. We had some "decent sentiment" (not great) at 69-31 and I said we'll rally. that was the move from about 3800- 4200. At 4200 in came the bulls like lemmings.
It saddens me that so many of you were sent to the slaughter by certain "gurus" here who now are crying. One in particular, and one of the most visible, saw my work early on and my sell at 15,000 and didn't think much of it!
He now knows I haven't missed any move in BTC amounting to 1000 points.....the short term buys in April and in the summer and selling at 8200 and the move that we called that resulted in the last sell over 6000. This same person recently told me "know one knows where BTC is going". I agree! But I can tell you where it is not going and where your risk/reward lies. But, you need to know how markets work and some investor psychology (sentiment).
BTC unfortunately will go lower and I NEVER attempt to pick a price target. Let the market and investor reaction show me.
The Dow-Jones dropped 800 points yesterday. Oh my! I didn't call it. But my last report said (after the buy at 24,500) I'd take a move to 25,500 and say "THANK YOU". Well see what happened. Why? the lemmings are now trained to "buy the dips". I can't believe what I just saw...there are more bulls at yesterday close that at the open!! Unreal. We are going a lot lower my friends. After the October big decline we had very bullish numbers and I call for a good rally...BINGO.Now, the opposite reaction. Watch what happens...can you say 20,000 Dow?
Gold and silver are heading dramatically higher. We have said recently at 14.00 silver and 1200 gold the bottom is in. frankly I have been frustrated by the metals. The day is coming and it's here. The dollar must go lower and that is exactly what the trade situation with China dictates. Citi's top analyst put out today the chart you see below.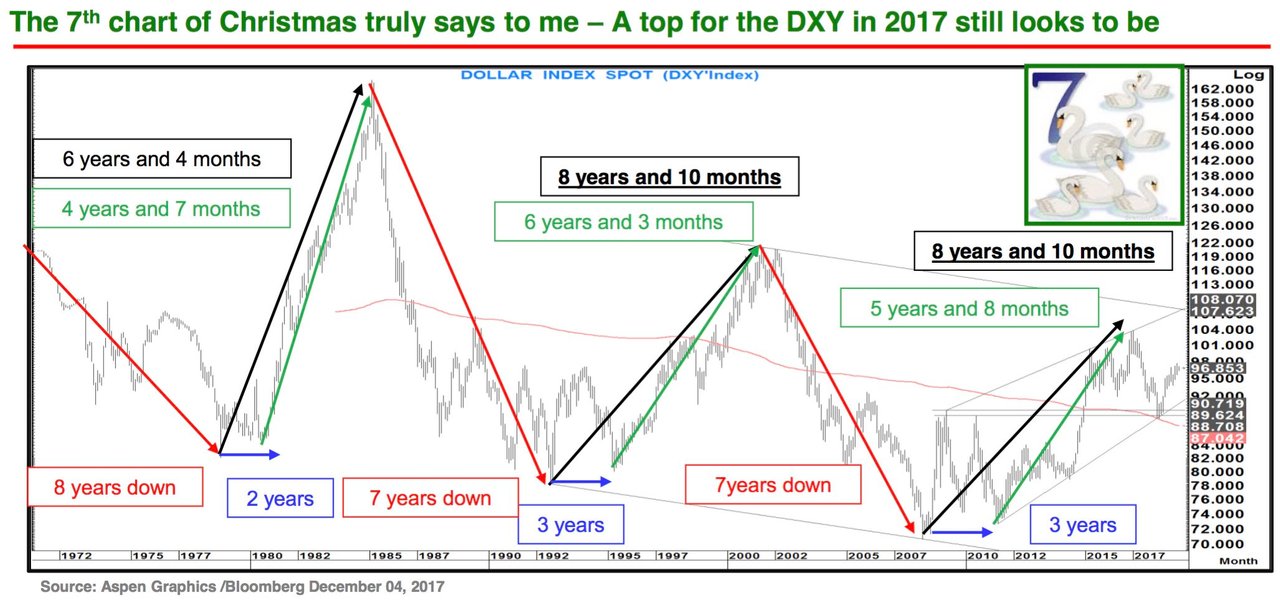 Ron Rosen who I've quoted many times here just announced silver bottomed and looks for prices in the next few years that are going to shock you. Rosen is probably the best timer I've seen in forty years.
Thanks for your support. And remember do your own 'due diligence'.