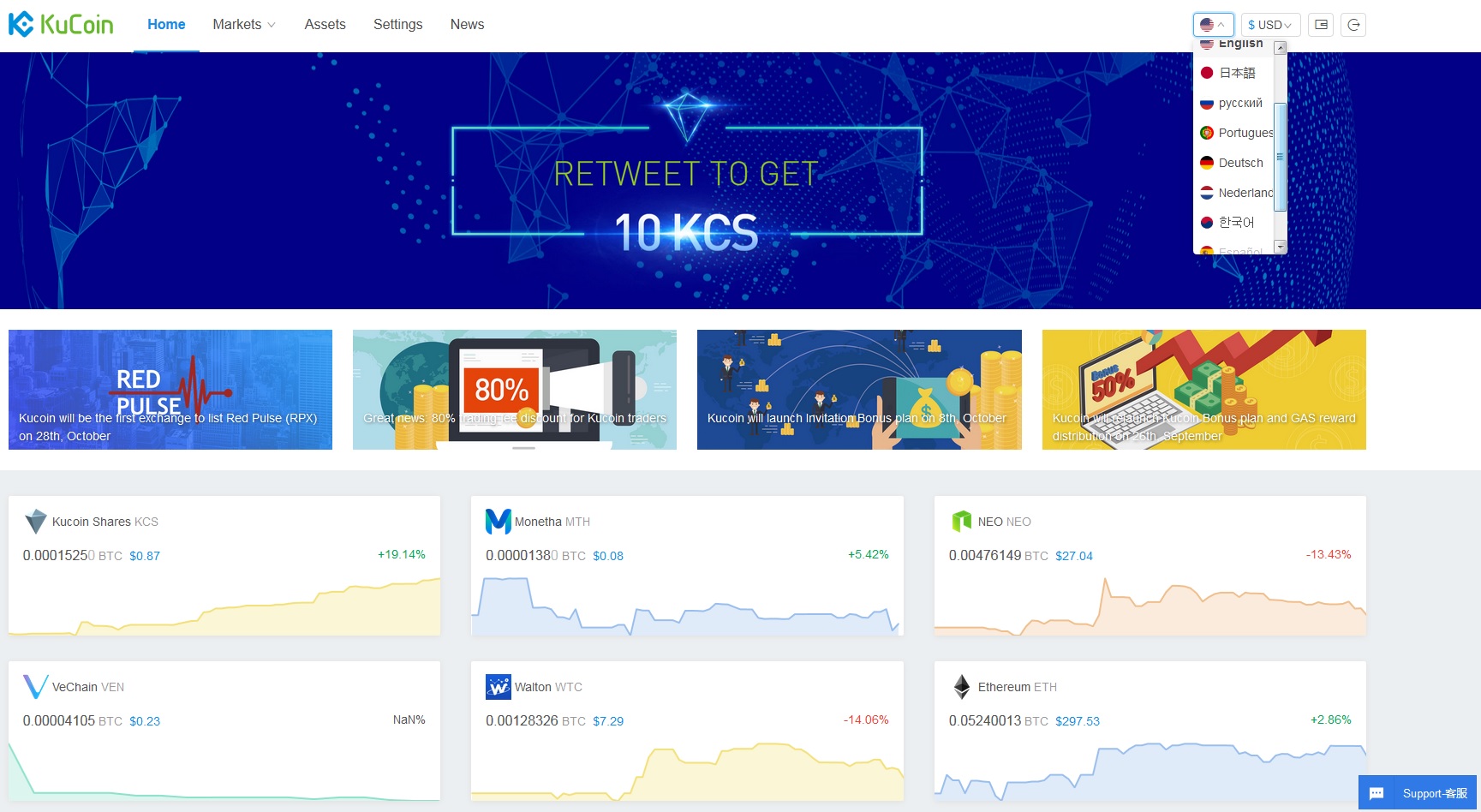 Okay let me be honest!
I am not writing this to get steemit upvotes or kucoin referals (which I would love).
I am here to spread the word about kucoin.
First of all I would like to introduce myself. English is not my native language so if you see a lot of mistakes just tell me, I am eager to learn.
I started with crypto in June 2017, so I am still a newbie, but I used a few big crypto exchanges. Coinbase, Kraken, Bittrex, Poloniex, Cryptopia and Binance. I loved and still love Binance but a few days ago I found out about the kucoin exchange and I am amazed.
This new exchange is super fast! And I am not kidding. I am not comparing it to kraken, which in my opinion is pretty slow. I think its faster than bittrex and binance combined, if your internet isn't that bad. Okay let's hope it can maintain the speed, when more and more people join and use it.
Here are a few facts:
It offers 11 different languages including French, Spanish, German, Portuguese, Dutch etc.

It has more than 30 different currencies to choose from. And I dont mean crypocurrencies. EUR, USD, AUD, CAD and so on.

Until december they will have over 50 mainstream cryptocurrency pairs listed and the daily exchange volume expected to be 5,000+ BTC. Right now there are only 18 crypocurrencies and a few mainstream, like BTC, ETH, NEO, WTC, LTC, SNT...

Kucoin offers 24/7 customer service through WeChat and other platforms. They claim that customer service issues are addressed within 10 minutes.

On the on 28th October Kucoin will be the first exchange to list Red Pulse (RPX), the first NEO token.

Kucoin holders receive GAS from NEO daily, instead of monthly on binance.

Kucoin claims that blockchain-based assets will be added to your account within 2 minutes of your transaction, with withdrawals completed in 10 minutes.

The Kucoin wallet includes multilayer encryption, offline storage in a bank safe, funds escrow, and regular auditing by the bank.

Plans to release an Android and iOS mobile app in November.

Kucoin will buy back KCS each quarter by using the 10% of profits collected from transaction fees. Buybacks will continue until 100 million KCS have been destroyed.
And now, in my opinion, the most amazing thing about this new exchange: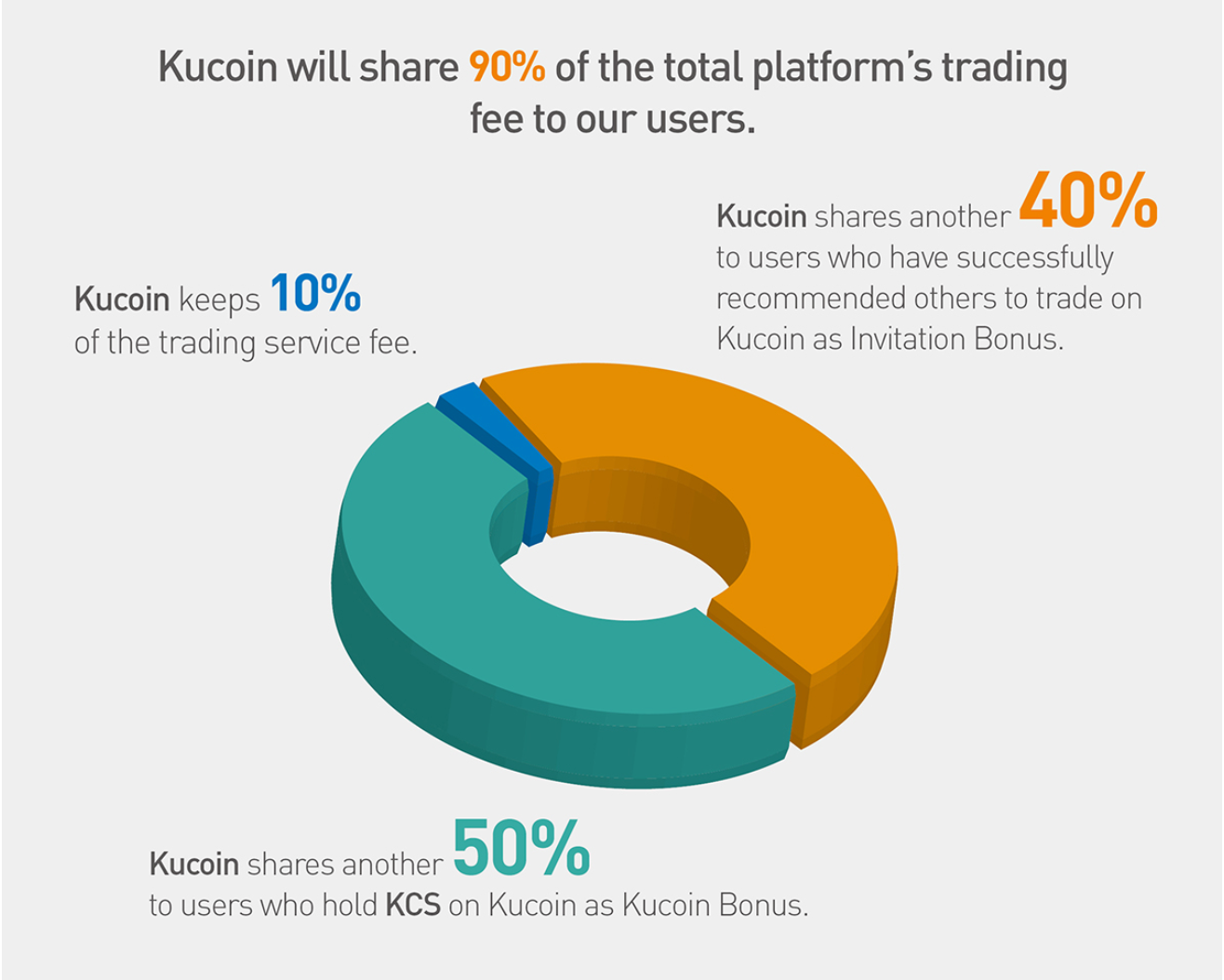 To improve user involvement and exchange vitality, Kucoin is going to award an incentive bonus, which equals to 50% of the total trading fees charged by the platform, to users who hold KCS in their accounts. Please note that this award proportion could be adjusted based on the actual situation in the future.
The initial amount of KCS is 200 million among which 100 million owned by the team and angel investors would not be taken into account when calculating the bonus. In addition, we guarantee that at most 100 million KCS be calculated in the bonus plan during official buy-back and destruction.
To obtain the daily bonus, users would need to deposit their KCS into Kucoin Platform. Then the platform will conduct accounting and award bonus based on to the KCS holdings in user's account at 0:00 (UTC+8) that day and all the trading fees charged to the platform on the previous day. Then the bonus gained by users will directly put to their Kucoin accounts in the corresponding currency.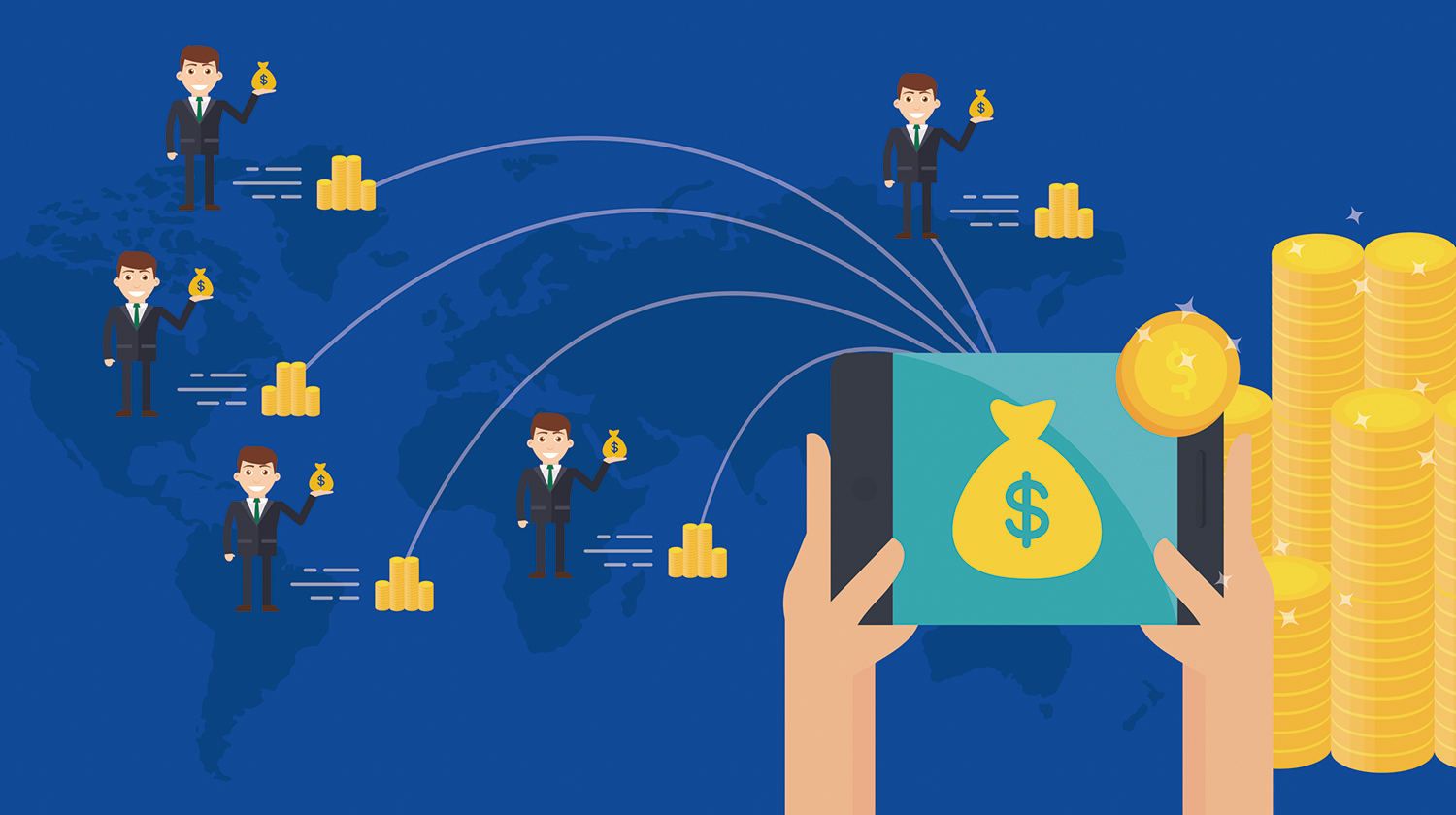 For instance, If ETH-BTC cryptocurrency pair rate is 0.063 on the platform and the daily exchange volume is 30,000 BTC; based on the 0.1% rate from each side, the platform shall charge 30 BTC and 476 ETH as trading fees. The bonus for every 10,000 holdings would be 10,000 by 100,000,000 (0.01%). So that the daily bonus from this very cryptocurrency pair is 0.003 BTC and 0.0476 ETH (1 BTC and 17 ETH annually). Please note that this is ONLY the ETH-BTC exchange pair BONUS. Other than ETH-BTC, there are still various cryptocurrency pairs on the platform, which creates the trading fees in the corresponding currency and bonus based on the description above.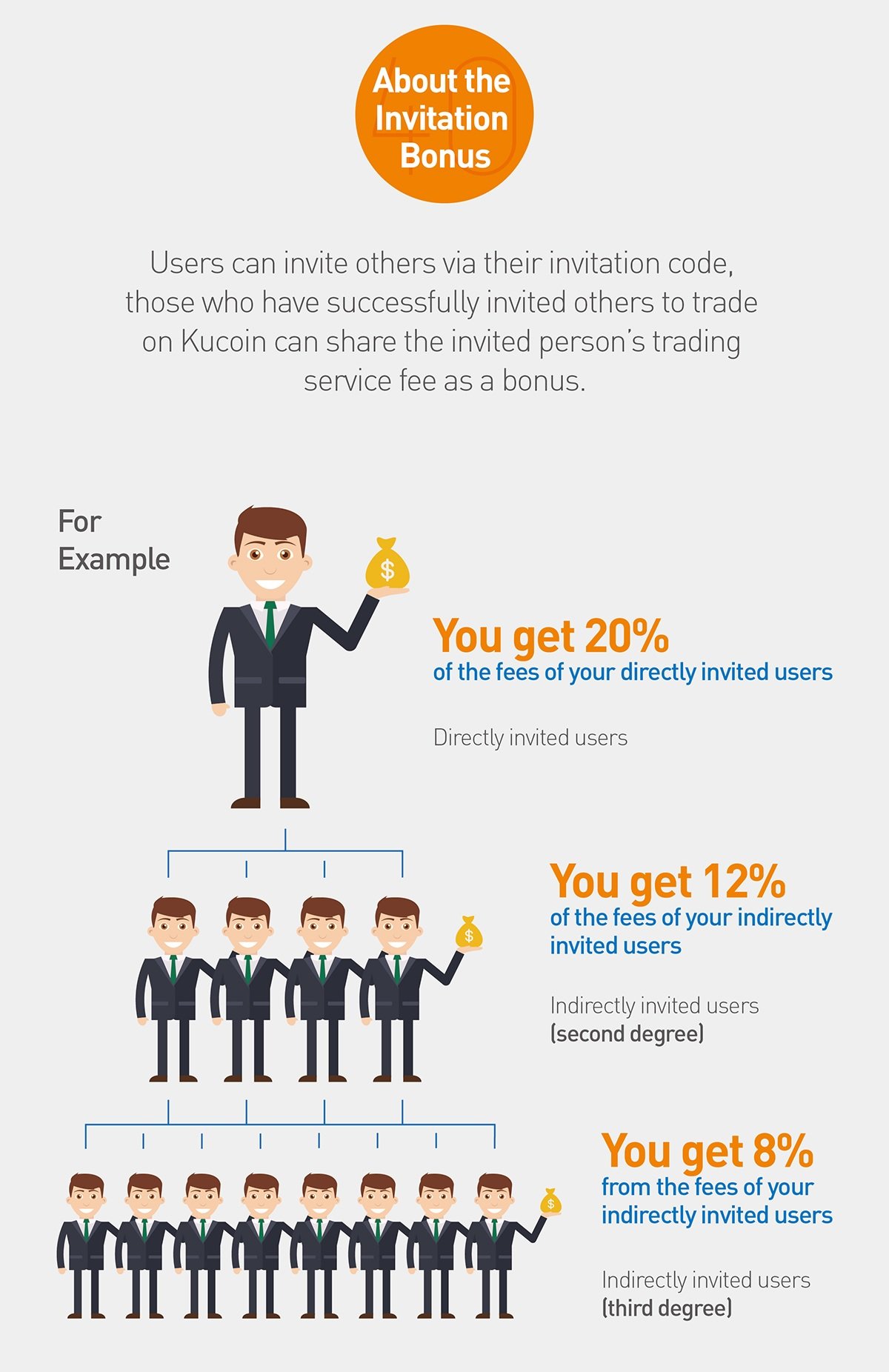 I would love it so much if you could use my invitation link (but you don't have to):
https://www.kucoin.com/#/signup?r=E3aJvf :D
or
Sources:
https://www.kucoin.com
https://twitter.com/kucoincom