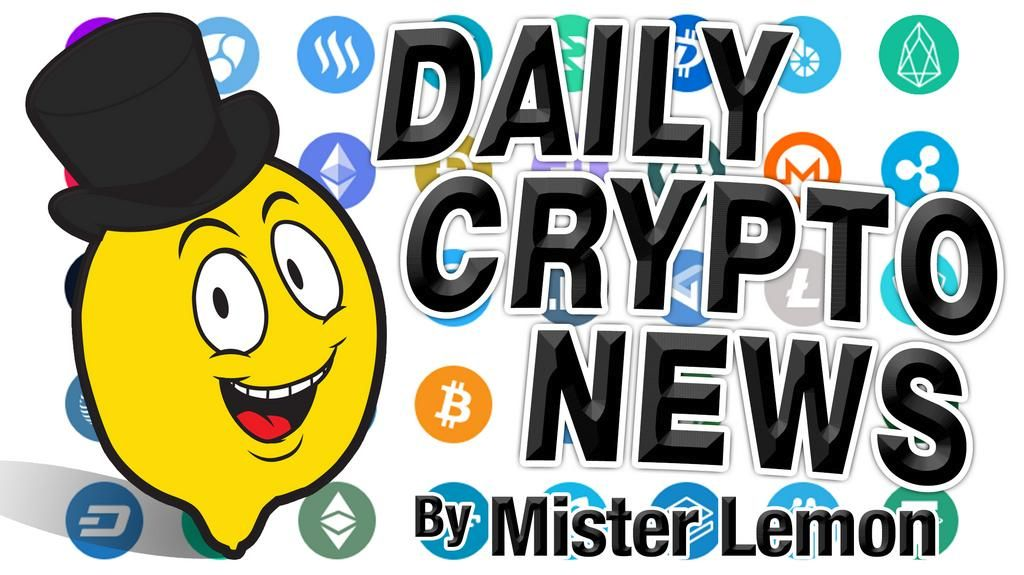 What to Expect When Ethereum's Constantinople Hard Fork Happens ;
Bitcoin Price Looks South After Worst Daily Loss Since November ;
US: Crypto Is Among SEC's Top Examination Priorities for 2019 ;
The Differences Between Forex and Crypto Trading ;
Venezuela Files Complaint With WTO Regarding US Sanctions Against Petro ;
📑 Daily Crypto Calendar, January, 11th💰
STEEM Trading Update by @cryptopassion
Welcome to the Daily Crypto News: A complete Press Review, Coin Calendar and Trading Analysis. Enjoy!
As crypto prices continue to fall, 2018 is ending on a sour note for the global blockchain community.
"Cautious optimism."
That's how Hudson Jameson, developer relations for the Ethereum Foundation, described the mood in the run-up to ethereum's fifth planned system-wide upgrade, Constantinople.
Expected to activate next Wednesday, Jan. 16, Constantinople is a type of upgrade known as a hard fork – which means it needs to be unilaterally installed across all nodes in the network to function as intended.
This approach is a process that comes with inherent risks. For example, if a sufficient number of users don't agree with an upgrade, it could cause the network to split. Such an event took place in 2016 when a controversial hard fork following the collapse of the DAO led to the emergence of two distinct blockchains, ethereum and ethereum classic.
Bitcoin's (BTC) price saw its biggest drop for seven weeks on Thursday, weakening the prospects of a bullish breakout above $4,100.
The world's largest cryptocurrency by market value hit a 3.5-week low of $3,503 yesterday, before closing (as per UTC) at $3,627 – down 9.4 percent on the day. That was the biggest single-day drop since Nov. 24 and the fourth biggest daily loss of the last two months, according to CoinDesk's Bitcoin Price Index (BPI).
Essentially, the hard-fought gains of the last two weeks have been erased in the last 24 hours. The cryptocurrency had carved out a bullish-higher low near $3,550 on Dec. 27 before crossing $4,000 on Jan. 6.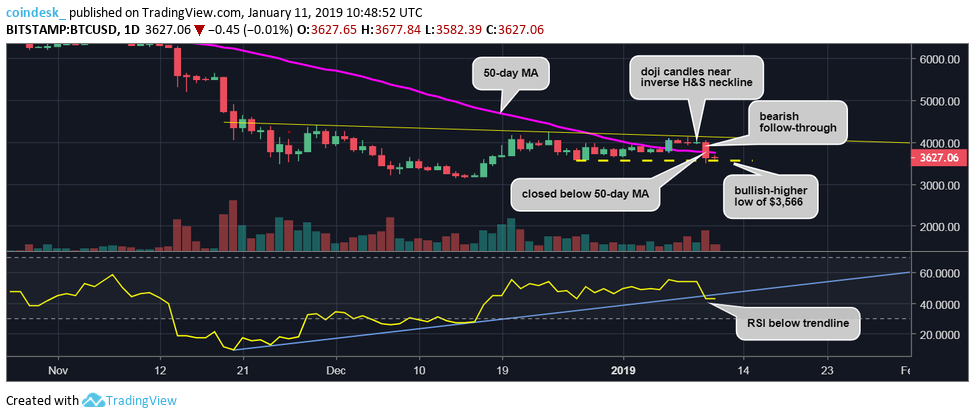 Cryptocurrencies are one of the United States Securities and Exchange Commission's (SEC) top examination priorities this year, according to an official statement announced by the commission Dec. 20.
In the SEC's Office of Compliance Inspections and Examinations (OCIE) recent report, digital assets — specified as cryptocurrencies, coins and tokens — are included among the six "themes for OCIE's 2019 Examination Priorities."
Many would argue that comparing cryptocurrency trading with forex is like comparing apples and oranges, but that's not entirely accurate. On closer inspection, there is a number of similarities between the two. For example, the underlying market dynamics of supply and demand will usually govern the prices of the respective assets. Here traders share their thoughts on the mechanics of each.
Alex Mashinsky, CEO of Celsius Network, notes that crypto and forex both represent a digital store of value and can be purchased and sold with ease. They both have high volatility which creates an opportunity for quick profits going long or short.
"The pro of trading crypto and forex is that these are global markets dominated by large financial players who have algorithmic trading capabilities. Most individual players cannot compete or match the trading and speed of hedge funds and large banks which swim in these markets," said Mashinsky.
Venezuela has filed a complaint with the World Trade Organization (WTO), claiming that current US sanctions on the country violate a number of WTO rules and regulations. The complaint asserts that the "coercive trade-restrictive measures" placed on Venezuela's national cryptocurrency, the petro, are non-pursuant with the WTO's General Agreement on Trade in Services (GATS) regulation.
📑 Daily Crypto Calendar, January, 11th💰
During the upcoming hard fork on January 11, 2019, all Ethereum holders will receive 3 ETCV for each ETH in their personal wallets.
"Launch a new block explorer based on https://chainz.cryptoid.info."
"Callisto will hold its next community AMA with CEO Yohan Graterol. 11 Jan 2018 19:00 (UTC)."
General Event (CRYPTO), Expanse (EXP)
Blockchain Connect Conference Academic 2019, hosted by SV Insight at the Marriott Marquis in San Francisco.
STEEM Trading Update by my friend @cryptopassion
Here is the chart of yesterday :
Here is the current chart :
The UP of the last days was nice but not enough powerfull. We are having now an important correction which could even change the short trend that we were building since days. We broken powerfully the support line in orange and we are back in the middle of our trading canal. The important for us now is for sure to don't break the support line in red or we will make new lows on the STEEM.
Last Updates
You don't want to miss a Crypto news?
Join SteemFollower and get Upvotes back !