Good Morning,Good Evening, Good Afternoon depending on where are you in this world. 
Greetings of the day it's great to be with all of you. It is great because I'm a part of this awesome community. I'm writing this blog to confirm my participation in the contest  started by @Oracle-d Review a Cryptovoucher.io and earn reward.
Due to Government polices it is difficult to purchase cryptocurrency in various countries. Especially when their is talk about converting fiat to cryptocurrency. I'm from India and it is really too difficult to purchase Crypto here. I figured a way to buy crypto using credit card So today I'm going to tell you a way where you can purchase Crypto direct from your credit card. so let me explain the method.
Crypto Voucher  is the easiest way to buy Bitcoin, Ethereum or other cryptocurrencies  instantly. Access the crypto-space with your voucher quickly. That's really Inspiring news! It is right now possible to buy Steem and some other cryptocurrency with fiat cash through cryptovoucher.io. By using their platform, you can purchase vouchers which you can trade for a wide range of cryptocurrency: BTC, BCH, ETH, ETC, LTC, DASH, XRP, ZRX, BNB, STEEM and XLM. Everyone can buy these vouchers direct from their website or through one of their online distributors. 
Here you can purchase crypto vouchers using three method.
Buy Online 
Buy Locally
By with a Gift Card
Buy Online:
Step - 1
Go to https://cryptovoucher.io/
Step - 2
Click on Buy Online then you will be redirected to a page like below. Fill the Desired amount you want to purchase and then click on check out.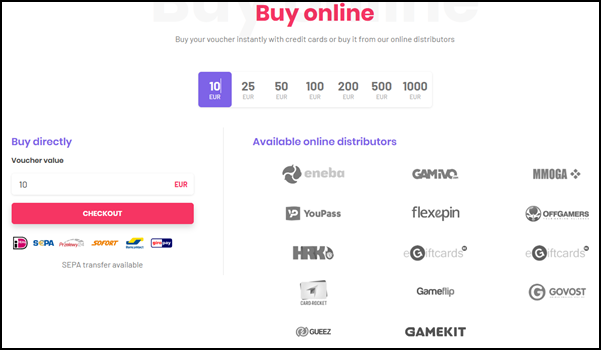 Step - 3
Select Steem from drop down list if you want to purchase then select the payment method from the list. If you are from India then you have to chose Payment through credit card.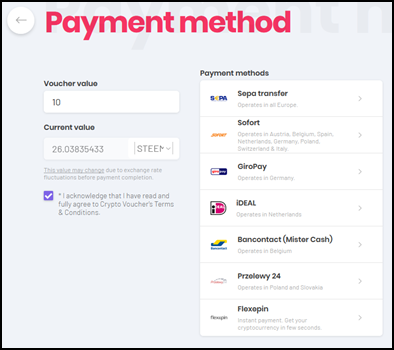 Step -4 
Payment through credit card is accepted by distributors so now you have to select "Proceed To Distributors Website".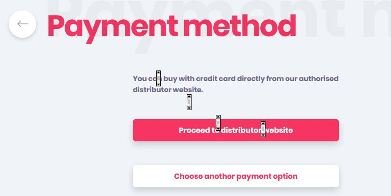 Step -5
Now click on the Buy now button and enter your card detail and then click on pay.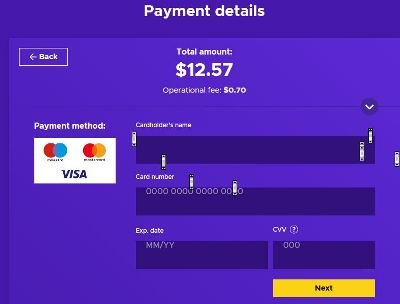 Distributors charges little bit more from the actual price.
That's it you are all done  you will receive your voucher shortly that could be redeemed for your desirable cryptocurrency.  
Buy Locally 
You can buy crypto vouchers locally too Find local distributors near you and buy crypto with cash.

Buy with a gift card 
Exchange your gift card to bitcoin or other cryptocurrencies.

Why you have to use Cryptovoucher.io( My Views)
The great thing is that crypto voucher gives us variety of method to purchase their vouchers. This is easiest way to buy Bitcoin, Ethereum or other cryptocurrencies instantly. Here Im mentioning some great feature of Cryptovoucher.io Why we have to use their services.
The website is very easy to use and have simple user interface.
They are using very good business modal so the transactions are lightning fast.
They have a wide range of cryptocurrency so we can chose whatever we want to buy.
Fast and simple steps to  redeem. 
Go to: https://cryptovoucher.io/
Click "Redeem" on top right corner.
Enter the code and choose cryptocurrency you want to receive.
Provide wallet address where your cryptocurrency to be sent. (If you want to Sent Steem to Your Steem account enter your steem username without "@" sign Like "ajks".)
Confirm your transaction. 
Your cryptocurrency will be sent to your given wallet address.  
Blog Reference
official website https://cryptovoucher.io/
image source - Screenshots are taken from official website
Thanks for your interest
Follow me @ajks