Drums in the woods
The voice of our ancestors and
The gong of our fighters, who is dancing
To the call of freedom.
Let's stop pretending we don't know the truth,
No body loves God,
We are here because of His offer, just because we don't pay for it make us sit all day awaiting His incoming fulfilment of promises.
Truly what we need is not God we don't need devil either
the Human race most particularly Africa,
We are in need of spiritual abilities and powers
of a truth if God had made us like Himself super being, super human no body would have accepted the white man's game called Church and Mosques
We had this thing before the coming of Caucasian's being
We had demonology, witch craft practices and sorts
We had priest (Debia) and fellowship of Idols,
Instead of this scam can't Africa return back to her place? Or because of civilization nobody wants to touch or drink raw eggs mixed with blood or morgue or mortuary waters and living in forest under big trees.
Okay nobody wants to kill, we all want to live civilize yet spiritually filled, we shouldn't think Christianity offer us this
It never answers our spiritual questions or settle our taste for mysterious power,
I want to say the White intelligently foresaw the spiritual capability of Africa dark magic force and demonology practices how great it I'll be, how endangered they are at its potential and instantly they introduced Christianity breaking our back bone, hitting us in the worst place, and finally having control by making us hate ourselves, our culture, colours and killing our self esteem
Today we don't go to ancient alters any longer, we don't seek after the Oje na mmuo of our ancestor nor drinking fresh blood from the gourd of our Forefathers because those who broke our back bone, who took our cultural heritage succeeded
We are calm of course,
Going to church clapping our hands, dancing their hypocritical songs and listening to their propagandas sermons
Pretending we are being blessed
Pretending it's working, it's fruitful, and being moderate, living our comfortable lives,
Yet unsuccessfully chasing after spiritual powers and knowledge we have let go long ago.
And finally putting our fathers pride in mud beneath their pulpit, dancing sarcastically prodding our foot upon his Arusi at the White man's instructions and
Delightfully being slave forever.
Awake and dance back Africa
This dance is the dance we know so well,
Without mic, without drum set, without piano nor guitar
The hips of our maiden shake so well
Listening to the
gong, bells and rattles of our boys..
Graypen
Her fathers call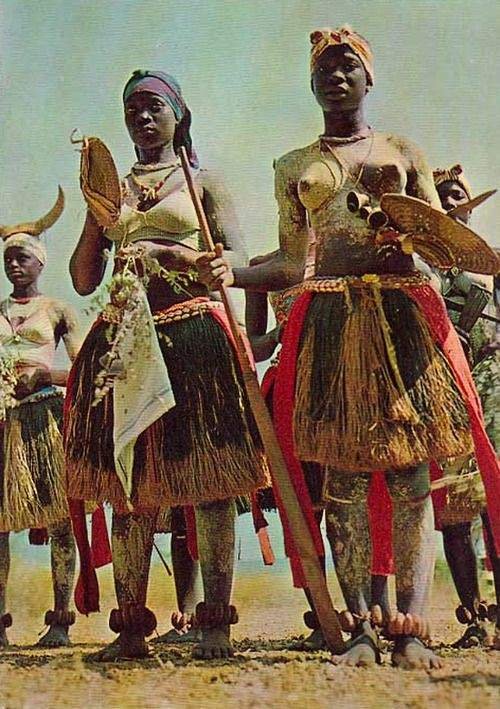 Posted using Partiko Android