Silvesterpfad und Neujahrskonzert.

Der Jahreswechsel ist in Wien ein großes Spektakel, das auch viele Gäste aus dem Ausland anlockt. Rund 750.000 Besucher waren in der Silvesternacht 2018/19 in der Wiener Innenstadt unterwegs. Da ich den Jahresausklang heute Abend lieber in gemütlicher, kleiner Runde verbringe, habe ich mir einige Schauplätze des großen Events bereits in den letzten Tagen angesehen.

New Year's Eve Trail and New Year Concert

The turn of the year is a big spectacle in Vienna, which also attracts many guests from abroad. Approximately 750,000 visitors came to the city center of Vienna on New Year's Eve 2018/19. As I prefer to spend the end of the year tonight in a comfortable and relaxed atmosphere, I already visited some of the locations of the big event during the last days.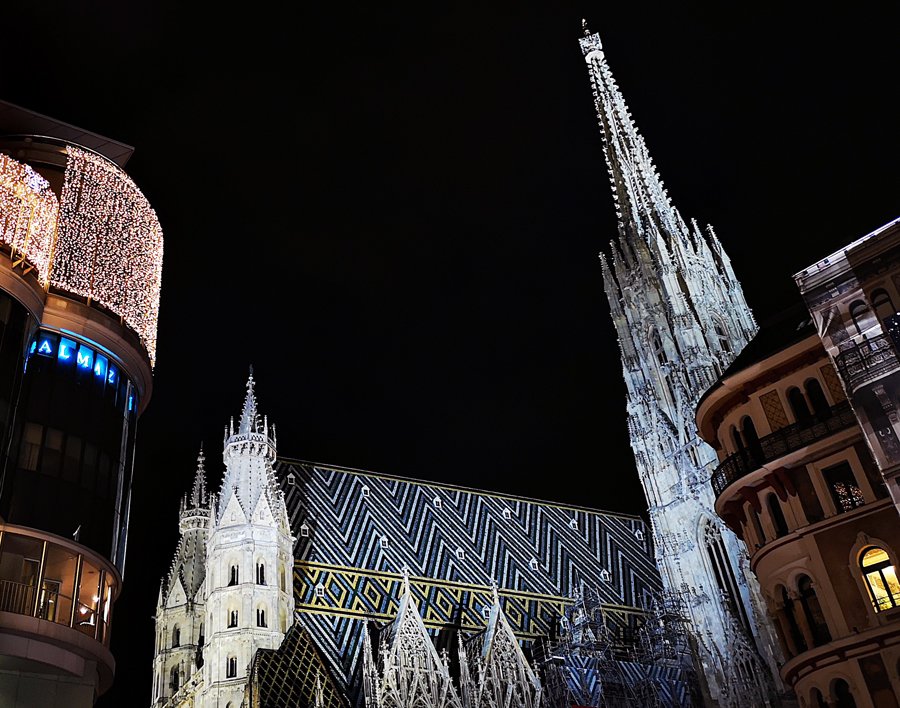 Domkirche St. Stephan / St. Stephen's Cathedral
Hauptattraktion ist der Wiener Silvesterpfad. Die vier Kilometer lange Partymeile erstreckt sich durch die Innenstadt. Ausgehend vom Stephansplatz führt die Route über mehrere Stationen zum Rathausplatz und zur Staatsoper. "Let's Party together!" heißt es auch auf dem Riesenradplatz im Prater. In der Seestadt Aspern hingegen wird ein kinder- und familienfreundliches Programm geboten.
The main attraction is the New Year's Eve Trail. The four-kilometer-long party mile stretches through the city center. Starting at Stephansplatz, the route leads to Rathausplatz and the State Opera House. 'Let's Party together!' is also the motto on the Riesenradplatz in the Prater. In the Seestadt Aspern, on the other hand, a child- and family-friendly programme is offered.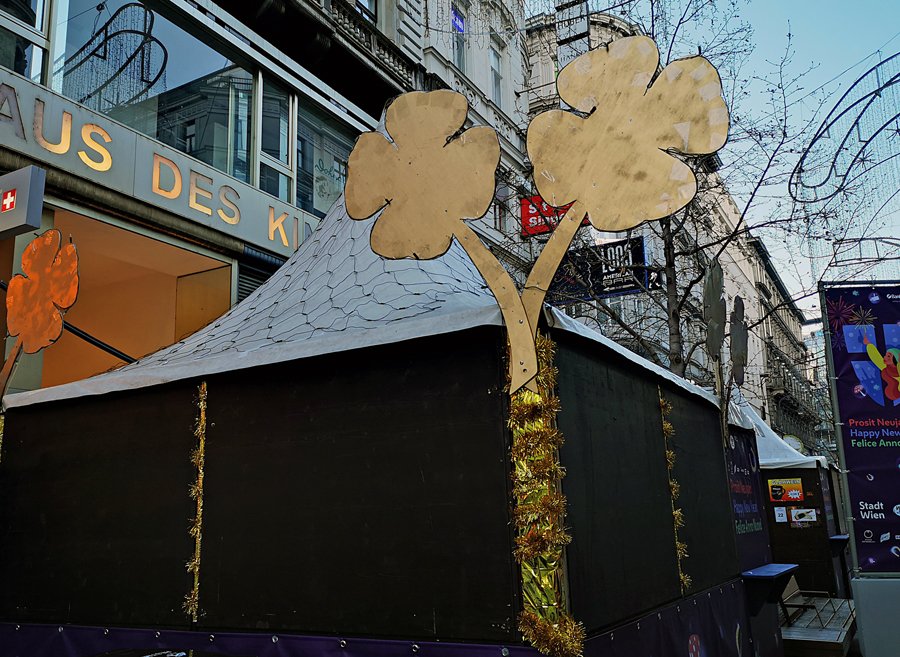 Am Vormittag sind die zahlreichen Verkaufsstände, die kulinarische Spezialitäten und Punsch (ein heißes, meist alkoholisches Mischgetränk) anbieten, noch geschlossen. Der 30. Silvesterpfad wird offiziell um 14 Uhr eröffnet. Glücks-Fische, ein traditionelles Biskuit-Gebäck aus dem Hause "Manner" gibt es bis 21 Uhr im Stammgeschäft gegenüber dem Stephansdom.
In the morning the numerous stalls offering culinary specialities and Punsch (a hot, mostly alcoholic mixed drink) are still closed. The 30th New Year's Eve Trail is officially opened at 14:00. Glücks-Fische, a traditional biscuit pastry made by "Manner" is available until 9 pm in the main shop opposite St. Stephen's Cathedral.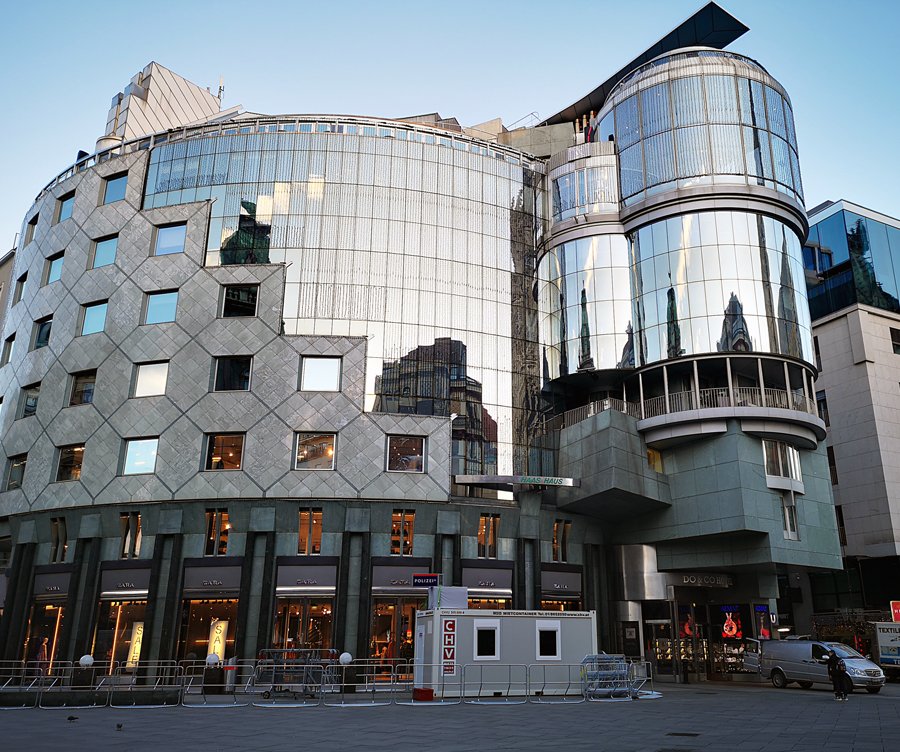 Haas-Haus am Stephansplatz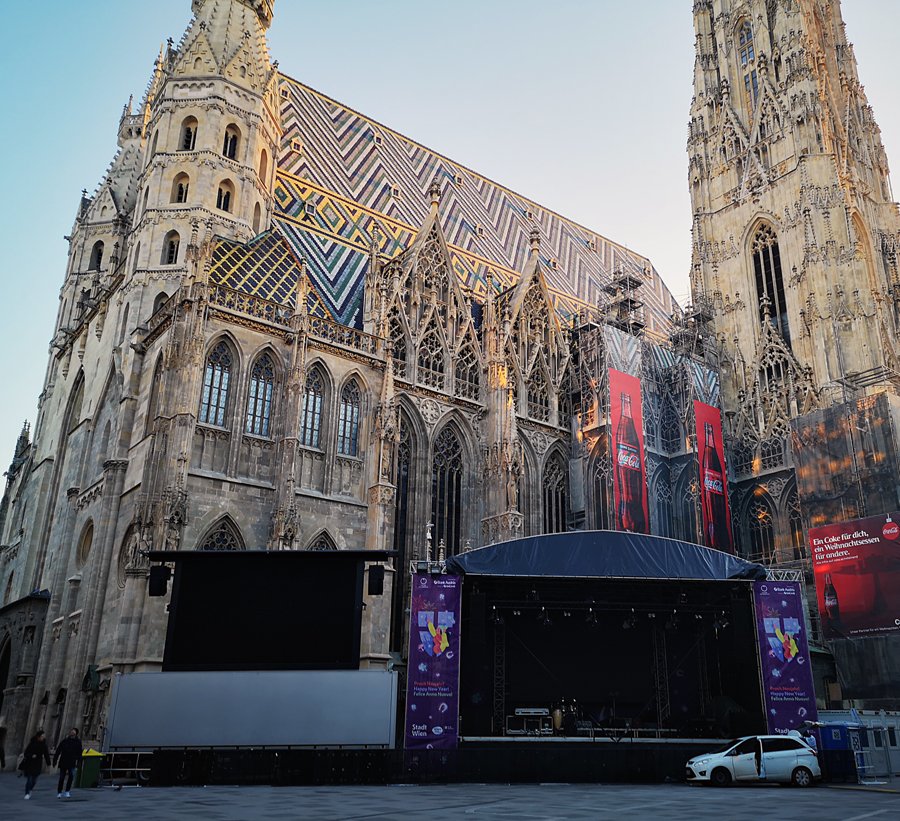 Der ansonsten stark belebte Stephansplatz bietet um 8 Uhr morgens ein ungewohnt menschenleeres Bild. Das Unterhaltungsangebot entlang des Silvesterpfades ist vielfältig. Auf der Bühne am Stephansplatz zeigen die Wiener Tanzschulen ihr Können, bevor es musikalisch mit Pop-Musik aus Österreich und Bigband-Sound weitergeht.
The otherwise very busy Stephansplatz offers an unusually empty picture at 8 am. The entertainment along the New Year's Eve Trail is varied. On the stage at Stephansplatz, the Viennese dance schools show their skills before the show continues with pop music from Austria and big band sound.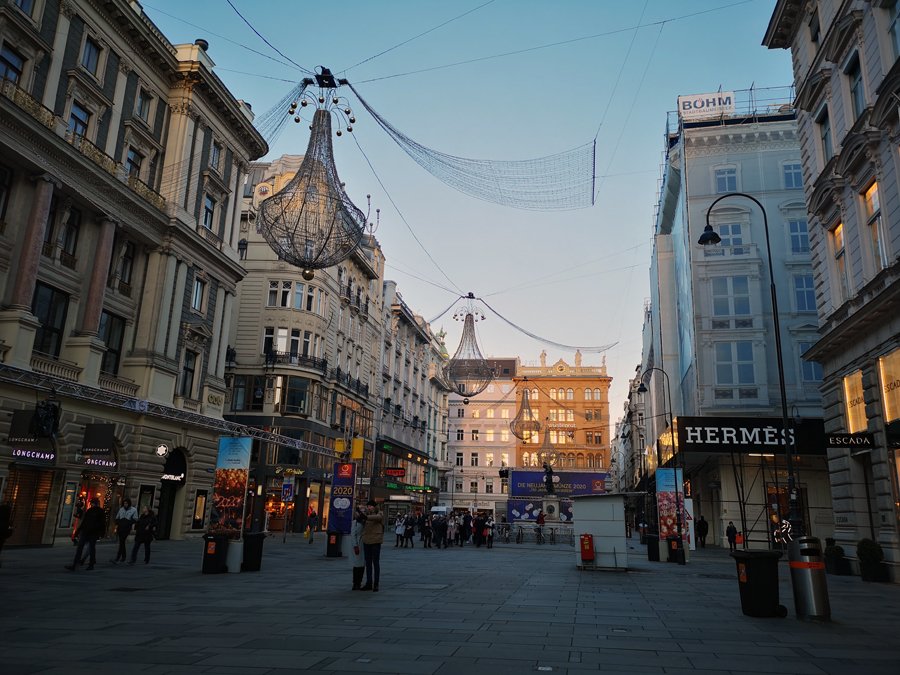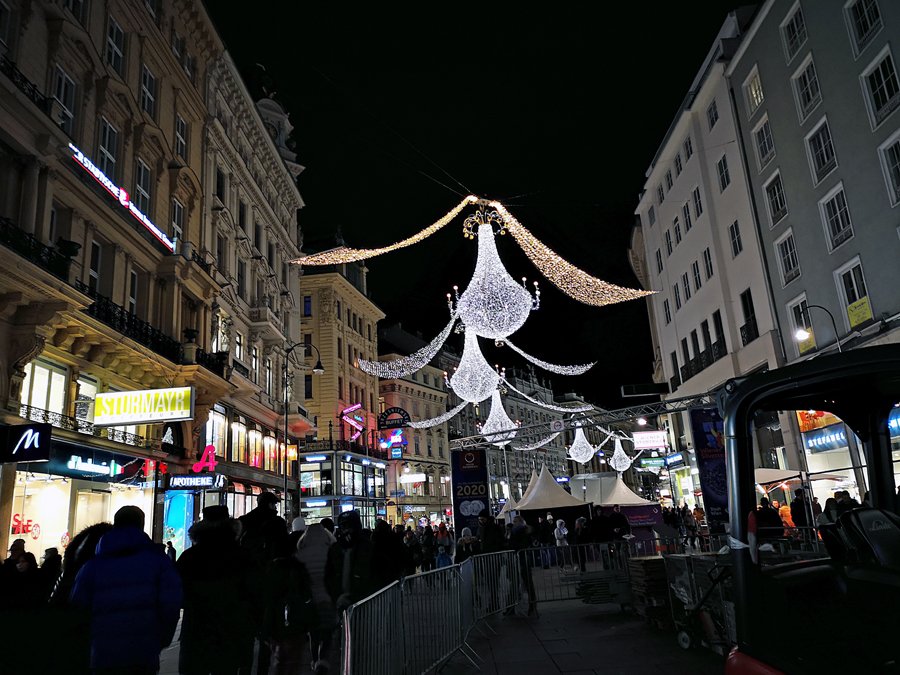 Der Graben wird zum Freiluft-Ballsaal. Am Nachmittag kann ein kostenloser Tanzkurs besucht werden, bevor es unter den strahlenden Kronleuchtern der weihnachtlichen Festbeleuchtung beschwingt in das Neue Jahr geht.
The Graben becomes an open-air ballroom. In the afternoon a free dance course can be attended. So in the evening you can dance into the New Year under the shining chandeliers of the Christmas illumination.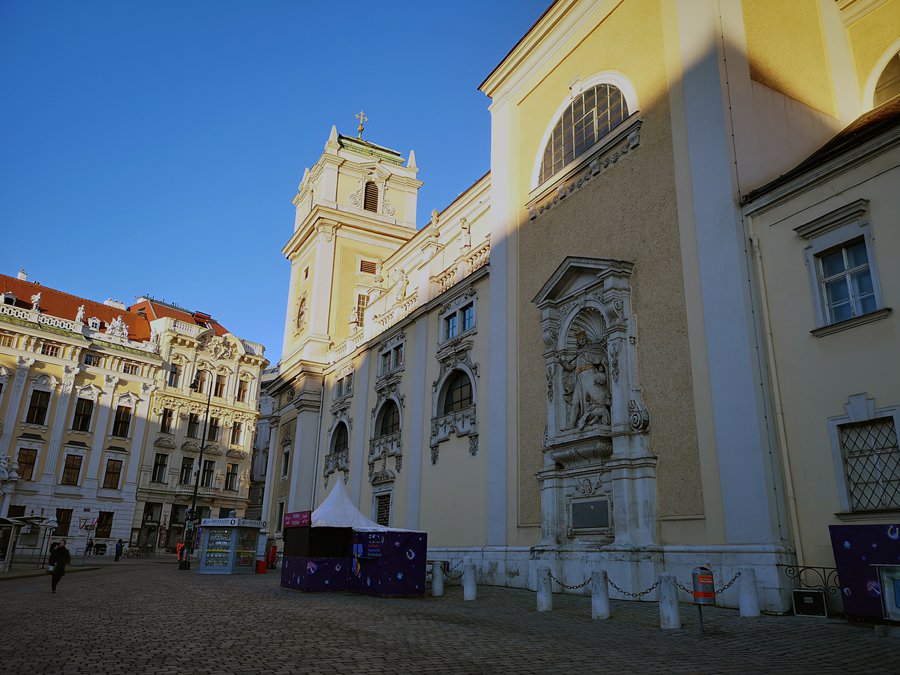 Schottenkirche auf der Freyung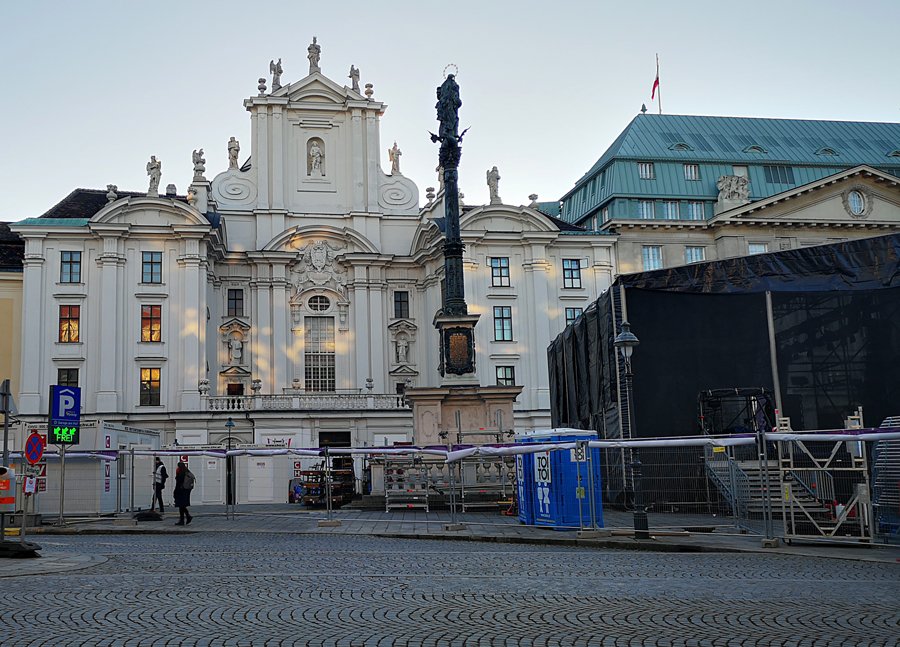 Kirche am Hof
Eine Kinder-Silvesterparty wird auf der Freyung gefeiert, während Funk & Soul auf der Bühne Am Hof dargeboten wird.
A children's New Year's Eve party is celebrated on the Freyung, while Funk & Soul is performed on the Am Hof stage.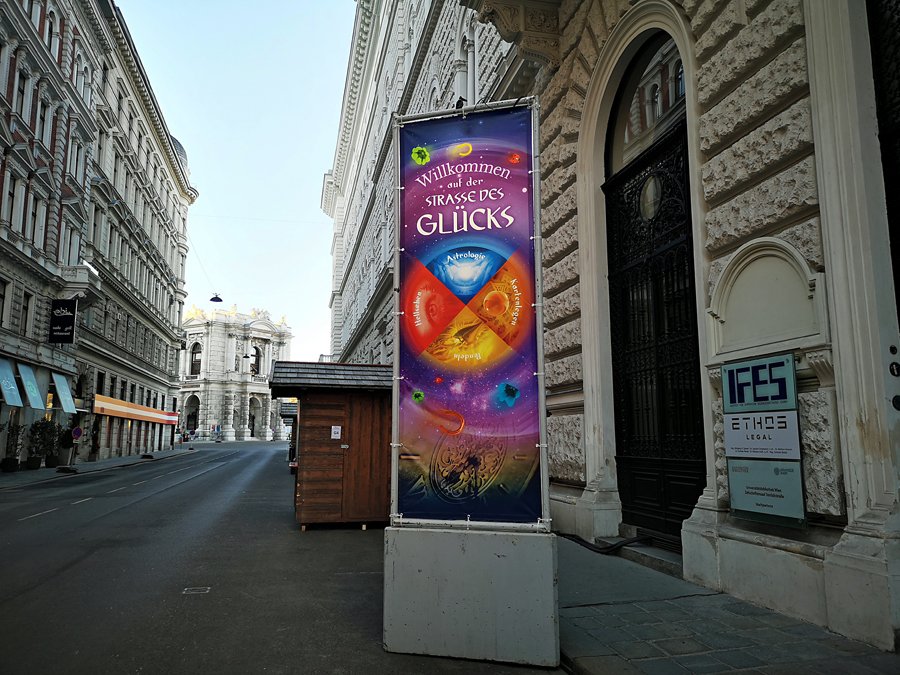 Die Teinfaltstraße wird zur Straße des Glücks, wo Kartenleger, Wahrsager und Astrologen einen Blick in die Zukunft wagen.
The Teinfaltstraße becomes the street of luck, where fortune tellers and astrologers dare to look into the future.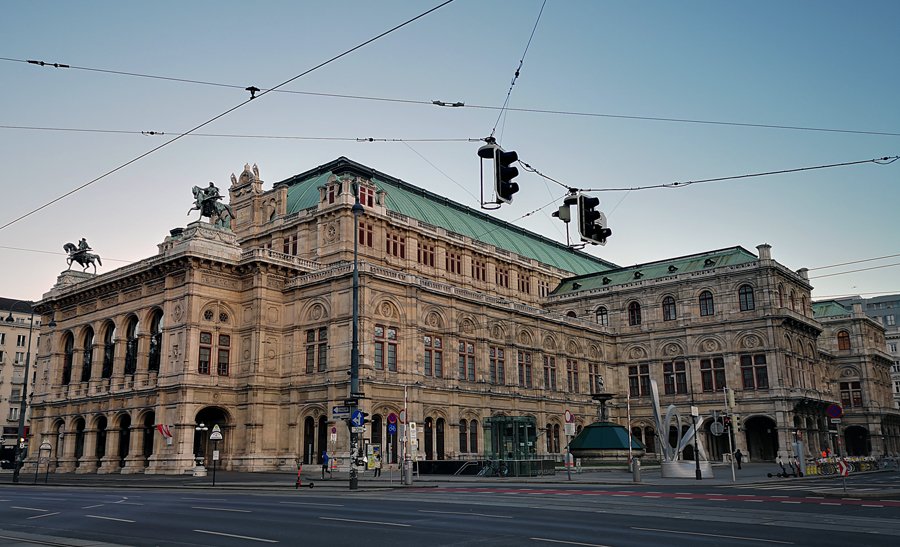 Wiener Staatsoper / Vienna State Opera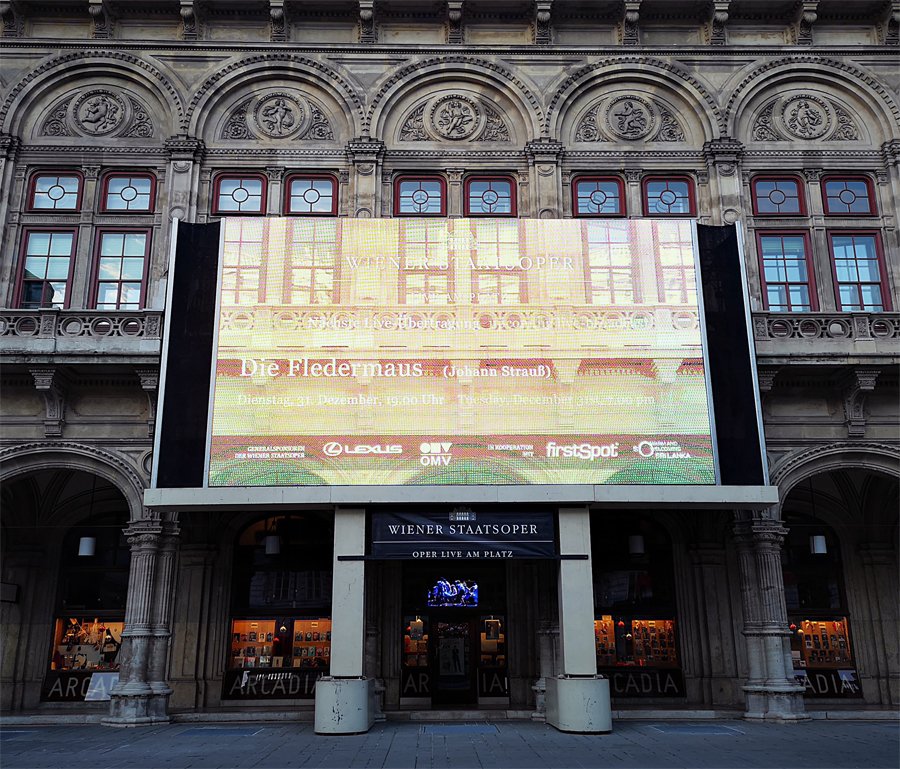 Am Herbert von Karajan-Platz vor der Staatsoper findet ab 19 Uhr die Liveübertragung der Operette Die Fledermaus von Johann Strauß statt.
At Herbert von Karajan-Platz in front of the Vienna State Opera the live broadcast of the operetta Die Fledermaus by Johann Strauss will take place from 7 pm.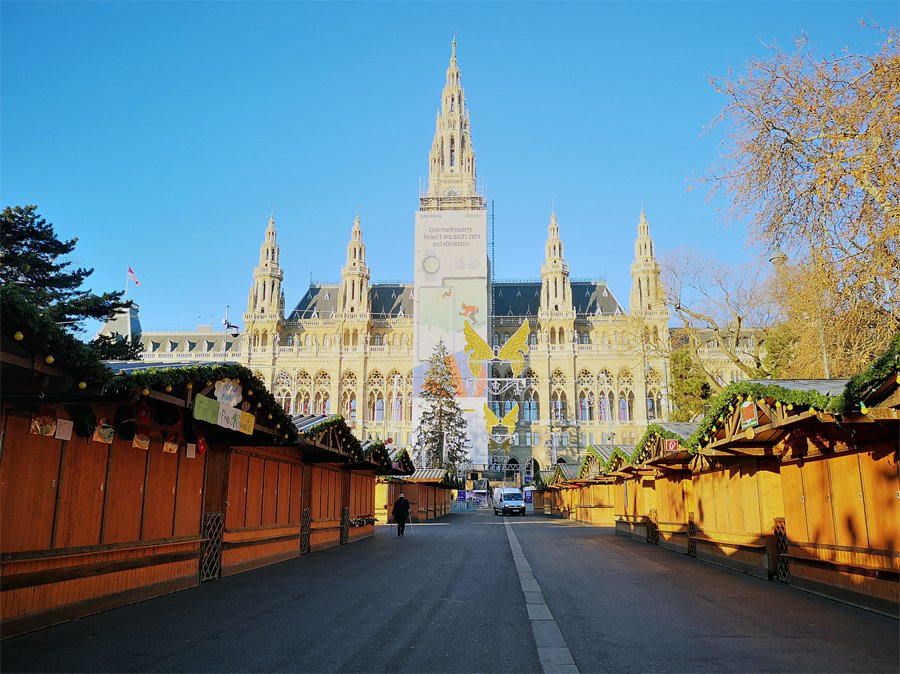 Wiener Rathaus / Vienna City Hall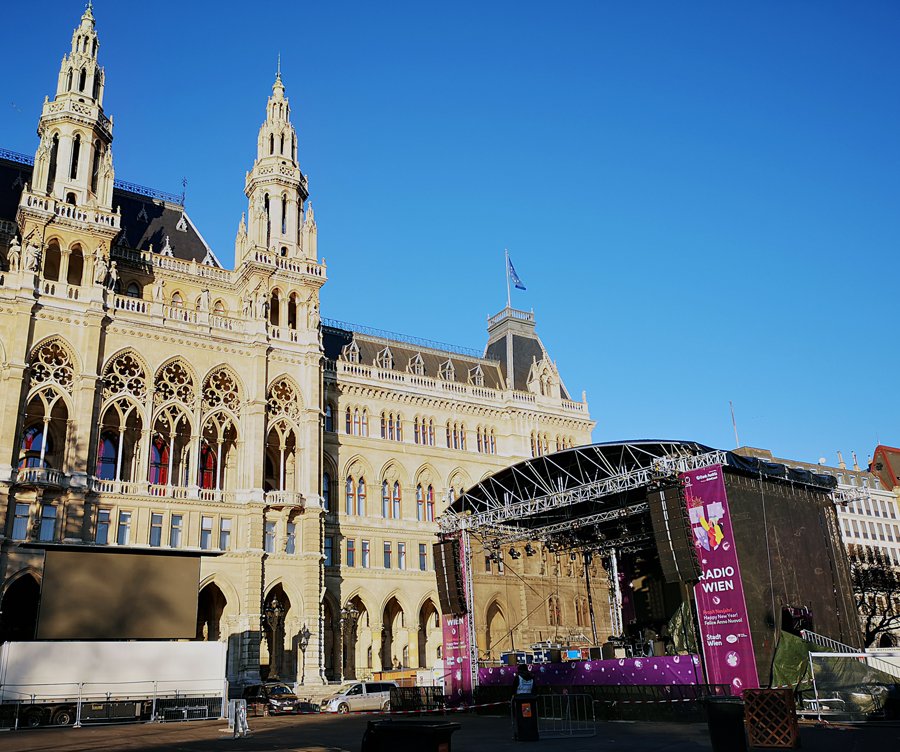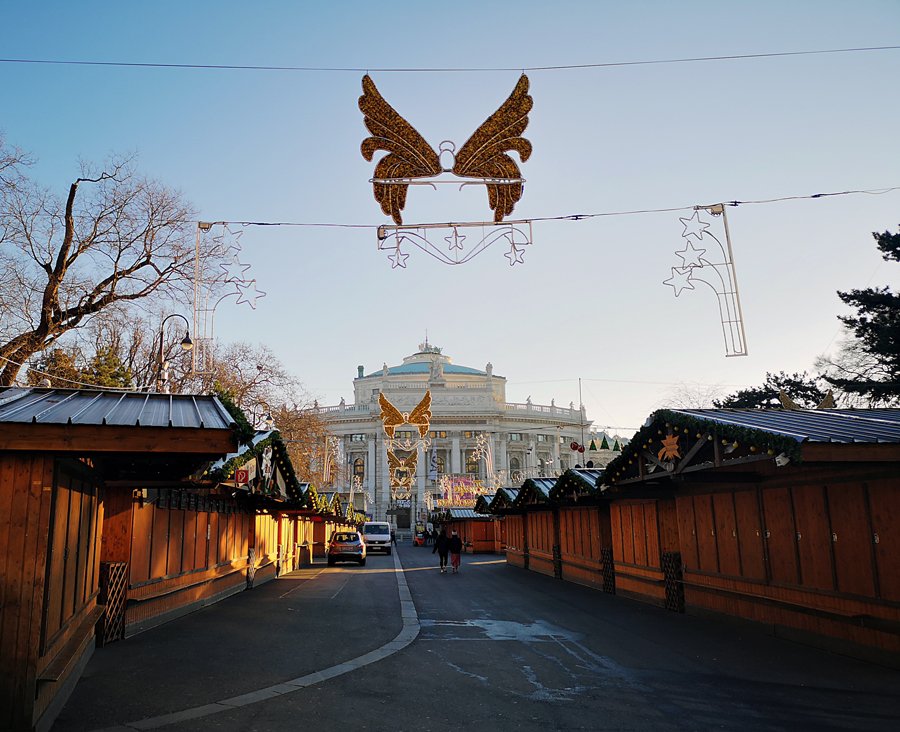 Burgtheater im Hintergrund / Burgtheater in the background
Auf dem Rathausplatz erinnern die Verkaufsstände und die Dekoration noch immer an den Christkindlmarkt. Auf der Bühne werden Hits aus drei Jahrzehnten Silvesterpfad präsentiert und es wird auch an das 50jährige Jubiläum des Woodstock-Festival erinnert. Ein spektakuläres Feuerwerk um Mitternacht ist der Höhepunkt der Wiener Silvesternacht.
On the Rathausplatz town hall square, the stalls and decorations are still reminiscent of the Christmas market. Hits from three decades of New Year's Eve Trail are presented on stage and it also commemorate the 50th anniversary of the Woodstock Festival. A spectacular firework display at midnight is the highlight of Vienna's New Year's Eve.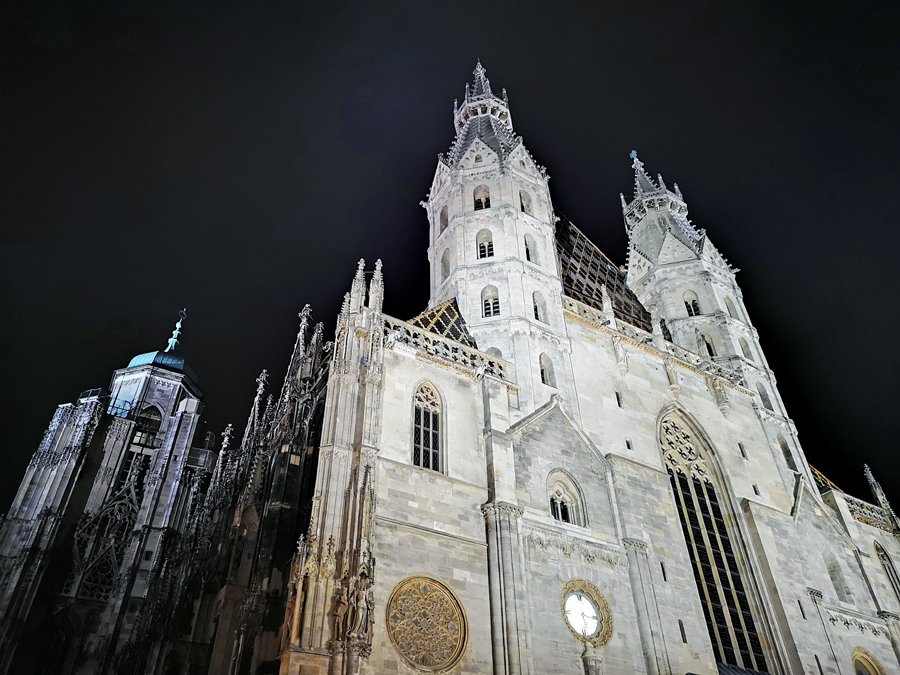 Pünktlich um Mitternacht läutet die Pummerin, die größte Glocke des Stephansdoms, das Neue Jahr ein. Nach den Klängen des traditionellen Donauwalzers von Johann Strauß wird anlässlich des Beethoven-Jahres 2020 die "Ode an die Freude" gespielt.
Punctually at midnight, the Pummerin, the largest bell in St. Stephen's Cathedral, rings in the New Year. After the sounds of the traditional Danube waltz by Johann Strauss, the "Ode to Joy" is played on the occasion of the Beethoven Year 2020.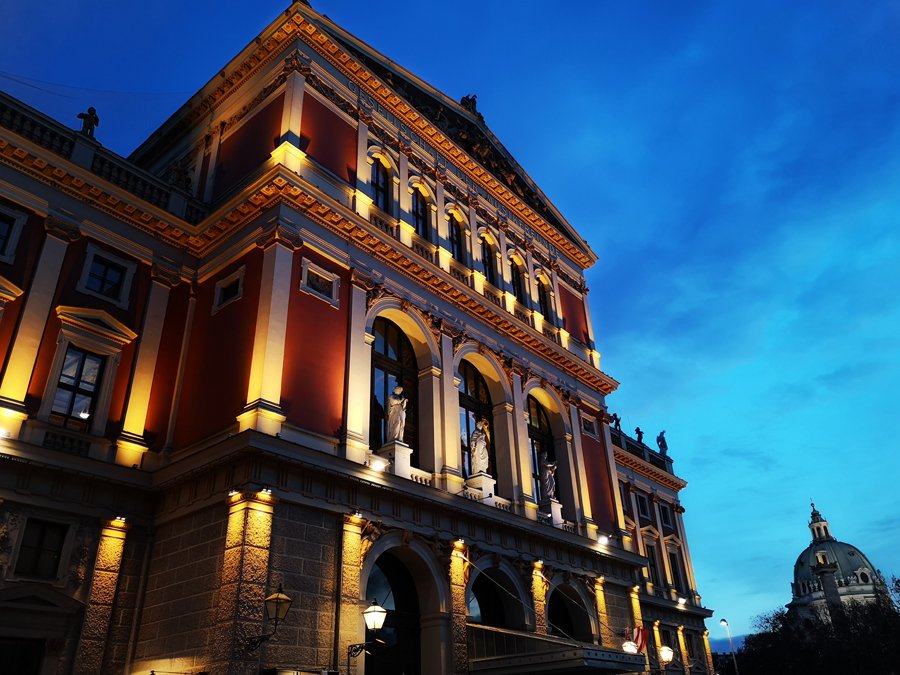 Wiener Musikverein (Karlskirche rechts) / Musikverein Vienna (Karlskirche on the right)
Am Neujahrstag findet im Wiener Musikverein das Neujahrskonzert der Wiener Philharmoniker statt. Dirigent ist Andris Nelsons. Das Konzert, das um 11:15 Uhr beginnt, wird weltweit in über 90 Länder übertragen. Mit diesem Streifzug durch die Wiener Innenstadt verabschiede ich mich für 2019 und wünsche euch
Prosit Neujahr!
On New Year's Day, the Vienna Philharmonic Orchestra's New Year's Concert takes place in the Vienna Musikverein. The conductor is Andris Nelsons. The concert, which begins at 11:15 a.m., will be broadcast in over 90 countries worldwide. With this stroll through downtown Vienna I say goodbye for 2019 and wish you
Happy New Year!