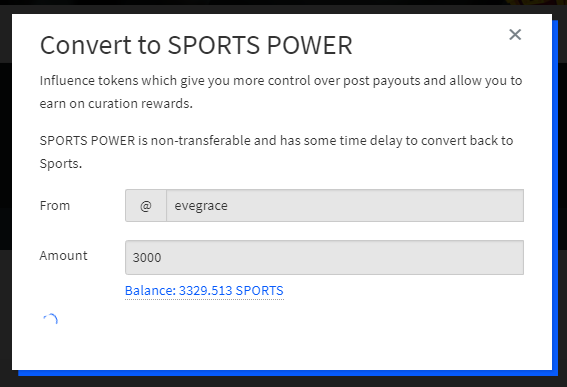 I just claimed about 3,000 + SPORTS and was thinking what next to do. I had thoughts of selling, hodling and staking.
I finally resorted to the last option being to stake so I can support some wonderful curation efforts of my community @Steemchurch.
I am aware that Uyobong.sports is dedicated to curating eligible #sportstalk posts created by @Steemchurch parishioners in all our sub-communities. This is a great investment of love for humanity and see it a worthy cause to support.
Since I am not very good at curation and besides, I do not have the device to keep me consistent here on Steem, I have decided to Stake and delegate all my stakes of SPORTS to @Uyobong.sports to curate love to all qualified #sportstalk blogs created by @Steemchurch parishioners.
According to Uyobong.sports, curable blogs are #actifit and #ulog-sports and #sports. I also join to encourage our parishioners to engage the ever growing https://www.sportstalksocial.com/ to be a part of this love curation.
This is my #ulog-sports and I hope that @Surpassinggoogle will see the need for a #ulog-invest which would take care of all investment-like ulogs on the Steem blockchain. This is exactly what this blog again represents.
With 3,000 additional stake of SPORTS, I now hold a total stake of 9,000 SPORTS.
Below is a screenshot of my balance.

SUPPORT MY STEEM PROJECT
@BlessTheOrphan project is targeted towards children and teenagers who have lost either or both parents and are going through difficult times to survive. The affected will receive relieve materials including food, clothing and educational support from @BlessTheOrphan project in a bid to help them survive.
Moreover, the vulnerable girl-child (even with both parents) will be considered in this project. While I grew up, I had been hurt because I had no one to talk to nor be concerned with my worries. I know the pains such girls go through and @BlessTheOrphan project will be a coverage for them. In this part of the world, some girls are so neglected that some rarely have access to the basic woman's need such as sanitary wares. #BlessTheOrphan project will be a coverage to such.

Friends, Beatitudes (HEARTs) is for all, Be a part of this Blessing...
---
---
---
---
Hey! to you trying to give-up, wait yet a bit. Your sorrows and troubles are not the end of you. You will smile again. Jesus is the bright and morning Sun. He will lighten you day.

I hope you'll engage my post with your comments, upvotes and resteems. Thank you.