Hi all! I hope this Ramble finds you well.
Things have really slowed down on the platform so I'm happy to see quality posts still coming out! Thank you for that.
There's a new show in town: Curation Corner
Here is what the show is about:
Manual curation, people seeking out quality posts and sharing them with others, plays an important part in bringing to light good content creators who are often overlooked in the sea of posts on the platform. What does it take to produce a post which will get the attention of the curators? @artemisnorth and @shadowspub, along with their guests, will discuss posts they have currently curated and what factors in the post contributed to them getting notice.
Come and join us Tuesdays at 2pm EDT / 6pm UTC
The show will be broadcast live on DLive. Follow us at https://dlive.io/@ramblingradio to receive notices as soon as we go live.
Also, congrats the #needleworkmonday community for earning two Curie's! You people are amazing! If you are a needleworker and haven't discovered the #needleworkmonday crew check them out. They post on Mondays using the #needleworkmonday tag and are probably one of the most supportive communities on the platform.

Onward to today's rambling
@foxyspirit
and
@anjkara
are starting another round of the
#ultimatecrochet
contest. To enter simply write a blog post about your crochet work. Sounds pretty sweet doesn't it? Everyone wins. Go read the post for more details.

In this post
@neumannsalva
uses her artistic skills to help crush the stereotypes associated with needle arts. Her post is not only thought provoking but it's certainly eye opening. She has helped me to understand exactly why our arts are so undervalued but also provides hope that these views are changing. Beautiful post
@neumannsalva
! Thank you.

Re-using the paper from her teabags
@frejafri
beautifully draws and paints an Indigo Bunting. What an amazing way to recycle. Her work is striking and she even throws in a little education. Fabulous post
@frejafri
!

I thought I'd seen it all but
@singa
has shown a form of dry needle felting that opens my eyes to new techniques. I envy artists who can draw and paint but I've never had that ability. Maybe needle felting a "painting" could be my outlet? The work in this exhibit is so impressive and preserved under glass for many to enjoy. Thank you
@singa
!

@cryptocariad
's talents are far from simple. She has an eye for design! Her inspiration was taken from the shadow of a common weed, goose grass, which she sketched to create her embroidery design. I'm not surprised that a similar creation was featured in a magazine by a designer who loved the simplicity of goose weed too! Read about that in her post
here
where she tells us the rest of the story. I can't wait to see what she does next! You're a star
@cryptocarid
!

I don't typically curate photography posts but when I saw
@hobotang
's at the Creatives' Coffee Hour I couldn't help myself. Photographers who use actual film are rare these days and have to be very creative just to obtain their tools let alone process their films. His results, while he had no control over the end result, are STRIKING! I feel that his ability to set up the shot created the base for the magic that happened. Beautiful work
@hobotang
!

Don't you love finding a post that shows you how to create a work of art?
@kleonella
delivers with this post. Her photos are detailed and her process is organized. It's empowering. Thank you
@kleonella
!

Living in Venezuela
@carolinacardoza
finds she has to make do with what she has on hand and she is very talented! I love the way she always shares little tidbits of her life while giving us clear, organized D.I.Y's. Beautifully done
@carolinacardoza
!

— Don't Miss Curation Corner today @2pm edt in the SteemitRamble.
— Why I Never Shut Up About Kayaking!
— ulog #14 - Sharing Your Feelings Isn't Easy
— Don't Forget - Creatives' Coffee Hour is today @1pm edt

Join the Fiberartists Curation Trail

If you'd like to be part of supporting the posts that I curate, you can join my curation trail. What that means is if you are part of the trail, when I vote on a quality post, your votes will automatically follow me. The trail name is Fiberartists.
You'll need to sign up at SteemAuto and I'd recommend you use SteemConnect when asked to give voting rights. That makes sure your keys are safe. Once registered, the link to the curation trail is right here. You can set the percentage of vote you wish to use in the settings once you join the trail.

Creatives' Coffee Hour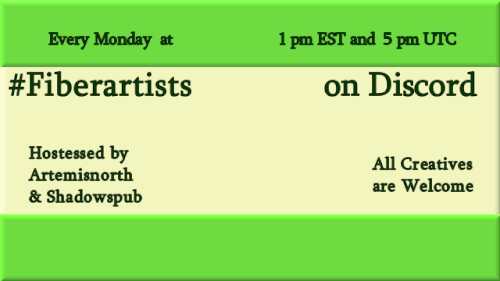 Join in on the fun! Come to the Creatives' Coffee Hour, Mondays @1pm edt on the Steemit Ramble Discord or view it live on Rambling Radio

Pimp Your Post Thursday
Don't forget, Pimp Your Post Thursday takes place every Thursday at 11am and 7:00pm EDT on the Steemit Ramble Discord. Come and join the fun promoting your posts and getting to know others.