Are you tired of refreshing the 'New' page searching for content from undiscovered authors? Tired of stalking tags? You wanna look for a specific content but don't know where to start? Worry not, SteemLookUp is here to make curation more efficient for #newsteem!
Steemlookup is a filtering tool developed by @curie. It was released sometime in May 2018 and curators have been using it since. Although it is developed and mainly used by Curie curators to find exceptional and undiscovered content, it is open for the public to use. For free!
@slobberchops's post just made me realize that the public needs to be reminded that this tool exists. Thanks, slob! :D
So how does this work?
Once you open the site, you will be greeted by this lovely view. Not intentional, btw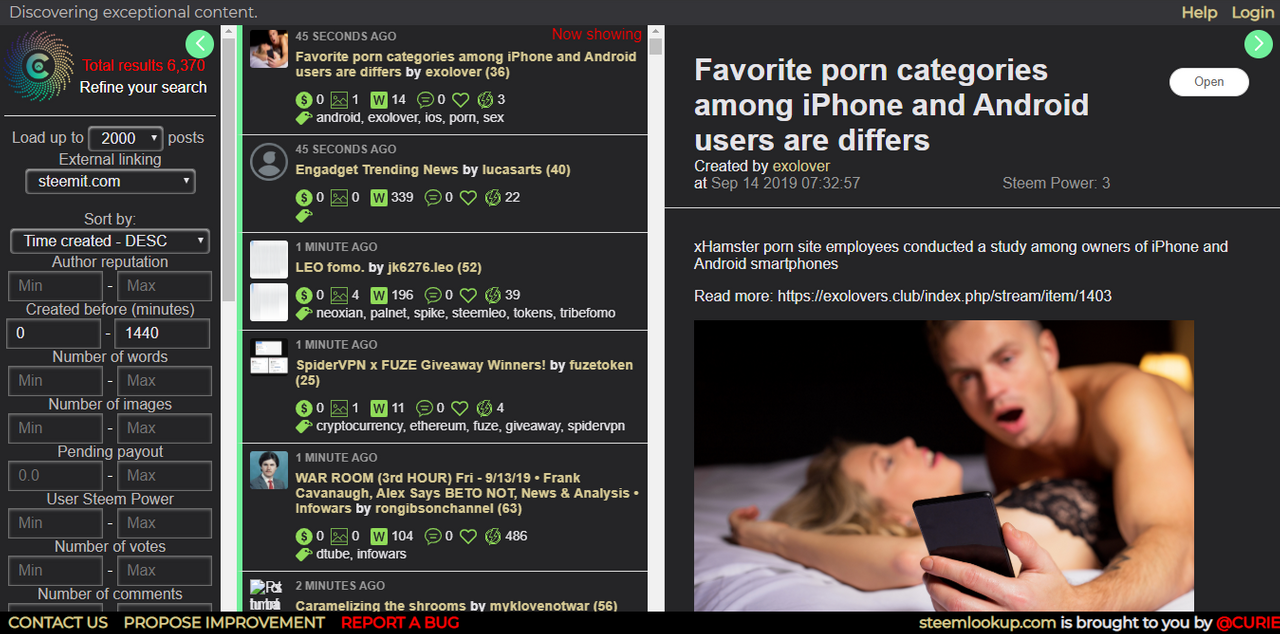 At the left panel, you'll see the boxes and some drop down menus that you can adjust based on your preferences. At the center is the feed and at the right panel is the content preview.
Since I haven't set anything up yet, it currently shows all the latest posts from all tags.
Log In Option
Before I navigate you to the other features of SLU, allow me to tell you that you can create an account and log in first. Logging In is optional. You can freely browse it without signing up or anything. The nice thing about having an account here is that you can save your searches or the settings so you don't have to adjust them all again when you visit the site next time.
The Log In button is located at the upper right side of the site.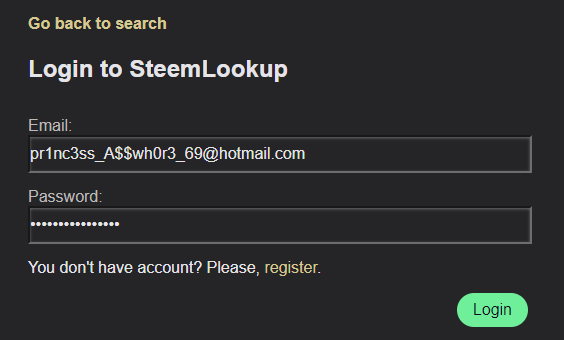 Steemlookup Login Page
You only need an email address to register and log in.
---
Filter Time
Here we go to the left panel. There are drop down menus you can click like the frontend you prefer or how you will sort the content out.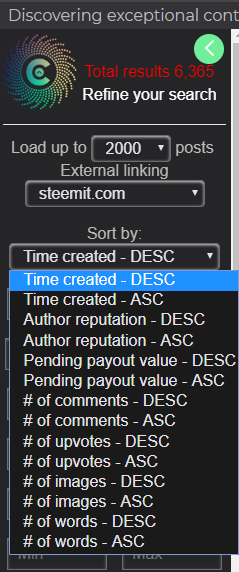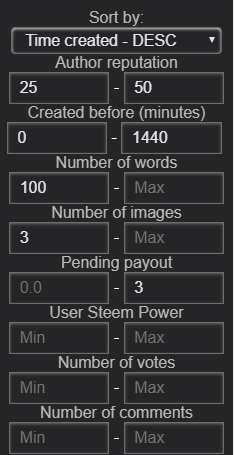 Here you can see you can adjust the Author Reputation. Since I am looking for undiscovered/new authors, I put the limit to 50. You can put the author rep from 0-25 but of course only if you want to see the spammers and the plagiarists.
If you're picky and want to see more text and images, you can adjust them there as well.
If you are a curator in a curation group and you have some rules to only nominate a post with a specific pending payout, this will be useful for you.
@carlgnash had a wonderful suggestion that you can also set the pending payout to $10 and above to search for posts that you think are not worthy of the rewards and flag them. Or report them to @steemcleaners if you think they are abusing.
For the Steem Power, Number of Votes and Comments, it doesn't matter to me. You can just leave it blank just like I did.
---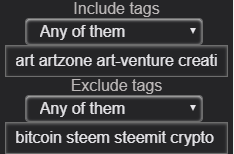 Here's the fun part imo. The tags! You can write the tags to be included or excluded in the search. If you want art posts, you can write art, creativecoin, drawing, painting, art-venture, ntopaz, artzone (separate by spaces). Travel posts could have travel, travelfeed, adventure tags in them. Photography posts could have photography, photofeed, monomad, portrait, photo tags in them. Basically any posts that have these tags will show up in the search result feed (the one at the center).
There's also exclude tags option. If you don't want to see posts that have religion, crypto, or politics tag, you can write it there too. Sweet.
---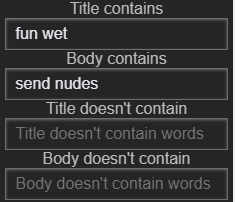 If you want more specific content then there's an option here where you could write the words that you want to be included or excluded in the title/body. You could probably write the name of your girlfriend in the post body and see if there's a post about her, who knows, she might be cheating on you or something. Hmm, stalker alert. xD
---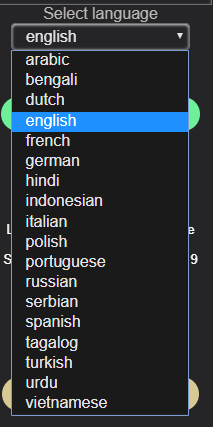 Of course, an option for languages is here as well!


---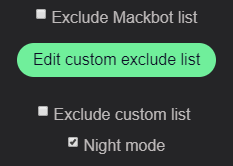 The Mackbot list contains the usernames of blacklisted authors by @mack-bot. You can choose to include or exclude that. You can also have your own 'exclude' list by clicking the 'Edit custom exclude list'. There will be a pop-up like this and you should type the username of the author that you want to exclude in the search and click 'Add'.

---

After you have put all the necessary information in the boxes, you should click the 'Search' and it will search the blockchain for you. The results will show up at the center feed and you'll be able to browse with ease. :D
The 'Save' buttons are there if you want to save your searches so you don't have to write them all over again. I think you can save it even when not logged in BUT it will only be saved on your browser or something. So if you're using a different browser or if you clear cache or whatever you call that (technical noob here), you will lose your saved data. So better to just log in instead.
Once you have done that, you will see your Saved searches just at the bottom of the left panel. It is more efficient, of course. You can separate the searches with however you want.
---
Anybody can use SLU!
Steemlookup is a great tool for finding any content that you like whether be it a quality one or a spam one. Whatever you decide to search. It is free for all and can be used by anybody. We also encourage it to be used by other curation groups.
It is created by @djordjeparovic and @laniakea1 and is sponsored by Curie. It is currently maintained by @laniakea1. If you have any questions, suggestions, complaints, or simply just want to... I don't know, compliment or say HI the ones who developed (xD), you can simply click the links at the bottom of Steemlookup or you could just join us on Curie Discord and tag any moderator/curator there.