Python self learning neural network: Artificial Intelligence curating the spanish language to maximize curation rewards
Join our trail and increase your curation rewards: on SteemAuto


Something whales seem to have forgotten is that they can trail curators to help them find great content and profit from the #newsteem curation rewards.
This was the original precept in the curation game...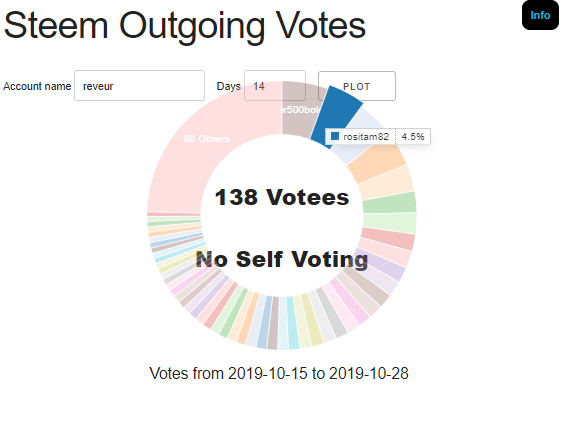 http://www.steemreports.com/outgoing-votes-info/?account=reveur
So, you dont have time to manually curate?
Well there are small projects with big dreams that actually curate manually and increase engagement and are nice, lets say you are a 1 million SP Whale very busy and don't want to spend time digging in the sea of Shitposting that still goes on on Steemit even after the untimely demise of bidbots.
Overtime we have identified a few manual curators that do a great job, and I started following their vote when #newsteem appeared, I am not a whale I'm barely a dolphin, but i was following minnows votes and ditching the abusive ones, no one really knows who i actually follow because I use my own trail apart from steemauto.
I started recording my manual curators voting patterns and checking what was giving the best return, and i came with the idea of bringing back my primitive python neural network to come up with a curation algorithm.
I let it run for about a week and it learnt from what humans were doing, and started voting around.
A.I always learns, and therefore i still allow it to keep looking at what humans are doing and then it applies the return formula and checks if there are possible improvements to the patterns.


@reveur went from getting 20 or 40 SP weekly curation rewards with 24K SP with an Avg. efficiency of: 60%
(Meaning for each dollar i was giving in votes i was getting 60 cents return)
To a nice 60 weekly SP in curation rewards (even after powering down to just 20K SP) with an average efficiency of: 81%
So 80 cents per dollar given.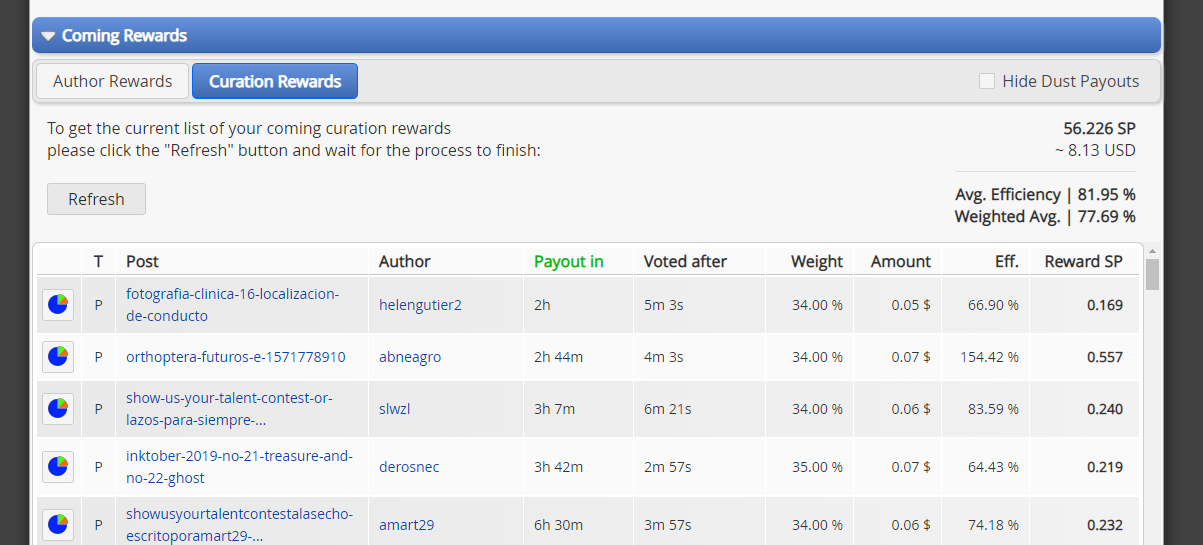 https://steemworld.org/@reveur
What do i propose:
(Or how to profit from my BOT?)
Option A) I stopped working for free a while ago, but whales are welcome to follow my votes and profit from the increased efficiency of my A.I algorithm and that way we both benefit as by increasing the payouts of the posts curated and trailed by a whale my own curation rewards will increase.
Considerations:
I have my A.I trapped in spanish because i have little SP and dont want to dilute it roaming around the whole of STEEM. If whales approach me about expanding it to other languages or segments we can study your offer.
I still vote my fanbase because they are my friends and good bloggers, it is small, just 4 authors including my personal blog. If whales approach me about trailing me, and I see a higher ROI i will stop voting the fanbase
Option B) For a fee I can run you as a fronter of my vote.
OptionC) I can run the A.I for you in my servers, you dont even need to provide your PPK I will make the bot run in a trigger account with almost no SP and you can trail that account with steemauto.
Make me an offer.
Option D) I sell you the code for a 1 time fee to be negociated, and the bot is yours to do whatever you want with it. If you need further development we can discuss my fees.
To resume: THE CHEAPEST WAY TO INCREASE YOUR CURATION REWARDS
...Is to trail this account ! Join our trail and increase your curation rewards: on SteemAuto.
---
"Where there is no guidance, a nation falls, but in an abundance of counselors there is safety."
Proverbs 24:6
---