Dear members of CyberWay community!
We'd like to steer your attention to CyberWay validators as they are the most important persons for CyberWay protocol.
You can always check validators' activity in the block explorer https://explorer.cyberway.io/validators. However, we think that it would be beneficial for our community to be able to get weekly updates on validators' activity from us as well.
First of all, we want to remind you who validators are, what their duties are and why their presence is so important for CyberWay network.
Validators are the users who provide reliable and safe functioning of network nodes, production of chain blocks, govern CyberWay and manage the development of the blockchain. They also provide their equipment for use to CyberWay.
Validators have to perform the following functions:
to deploy and configure his/her network node;
to configure the network settings based on validator voting, network resource allocation (CPU, NET, RAM, Storage);
to produce and sign chain blocks;
to update software and system contracts;
to vote on decisions related to the further development of the blockchain.
Moreover, validators are expected to provide some additional services to the network, such as running public seed nodes, compiling blockchain analytics, developing or running blockchain explorers or wallets, etc.
To learn more about CyberWay validators' functions, head over to the document we've recently posted concerning the major validators objectives.
In the tables below we've used such metrics as percentage of blocks missed, reward fees values and blockchain add-ons as for October 10 - 17th. Note that the inactive validators are not listed down below: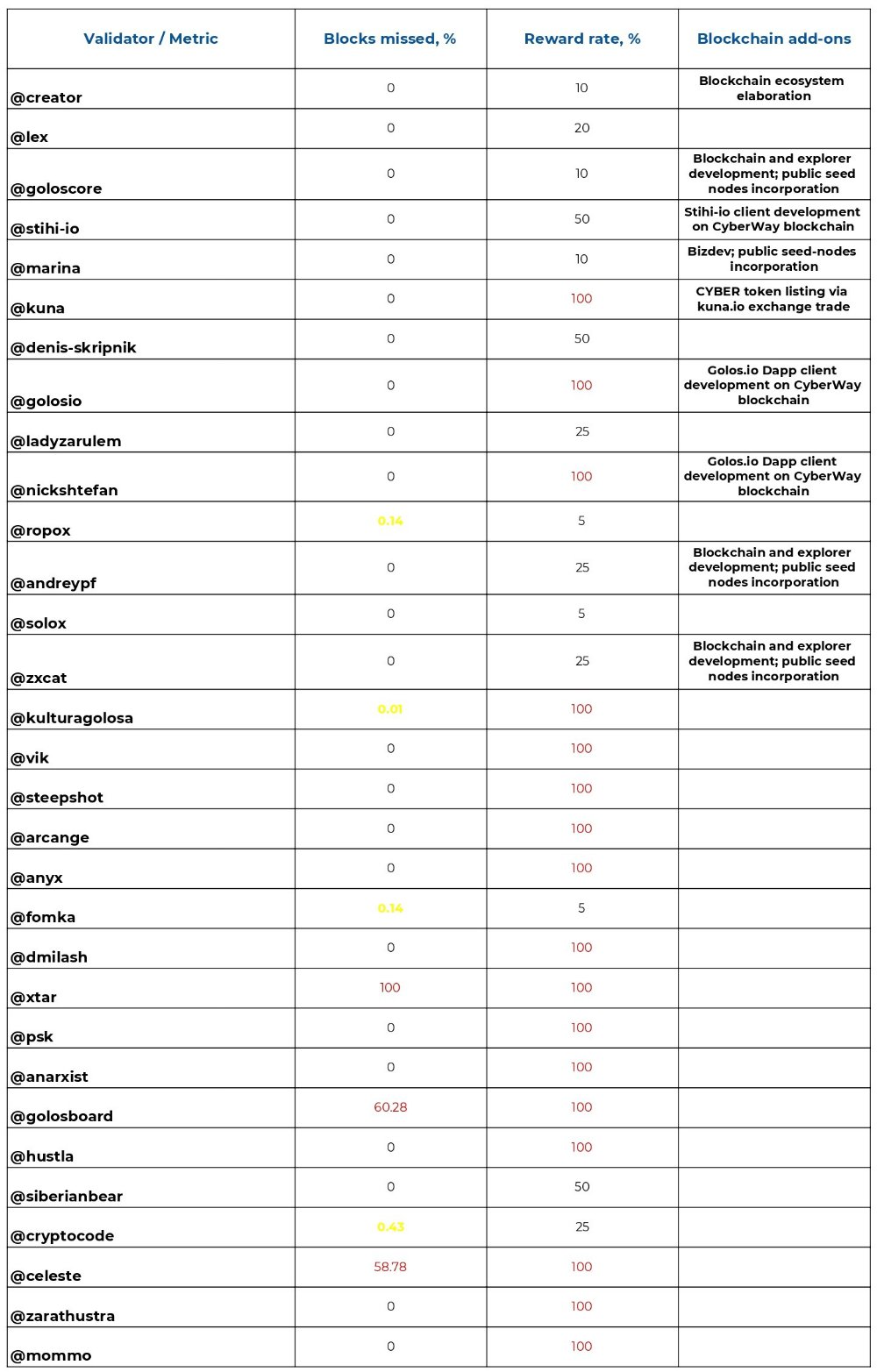 Given the data displayed you can put it into your personal consideration and vote for the best member. If by chance we've failed to mention any beneficial activity or service performed by any of the above mentioned or other validators, let us know. We want to encourage all validators to start contributing to the network. We do think that the current reward level is quite good and thus the validators should be able to provide some additional services to CyberWay. That's the only way for CyberWay to succeed!
Thank you to @creator, @lex, @goloscore, @stihi-io, @marina, @kuna, @denis-skripnik, @golosio, @ladyzarulem, @nickshtefan, @andrepf, @solox, @zxcat, @vik, @steepshot, @acrange, @anyx, @dmilash, @psk, @anarxist, @hustla, @siberianbear, @zarathustra, @mommo for impeccable quality in terms of block production.
Also the biggest shoutout to @creator, @goloscore, @marina, @ropox, @solox and @fomka for the incredible generosity and extremely neat percentage of validator reward rates.
Please note: It's important to understand that running a seed node or an API-node is crucial for the network. We kindly suggest enabling an additional seed/API nodes and sending a word about the actual location of the server to CyberWay devteam.
For the sake of network connectivity and survivability, we kindly ask our validators to send the addresses of your seed nodes in the form of a pull-request to the public list:
https://github.com/cyberway/cyberway.launch/blob/master/seednodes
The public seed nodes are extremely important to CyberWay. Having them in abundance does increase the resiliency of the network infrastructure and ensures smooth and reliable work of the network even in case force-majeure events leading to a shutdown of existing seed nodes (e.g., as a result of an accident / political or legal problems / natural disasters / as a matter of disconnection / human factor / etc.).
Best and a nice Thursday to everyone!
Don't hesitate to join our community via:
Telegram:
Twitter:
We'll keep you updated over https://twitter.com/cyberwayio
Best regards, @cyberwaydev team: @andreypf, @marina, @maslenitsa, @muhazokotuha, @zxcat, @annaeq, @anazarov79, @kaynarov, @s-medvedev, @eugin