Dear members of the CyberWay community!
Another week is over, and we're happy to present a sophomore review of CyberWay validators' activities.
Just a quick reminder - you can hop into our block explorer (https://explorer.cyberway.io/validators) at any time to track the productivity of validators within the system. Each report of ours simply incorporates the most recent and coherent data for the last 7 days.
For the tables we've used such metrics as percentage of blocks missed, reward fees values and blockchain add-ons as for October 16 - 23. Note that the inactive validators are not listed down below: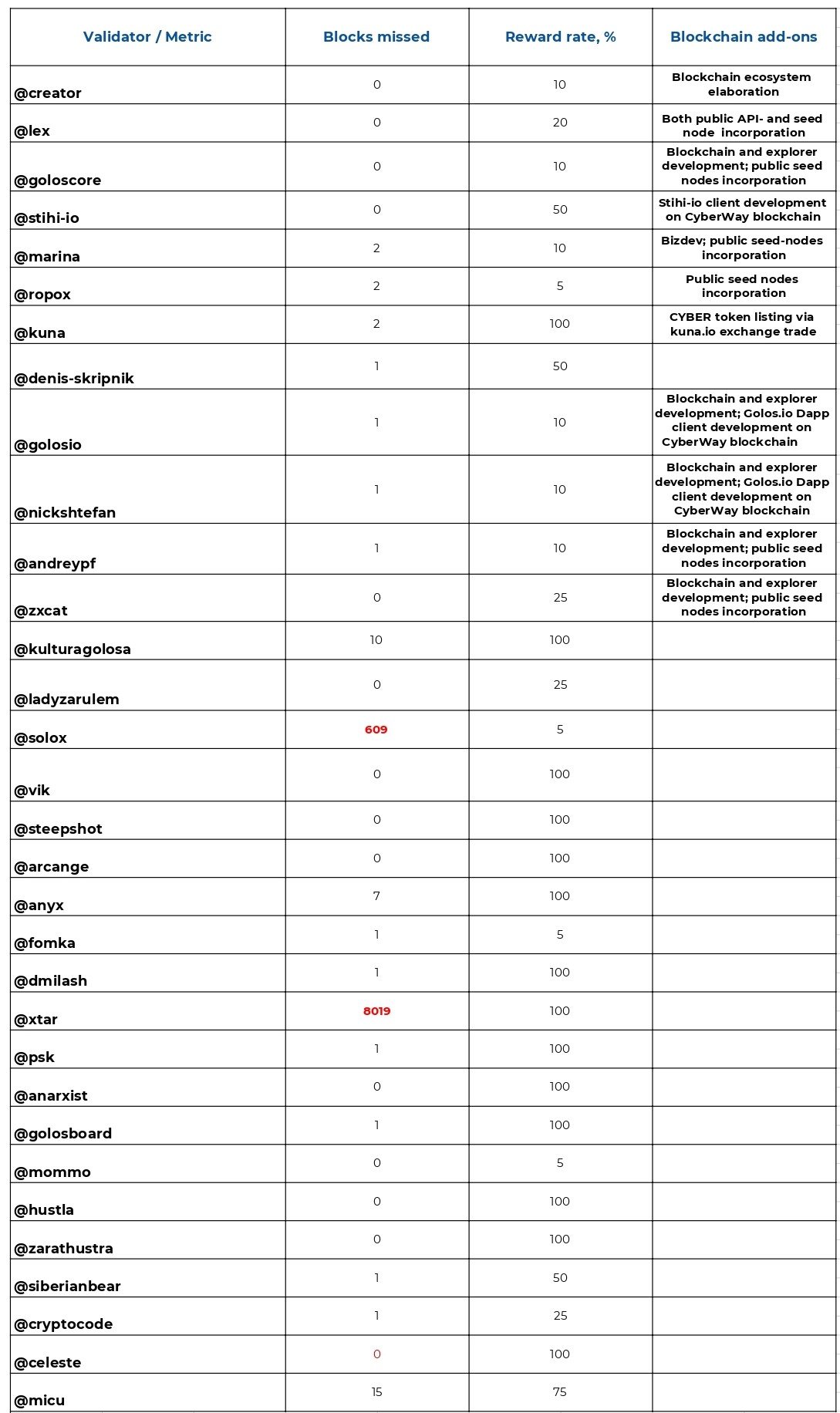 In contrary to the last week report, we can note a slight change in terms of blocks being missed by validators, as the tendency has become more homogenous and static. Only two validators missed the blocks on a large scale.
What rejoiced us a lot is the additional services that some validators started providing to the network.
We'd love to send a shout out to @lex and @ropox, both of whom have successfully launched the seed nodes! This dedication means a lot to us.
We'd like to express our gratitude to the most génerous validators, especially the ones who have managed to adjust their reward rates throughout the last week.
Given the data displayed you can put into your personal consideration and vote for the best. If we missed any beneficial for the network activities or services that are performed by any of the above mentioned or other validators, let us know. We want to encourage all validators to start contributing to the network. We do think that the current reward level is quite good and thus the validators should be able to provide some additional services to CyberWay.
Please note! The public seed nodes are extremely important to CyberWay. Having them in abundance does increase the resiliency of the network infrastructure and ensures smooth and reliable work of the network even in case force-majeure events leading to a shutdown of existing seed nodes (e.g., as a result of an accident / political or legal problems / natural disasters / as a matter of disconnection / human factor / etc.).
Dear Validators! Help CyberWay expand by setting a seed node on your own. Send the addresses of your seed nodes in the form of a pull-request to the public list:
https://github.com/cyberway/cyberway.launch/blob/master/seednodes