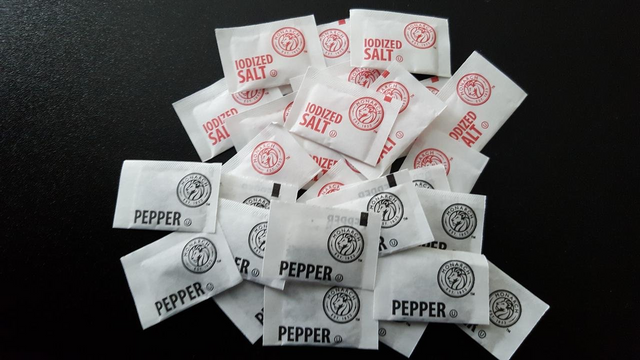 I like surprises...
I like surprises but mainly when I am delivering them rather than receiving them. So Saturday afternoon it hit me that I really needed to something special for the oldest boy's 21st birthday which is quickly approaching. Seeing that his birthday is in the middle of the week and we both will be working it would make it kind of difficult to do some type of road trip to take him where it is legal to gamble.
So we will...
So we will do the normal family dinner that we do for birthdays and he will be able to order a beer or mixed drink with his dinner but as far as something really meaningful or really a surprise I was drawing blanks on what I could do to make it really special. Then it hit me, with the help of Mrs. Papper, that we should create him some business cards for his position of business manager for his "job" he is doing with the band I told you about in yesterday's Daily Dose.
So after the...
So after the poker game yesterday afternoon, which I finished second in, I took to the internet to create him some business cards and get them printed and delivered in time for his birthday on Wednesday. Thanks to the good folks at Vistaprint and their express shipping option I should have them in time to wrap and give to him at dinner on Wednesday evening.
I wanted this...
I wanted this to be something special and so I even went as far as setting him up a special email account just for this segment of his life and had it printed on his new business cards as well. I think that email addresses should be easy to remember or if not easy to remember at least be meaningful to the situation. With that thought I had to come up with an email account that could convey that thought and I believe I did it. T-Bone now has an email account for his position of business manager for the band. That email address is melodicmemoriesmgr@musician.org so if you want to wish him a happy 21st birthday and wish him and his band well feel free to drop him a line at that email address.
Please don't spam...
Please don't spam the hell out of him, if this band ends up making big someday like the Beatles, you just might want some tickets to a concert and he could probably hook you up. Go ahead and send him an email today but he won't see it until Wednesday night at the earliest. I would hope he would reply back to you in a timely fashion, in fact, if you do email him and wish him well and don't hear back from him by the end of the week let me know. This will be a good test for him and teaching opportunity for me. He has no idea what you do for a living or what your connections are and he needs to learn that opportunities come about in the least likely ways.
Being the cheap bastard...
Being the cheap bastard I am I think I did pretty good for a last minute idea and execution and was able to do it all for less than a hundred bucks and that includes the express shipping, "premium" card stock, leather business card holder and the business card printed on both sides. The backside of the card has information needed for booking the band. I started to even create a logo for the band but the computer I had that software on years ago ended up being stolen and I never replaced that software. I tried a couple of the sites on the internet where you can create your own logo for free but got frustrated pretty quickly and besides I probably wouldn't have come up with something he and the band would have liked anyway and time wasn't on my side.
How many of you...
How many of you are familiar with mail.com? I wasn't until I went searching for an email account for him that would seem to fit the situation. Like I said, I'm cheap, so I wanted a free email account and mail.com is free. What I liked best about the site though is that they have over 200 different extensions to choose from to make your email address more meaningful like the musician.org extension I selected for his email address. I think in the not too distant future I will venture back over there and see about getting myself an email over there with an extension that seems to fit me better than "gmail.com".
Today I have...
Today I have an appointment with the folks over at the Steem Poker League at 1:00 PM Texas time. That appointment is the Team Up poker tournament. Having not played much in the last month or so the poker tournament yesterday was needed to help get my poker skills polished up. Finishing second yesterday pretty much took the tarnish off and when I looked at the stats from the game it looked pretty good. There were a total of 95 hands dealt in the tourney of which I played 29 of them after the flop of the community cards. Those hands I played I won 27 of the 29, not too shabby I'd say so I look forward to today.
Ya'll have a great Sunday and for those of you who are regulars here; yes. Blondie and I are still boycotting.
Until next time,
@sultnpapper

Note: Thanks for reading the Daily Dose of Sultnpapper.