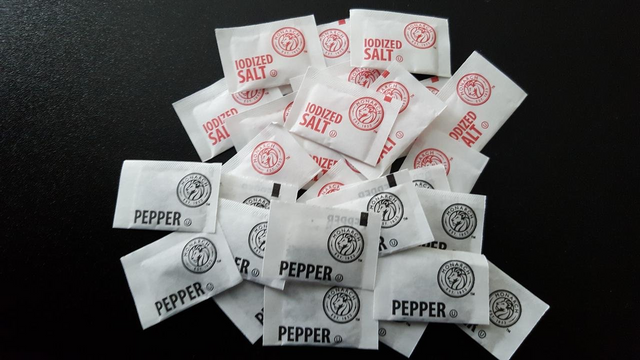 Suffice it to say....
Suffice it to say I've been busy and I have missed being here to share what all that has been going on. Yes, I have changed the name of the blog; but that is hopefully only a temporary thing. No need in false advertising when you say you are here to share the truth is there?
I won't go into all the details and I won't waste a lot of time apologizing for being gone for such a long stretch of time. Those of you who have been with me for a long time know that I really enjoy writing this blog and I miss being here daily. The new job is going great and I couldn't be in a better situation when it comes to working. To steal a line from McDonalds Hamburger chain, "I'm loving it".
@bigtom13 put out a challenge...
@bigtom13 put out a challenge that I did see recently and as much as I try and stay away from challenges I just couldn't wait for a time when I could sit down and actually take part in it. Forgive me Tom if I don't get this exactly correct but the challenge was to write a blog on what brought you here to steemit. I think the question was posed as; did you come here for the rewards or for the communities?
Well, I came here for neither. I could stop right there because that is the truth, but I won't.
I didn't know...
I didn't know one single living soul on here when I got here and I had no clue about the crypto currency known as steem. I wandered in here only because I read that I could write whatever I wanted to write and the steem blockchain would keep it intact forever. I came here for me and only me; I wanted a place to write and being the cheap bastard I am I didn't want to have to pay for the space. This place fit the bill of particulars for me to a tee.
So while I came here for different reasons than the two @bigtom13 gave us to choose from I wanted to take his challenge and explain what has kept me here.
The people.
I have met more...
I have met more great folks on here than I could have ever imagined in my wildest dreams and those people make up some really great communities. So while I didn't come here for the communities the communities is the reason I wouldn't even think of leaving here.
I'm not in a lot of communities but each one I got involved in welcomed me with open arms and has helped me grow on here. I can't say that I have ever heard of that on any other social media platform, it may happen but I don't care to find out if it does, it would be a waste of my time and that is really precious to me at the moment.
Right now I am sorely missing the groups I do belong too. I can't say that about the rewards (steem and sbd) that I earned while writing the Daily Dose. I have managed to earn a few steem and sbd since September of 2017 when I came here but it means nothing when you get right down to it, at least for me that is, I can't speak for anyone but myself on that.
I haven't looked...
I haven't looked at the results of @bigtom13's challenge but I would venture a guess that most folks would agree if the question were posed as "what keeps you here" rewards or community? The overwhelming hands down answer would have to be the communities. The people make up the communities and as far as I am concerned you won't find any people that are more caring then the folks on steemit.
So in a nutshell, the people make this place the place to be for me.
Being gone from...
Being gone from here for over 15 days or so makes it hard to choose what I want to cover and while I should have quit with the last sentence I do have one thing that I want to mention that has been unfolding in Houston recently and I don't know that it is getting much coverage anywhere but here.
The Houston Police (armed gang of robbers) have...
The Houston Police ( armed gang of robbers) have gotten themselves in a little bit of a mess recently. That mess ended up costing a veteran and his wife their lives a couple weeks ago. In the fourth largest city in the country one could imagine that there is plenty of crime and criminals for the police to harass and arrest so the judges can keep their dockets and the Texas prison cells full. You really don't even have to have much of an imagination to see that since it is a fact.
But a member of the Houston Police department decided that he would falsify some documents and swear on an affidavit that he had firsthand knowledge that the people living in a certain house were selling black tar heroin and so a judge signed off on search warrant for the house.
The cops conducted a raid on the house and instead of knocking and presenting their search warrant they kicked in the door and entered the home with guns drawn. The first cop thru the door shot the homeowners big dog and the homeowner and his wife grabbed their guns and started shooting too. In the end the homeowner and his wife were killed, gunned down in their own home. Four cops were also shot by the homeowners and a fifth one injured in some other fashion.
After it was all...
After it was all said and done no heroin, no meth, no pcp or any drugs were found except for a small amount of pot that the homeowner kept for his personal use to help with his PTSD from being in combat serving his country. The day of the raid the news media was praising HPD for cracking down on these "drug dealers" and how tragic it was that four officers were shot.
Like with most "news events" the media came back the next day to the house and saw a steady stream of people leaving flowers and cards on the porch of the home as a memorial to the couple. So the media started asking questions of the people leaving the flowers and such and they heard nothing but good things about this couple from all of the neighbors.
How could these despicable couple of drug dealers be so well liked by their neighbors?
That question had to be going through the minds of these news reporters and plus the fact there was nothing found that matched what the police were looking for on the search warrant.
So one local...
So one local TV station started asking questions of the police department and started investigating on their own about the "informant" and it is getting really messy now. The district attorney for Harris County said that the officer that signed that affidavit has been involved in fourteen hundred (1400) drug cases that have resulted in convictions or plea agreements and there are currently 28 cases he is involved with that are pending trial.
For the last few nights now all the TV stations have been covering this story and it looks like, according to the DA, that since the affidavit was signed under penalty of perjury and the cop has now admitted he lied; all the prior cases he was involved with will also need to be examined since there is a good chance he testified in those cases under oath and penalty of perjury.
Makes me wonder...
Makes me wonder just how many other folks have been targeted by this cop and then railroaded through the system and have ended up in prison. He also has an itchy trigger finger according to the news reports and has shot people under questionable circumstances.
I will keep an eye on this one going forward.
The HPD has on some of their vehicles the words, "To serve and protect" my question to them is just who are they serving and protecting?
Until next time,
@sultnpapper

Note: Thanks for reading this edition of Seasoned with Sultnpapper. Please check out this post by @bigtom13 https://steemit.com/communitychallenge/@bigtom13/community-rewards-challenge-dda3244bc8875est