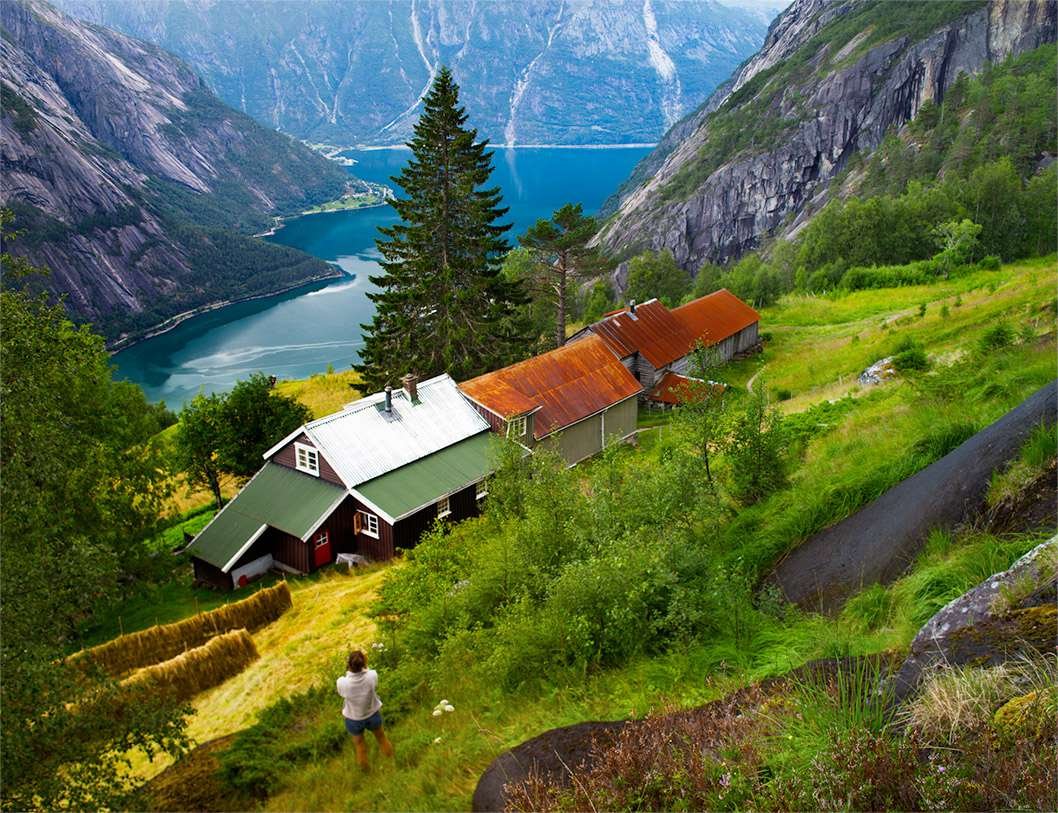 Kjeåsen -Hordaland Fylke, Norway
Kjeåsen is in Eidfjord and is upon an eagle's nest on a mountain ledge 600 m. above the Simadalsfjord. There's a very narrow road that only allows you to drive up every hour, down every half hour. It's one of Norway's mountain ledge farm perched above a Fjord just like the Skagefla farm in Geirangerfjord.

Interesting tidbits about the Kjeasen Mountain Farm
The name Kjeåsen comes from kje' meaning "child" and ås meaning "mountain" - Mini Mountain as it stands. The farm was inhabited at least since the 1650s before the road up to the farm was constructed. Prior to that, the only way to get there is through the steep path from the bottom of the fjord. During the 1930s a cable car was constructed that could carry equipment and supplies up the farm but the residents of Kjeåsen still had to use the steep trail. The outlying farmstead at Kjeåsen was abandoned in 1962 and was finally sold in 2016 after being in the same family for a few hundred years.
The Swedish writer Bror Ekström wrote a book about the people living there after visiting the farm in the 1950s. The book, Folket på Kieåsen (The folks of Kjeåsen), was published in 1958 and became popular in Norway. The Norwegian broadcasting company, NRK, aired a program about Kjeåsen in its series Der ingen skulle tru at nokon kunne bu and a Swedish national radio broadcaster also aired a program about the farm.
---
Posted from my blog with SteemPress : Kjeasen Mountain Farm
---