6/13 Tommy Robinson, the courageous human rights activist who has been exposing rape, grooming and trafficking gangs in England, run primarily by Pakistani Muslim traffickers, was moved from a medium security prison to a maximum security prison last night. The facility in Leicester, notorious for inside murders and disposing of political prisoners, has a 73% Muslim prisoner population, with a large percentage of that being Radical Islamist extremists. Many of the inmates at the Leicester prison are the very people that Tommy has been exposing in the independent media for their participation in sexual assault grooming gangs in English cities.
IF YOU ALREADY KNOW THE DETAILS, PLEASE SKIP DOWN TOWARDS THE BOTTOM FOR THE LINKS AND LISTS/INFO FOR TAKING ACTION ASAP!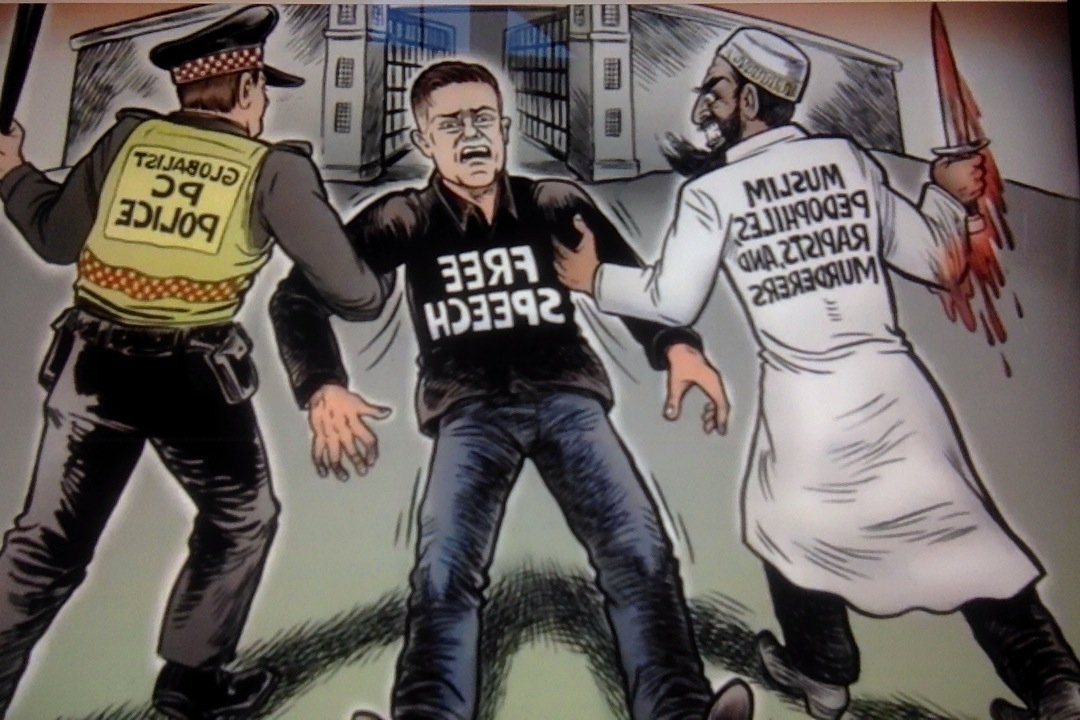 Graphic by Ben Garrison, please support his work: https://twitter.com/GrrrGraphics
This is a death sentence for Tommy Robinson, whose ONLY crime was to report on a closed trial to do with the prosecution of pedophiles related to these Muslim grooming gangs. The information that Tommy reported was readily available in UK publications. His crime was to ask the question, why is the English judicial system attempting to keep the proceedings of this particular trial quiet?
This is the live stream that Tommy Robinson courageously filmed outside the pedophilia/trafficking trial on May 25, just before getting arrested simply for exercising his God Given right to free speech:
Tommy issued this warning several months ago when it became clear that the globalists were not going to stop harassing him, taking down all of his work on social media and threatening him and his family. This video was taken down from Tommy's YT channel and probably won't last long after being reposted by Infowars today:
This is the communication Alex Jones got from Tommy's manager, Caolan Robertson earlier today regarding the "death sentence" of moving Tommy to a Muslim dominated Maximum Prison in Leicester, where he is being housed in an open area, in complete danger to his life after having an Fatwa placed on him by an Imam:
WE NEED TO PROTEST FOR TOMMY ROBINSON. THIS COULD BE ANY ONE OF US WHO PROTEST CHILD TRAFFICKING, AND WHO EXPOSE THE LINKS BETWEEN ORGANIZED PEDOPHILIA TO RADICAL ISLAM AND GLOBALIST FASCISM. THE UK NEEDS OUR HELP, AND WE MUST ACT NOW!!
Patriots, in alliance with our UK and European friends, please help organize a protest demonstration for the protection and release of Tommy Robinson at the UK Embassy located at 3100 Massachusetts Avenue in Washington DC.
LINK BELOW WITH LOCATIONS AND CONTACTS FOR ALL USA CONSULATES:
You can also organize a local rally at the UK Consulate in your area, which are located in most US cities. Here is a link to find the one closest to you as well as the UK Consul who represents that Consulate, whom you can call and email immediately to ask for the release of Tommy:
https://www.passportsandvisas.com/embassy-consulate/united-kingdom
For people in Western Canada:
FOR THE BRITISH CONSULATE IN VANCOUVER BC IS 604 683 4421
Please protest the Judge who sentenced Tommy Robinson and let him know what you think!!
Geoffrey Marson, HHJ QC
Park Square Barristers
6 Park Square
East Leeds LS1 2LW England
To call Geoffrey Marson from the USA:
011-44 0113 245 9763
Please email or call PM Theresa May and request Tommy immediately be placed under protection and released:
To call May at the House of Commons from the USA:
011-44-(020) 7219 5206
email: https://email.number10.gov.uk/
PLEASE CREATE A TWITTER STORM Asking WOODY JOHNSON, the US Ambassador to the UK, to intervene on behalf of Tommy:
https://www.twitter.com/USAmbUK
PLEASE CREATE A TWITTER STORM TO @POTUS AND @REALDONALDTRUMP TO PRESSURE MAY TO FREE TOMMY!
Please support the Tommy Robinson legal defense fund. He needs our help as patriots worldwide:
https://www.tommyrobinson.online/support
To follow the most current information on what is happening to Tommy, you can follow his manager, Caolan Robertson on twitter:
https://www.twitter.com/caolanrob
PLEASE SIGN THE PETITION urging President Trump to grant Tommy Robinson political asylum in the USA:
https://www.change.org/p/donald-trump-president-trump-grant-uk-political-prisoner-tommy-robinson-asylum-in-the-us?recruiter=33489731&utm_source=share_petition&utm_medium=copylink&utm_campaign=psf_combo_share_initial.pacific_abi_share_button_ordering_1.abi_featured_fb.wSNWvAcFSQqKLdZpsYf_Iw.1
Please share this post. Resteem it. Tweet it. Get it out on all social media ASAP!
There is no time to waste. Take a stand and stick together! DO YOUR PART TO HELP TOMMY ROBINSON! @DAKINI5D