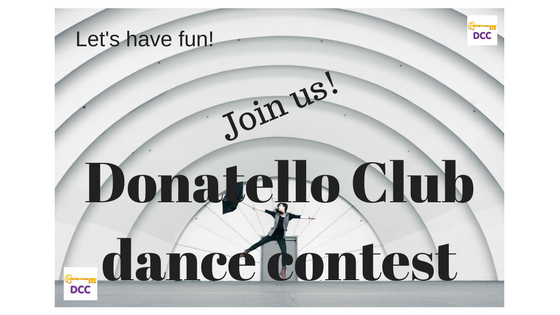 Dear dance lovers
Would you like to support this contest? Send some STEEM to @donwhale and in the memo box mention, "Supporting the dance contest".
Dance contest week 76 will run from 16/01/19 to 21/01/19.
How to enter:
You must be at least 18 or older to enter this dance contest.
Dance videos should be at least 45 seconds long. Promo videos which don't qualify for prizes can be of any length.
Write a post along with your dance video and a description.
The title must contain "Dance contest week 76".
Please mention in your dance contest post if you wish to receive your prize in STEEM or Donatello Club digital cards.
If you decide to receive the prizes in Donatello Club digital cards instead of STEEM, there will not be a participation fee and you will receive a participation prize in Donatello Club digital cards (points).
Use "donatelloclubdigitalcard" as one of the tags.
Don't forget to add your post Url below here as a comment. You don't need to add your post as a comment if you create a post on https://Donatelloclub.eu
There must be at least five entries for the winners to be selected.
Upvote this post!
These are the lovely entries from Dance contest week 75.
Thank you for reading and watching the videos!
Other dance and music projects on https: Donatelloclub.eu:
"Donatello Club Music Awards" 2019 contest.