Hey Steemers!
Long time no see, huh? 2018 took this little lady by storm in a whirlwind of change! I'll admit, I wasn't ready, but I've been floating on the gusts of forward momentum and really focusing on what I need to accomplish the goals I've laid out in front of me. At the close of 2017 and the first couple of months of this new year, I've fought to find my footing, and after some magic that enchanted me last weekend, I AM BACK IN FULL FORCE!
Here's what unfolded:
I was honored with the opportunity to present TWO, that's right, TWO, dance workshops at Lucidity Festival in Santa Barbara, CA. I've nearly detached myself from the festival scene since giving up my party lifestyle a few years ago. But I was called to attend and present here, and for good reason. I was to teach a Universal Connection Through Dance and Salsa 101 workshop. Who would have known that I'd learn and take something away from the workshops I was teaching?
My connections workshop was on a Saturday afternoon, and we started with a group of around 15 people, which didn't surprise me, as this workshop can be intimidating. Maybe it was the music, or maybe it was the energy this group cultivated, but by the end, we had close to 40 people all moving their bodies together; laughing, unlocking, CONNECTING! The alchemical creation from the collective was POWERFUL, and it still has me beaming a week later! You can watch the magic unfold here -->
That afternoon turned into the evening, and as the sun went down, my camping crew put on their most festive wear and we set out as empty vessels to be filled with new experiences. We drank tea with a fairy, got tribal with the throat singing duo, Olox, and vogued the house down boots at the Nook! Late into the evening (or early into the day...?) we welcomed a blissful sleep. The sun rose, as it always does, on Sunday morning and I prepared for my Salsa 101 class.
Sunday's at festivals are always lazy, and I wasn't expecting 60 people to show up, but alas, they came in packs, and finished the afternoon strong! Most of the humans in my class had never done a salsa pattern in their life, but EVERY SINGLE PERSON that joined left a new salserx (a salsa dancer in the non-binary context)! The joy on everyone's faces after we wrapped up was the only thing I could ever ask for from any class I teach. It is truly an indescribable feeling.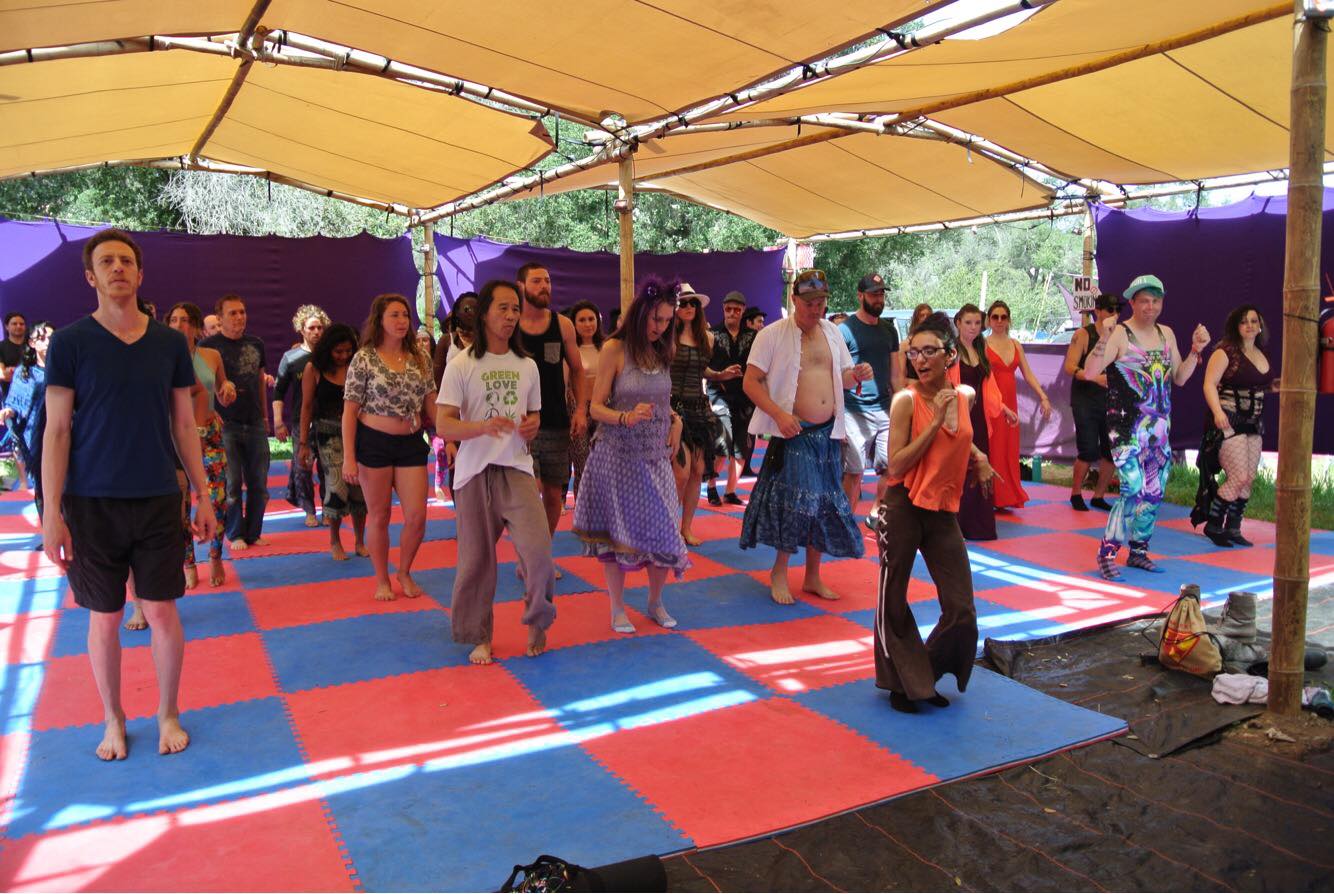 The most important part of this whole experience though, was the explosion that happened within my ribcage. It felt like my heart had finally shed the emaciated barrier I had formed over the last two years of constant fighting. It was filled with pure, genuine release; organic and raw connection to the people around me, and most importantly, myself, my path. I am endlessly grateful for the events that unfurled before my eyes, as they gave me an overwhelming sense of gratitude. I have been reminded that by following my dreams, I am making an impact and a difference inside of the chaos. And, well, I don't plan on stopping any time soon!
With that, here is a photo from my campmates class (Awakening Your Primal Magic) that sums up the weekend perfectly!