For The Initiated
Those of you who use steemworld.org on a regular basis, and follow the posts of its creator, @steemchiller, are aware of all the features it possesses, plus the ones steemchiller is working on, which includes a post viewer and editor, and his own Steem Data Service.
To see his latest progress post, click here.
Hopefully, if you use his site a lot to watch your own progress, you're upvoting his posts as much as you can and/or donating some STEEM to the cause. I'd encourage everyone to do so, big accounts or small. I think the site is well made, user friendly, accurate, and has a great uptime record.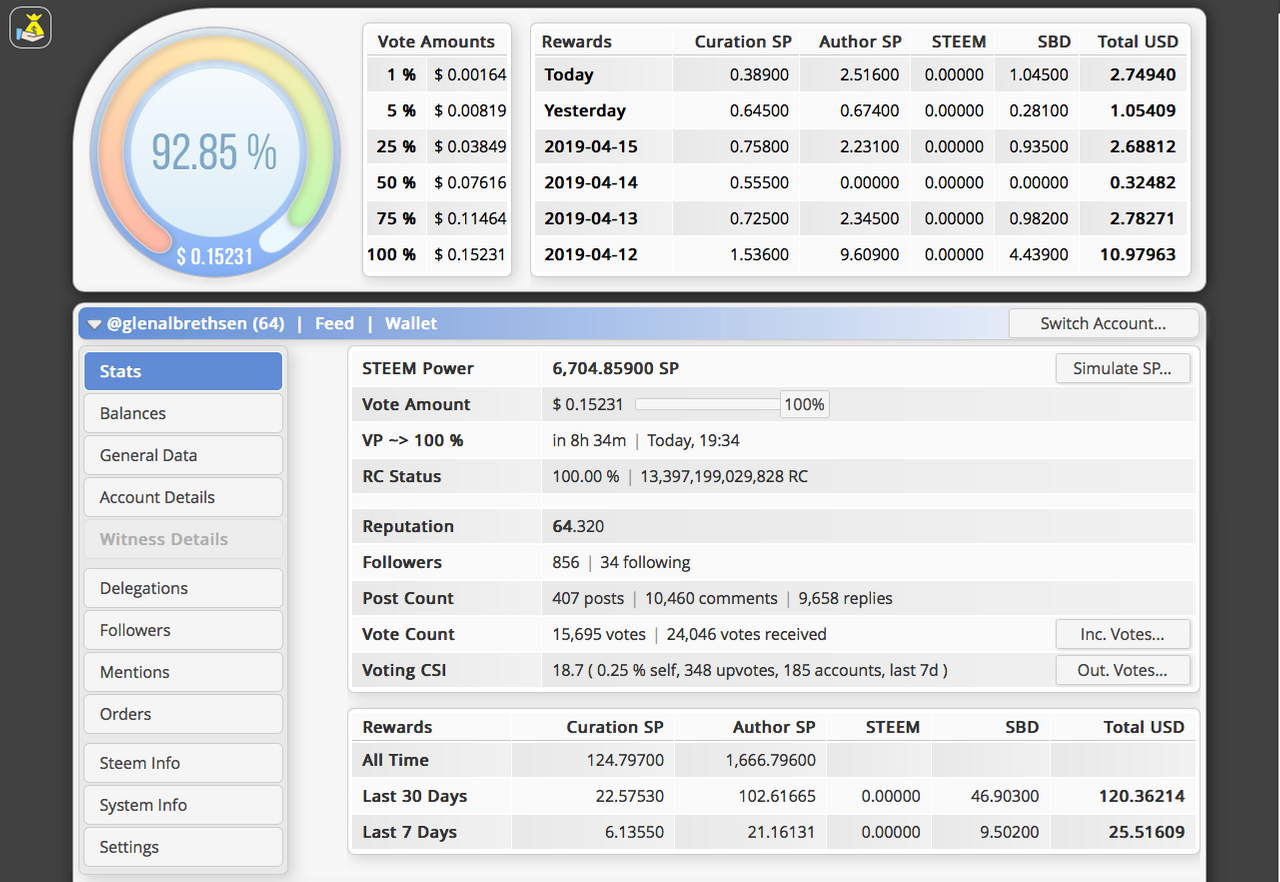 For Everyone Else
For those who aren't aware of steemworld, it provides a whole host of data, a lot of it in daily chunks, up to eight days worth. Things such as comments, posts, votes made and received can be found as all time totals. It also shows in what I consider to be realtime all that's happening on your account.
I don't want to go through every last detail here (there's a lot), but I would like to take you on a fairly quick tour, and then leave you, if you so desire, to explore on your own.
The Breakdown
Essentially, there's six different sections that you can scroll through (everything is on one page), and then click to retrieve or filter the information.
First
The top section deals primarily with voting power (VP), what amounts you can allocate based on that voting power and vote weight, and then a breakdown of rewards based on whether it comes from curation or authoring posts and comments, and then how it was paid out in STEEM Power (SP), liquid STEEM and SBD. There's even a column for how it all converts into USD.
Second
The next section has 11 tabs listed down the lefthand side which provides windows of different information. Clicking on each one brings the corresponding information into view. You can keep track of your VP and RC status (plus a whole lot more) in the Stats view, perform a lot of wallet operations in Balances, remind yourself how long you've been on STEEM and when you last did something there, as well as make changes to your recovery account and witness proxy (if you have one) in General Data.
Looking at the other tabs we find: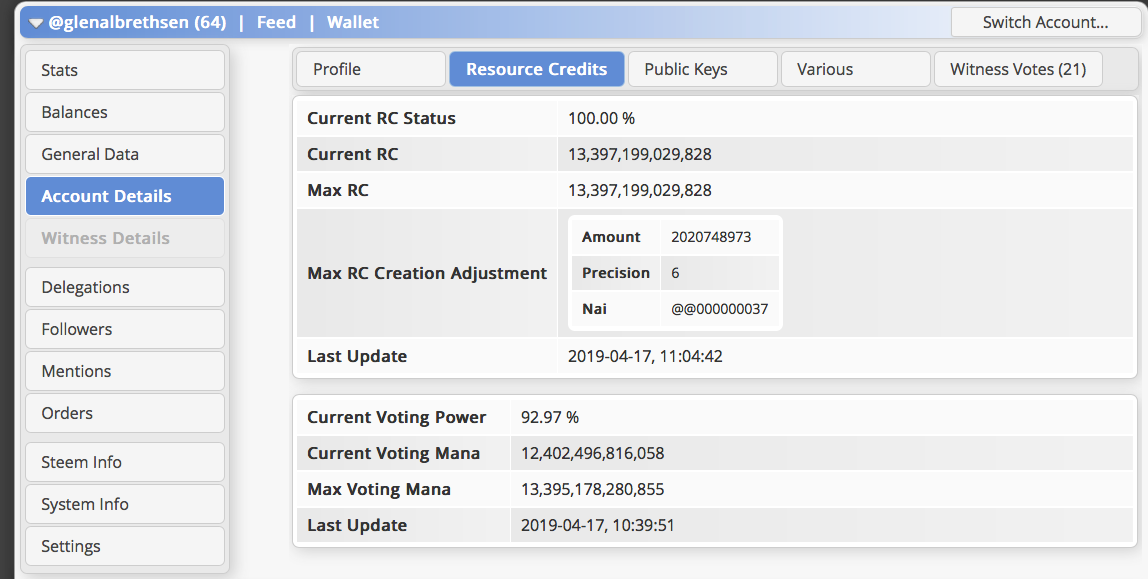 Account Details provides profile information, another look at RCs (resource credits), shows your public keys, who you've voted for witness, and so forth.
Witness Details, for anyone who has ever been a witness. If not, the tab is grayed out.
The Delegation tab tells you whose delegated to you and how much, any outgoing delegations you might have, and there's also an expiring view to see when you can get back the SP from a cancelled delegation.
You can sort through your Followers in different modes, including those you follow who follow you and vice versa.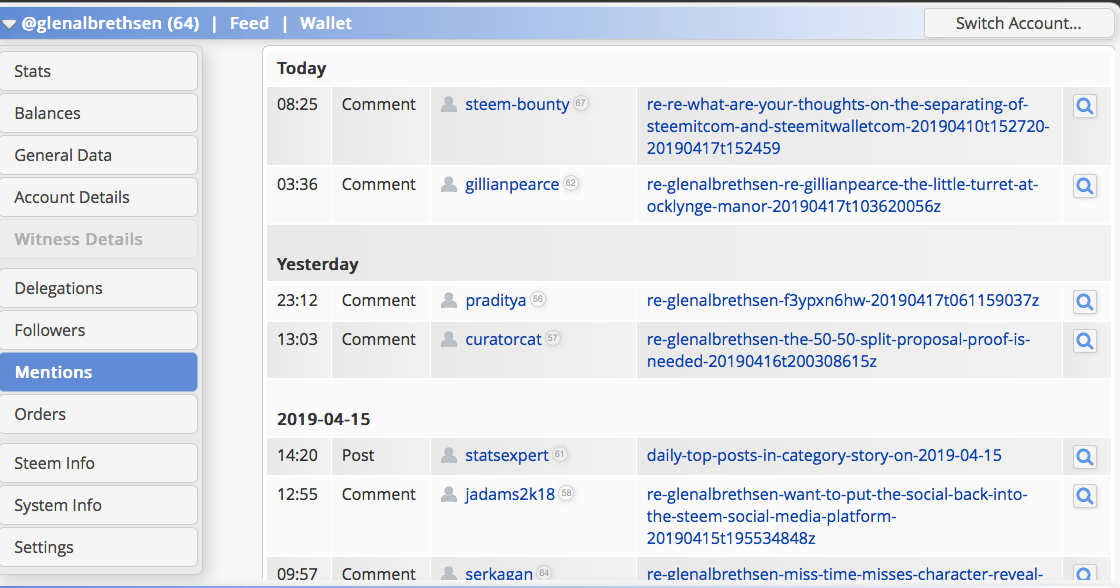 Mentions gives you a running list of where your username is popping up on comments or posts.
Orders allows you to buy or sell STEEM and keep track of when you hit buy or sell amounts (if set).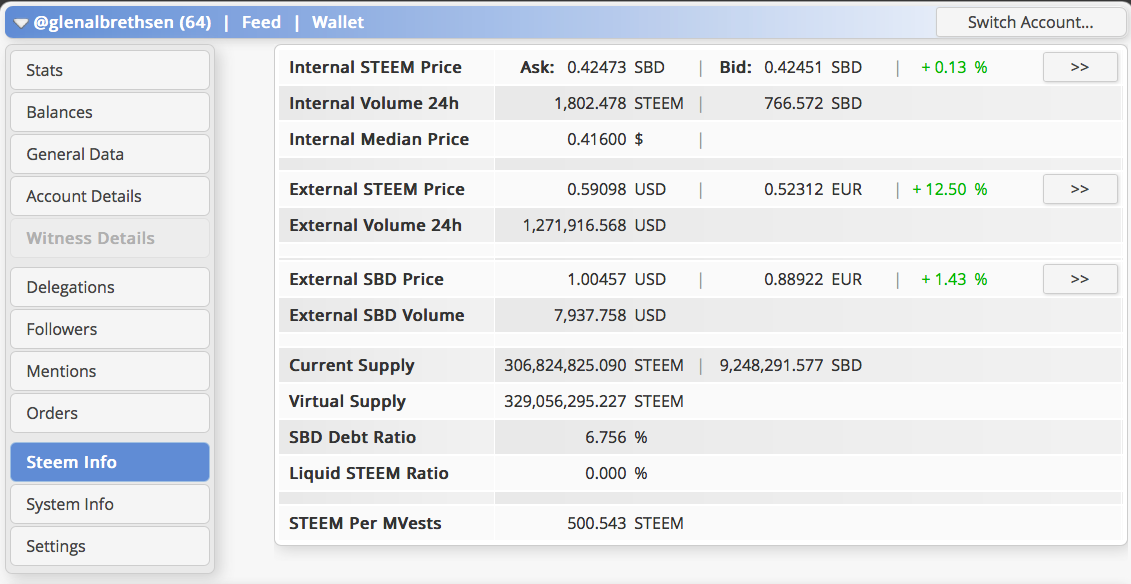 STEEM Info gives you a good look at what the internal and external STEEM and SBD prices are doing, along with supplies, and ratios and where the current STEEM per MVests level is at.
System Info shows data pertaining to the reward fund, blockchain information and some details about how many accounts there are on STEEM and the total amount of witnesses (some live, most not).
Settings rounds up this section, and allows you to change things up a little. One of the things I like the most here, and what can be attributed to its uptime are the several different STEEM nodes you can connect to and collect the data from. If one is down or running slow, another is bound to be up and working adequately.
Regardless of which tab or view your in this second section, you can also get to your blog, feed and wallet from here, as well as switch accounts if you wish to look at the activity going on elsewhere.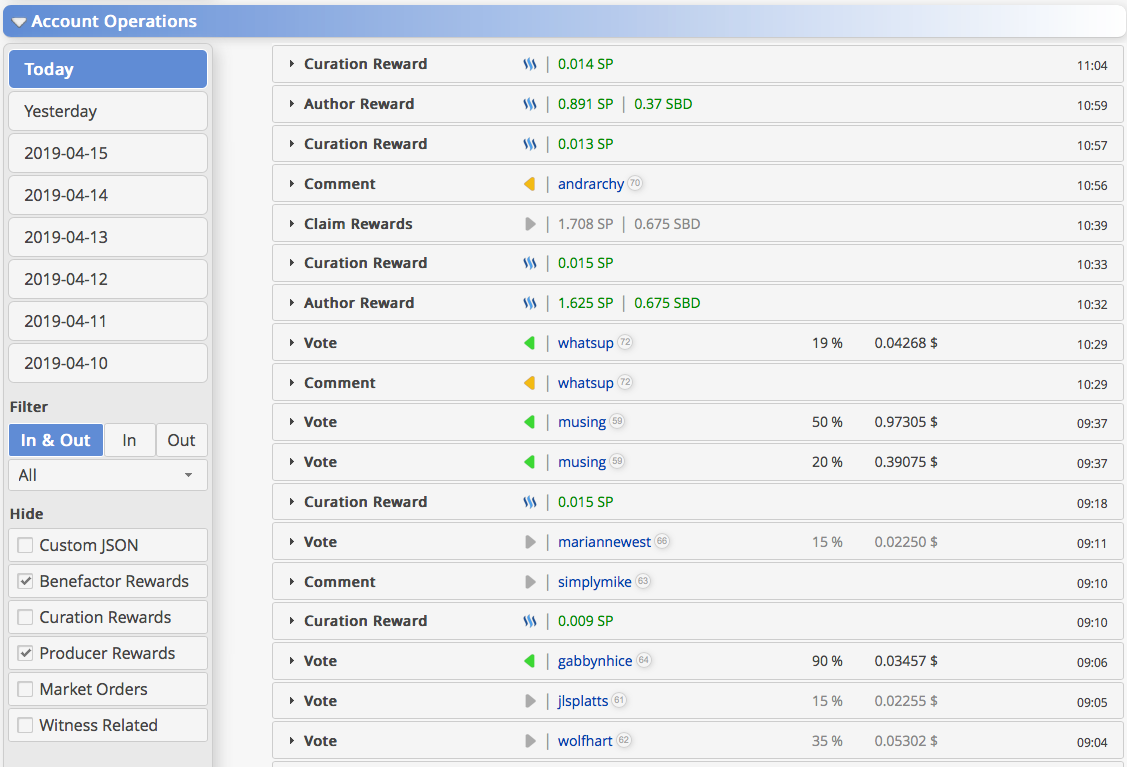 Third
The third section, Account Operations, is where things can be filtered by activities and by day. So if I want to look at all my outbound (Out) activities (comments and upvotes made, posts, etc.), I can do that, or if I want to see who's upvoting or commenting on my stuff, I can filter that to inbound (In). What the action was, who did it, percentages and amounts if applicable and time any of it occurred can be found here.

Fourth
This fourth section deals with posts. Active posts, meaning not yet paid, and finished, can be found here back to 100 or so posts, and there's also a search option which goes back several months if you have a date range to look in.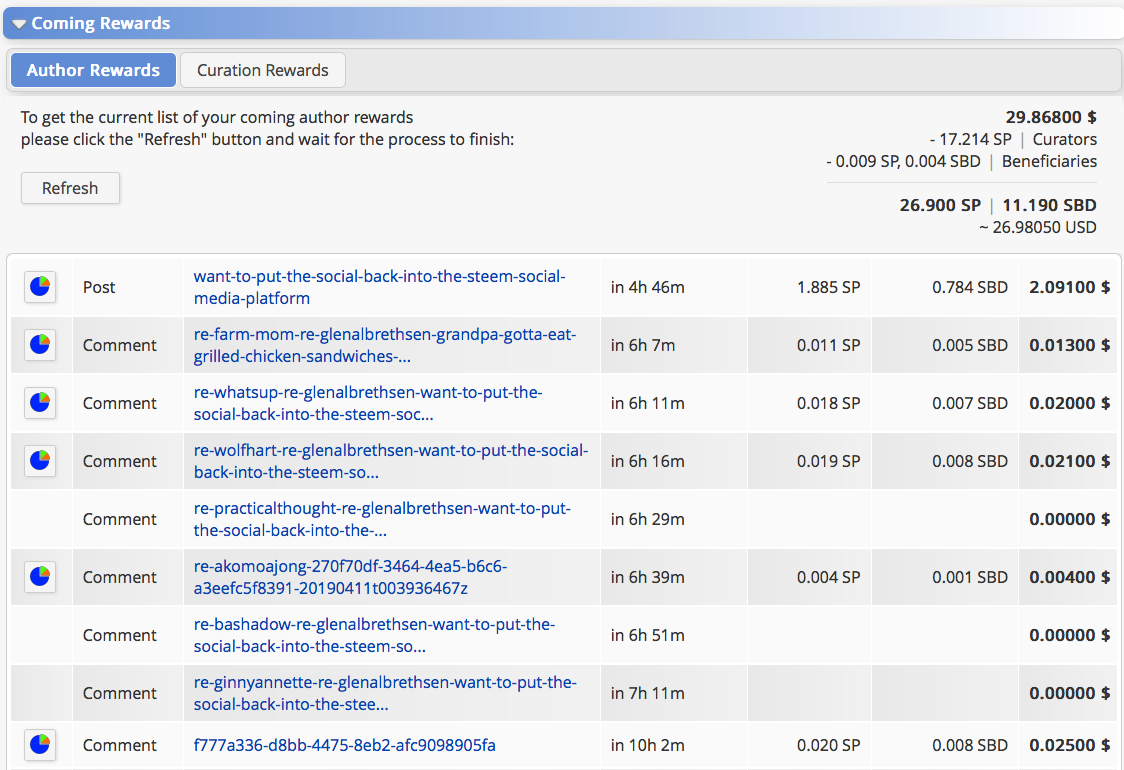 Fifth
The fifth section is Coming Rewards, and splits those up between Author Rewards waiting to pay, as well as Curation rewards. Every last post and comment you created can be found in the former, and everything you voted on in the latter. Information includes, a pop up window for posts or comments with rewards showing a pie chart of who upvoted, links to the posts or comments, how soon they will be paying out (if at all), payment amount (if any), and in the case of curation, you can also see the vote weight and amount you allocated to compare to your curation rewards.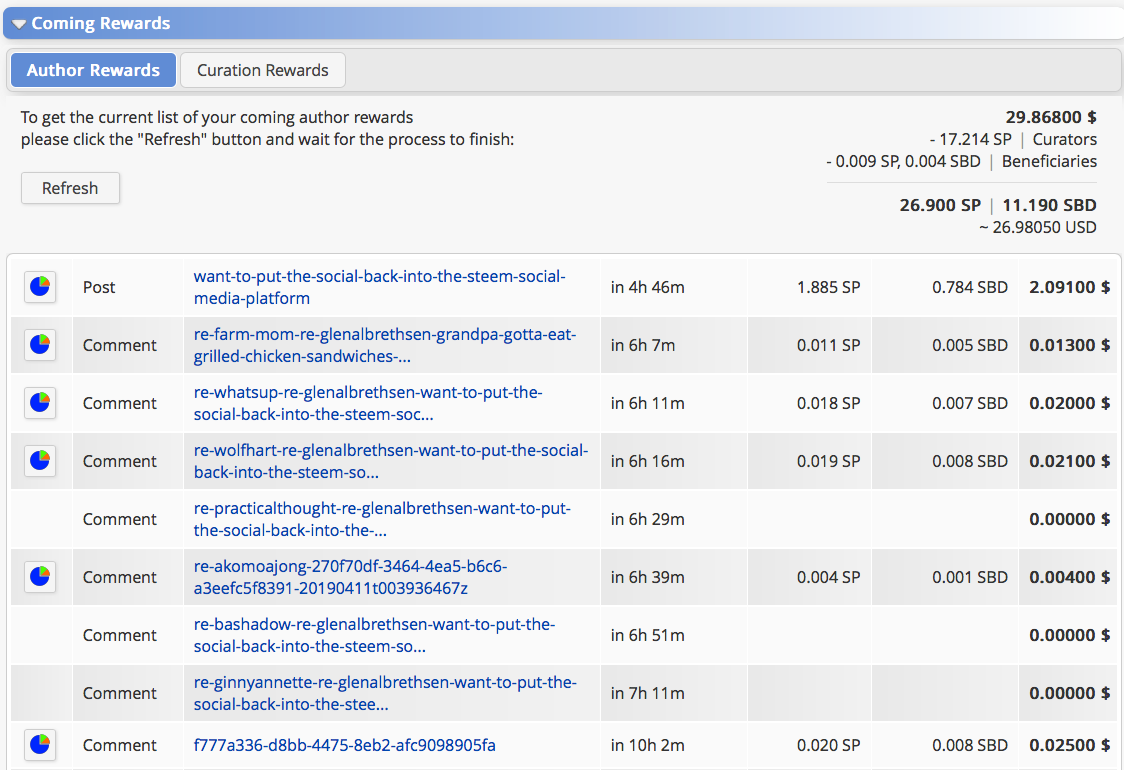 Sixth
The last section (but not least) deals with different Tools available. There's ten tabs for different views and functions, including Account Creator and Recovery, a way to Change Password, see Delegation History, a Key Generator, a way to Manually Vote, make wallet transfers, search those transfers, a Votes Overview of how you've upvoted, and a list of the top 100 witnesses.
Performance
Loading time as you switch from different views is minimal. How it fetches the data is much faster than going from page to page to find it like you would elsewhere. Depending on how much data there is to run through for Author and Curation Rewards can take a while in comparison, but it's still not a long wait.
I like having so much information in such a condensed fashion that can be cycled through virtually instantaneously.
The Pitch
I highly recommend using this site if you're remotely interested in what's happening on your account on a regular or even semi-regular basis. As I alluded to at the top, there's more functionality coming. I think Steemworld is worthy of more attention and rewards for all that it does. I encourage you if you haven't already done so to check it out. Typing into your address bar steemworld.org/@username (username being your own or anyone else's), will take you to your information after a brief loading screen.
---
All images are screenshots from steemworld.org.