gob is following the dirt road. it reminding him of his child hood when his dad took him this way he has not been back here in years. he is day dreaming. he can hear birds singing. he ses some flowers on the side of the road, stopping thinking to pick them. and take them home to his camp, its no flowers ther maby he can try and make a pot for them...then in the forest he can see a person running he recognize him its maxwell. before gob can shout maxwell ducking down he is gone...gob is wakes up from his day dream how strange the colonists most be in danger.
he start moving up the road now he is not tinkling in his child hood anymore. around the corner he can see @methus. he just standing there. he is holding his chest. Gob shouting at him are you ok. @methus turns around, gob can see two large crossbow bolts in his chest. @methus is stumbling forward to where @happyme is hiding. @happyme just took a pot shoot at one of the ogres,then hiding in the forest. @methus is falling next to him he gives his Greater Healing potion to @methus ho drinks it then hiding next to him.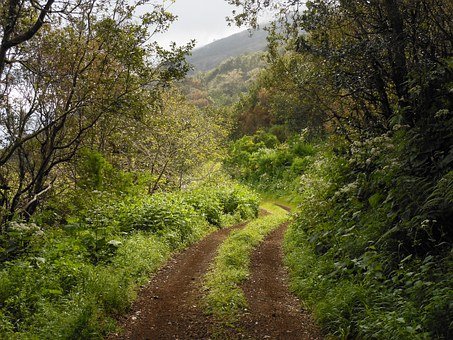 gob ses the two oger in the road the are getting ready to shoot they crossbows he casting his berserk at one of them the oger turns a round and instead of shooting at gob he killes his ally in two shoots then fire at a different oger hurting him badly, gob is casting a secone berserk spell on a second oger before he summons a nettles wall in front of him and blocking line of sight. the oger hits his ally next to him then wandering arund. @stever82 is taking a swing at a oger next to him his opponent is bigger then him he ses his ally are hiding and falling back he joining them. @hhayweaver ses and opportunity to take a shot at one of the oger ho shoot maxwell and @methus. his arrow missing him. he manage to hide to ready his ambush.
@cyber.explorer is meeting up whit Maxwell in the forest they are away from the fight maxwell is telling @cyber.explorer gob was luring in the forest. how strange why is he sinking up the rest of the colonists. and way is even here. suspiciously he most be a part of the plot. the two of them are turning around and sinking up to see what gob is up to.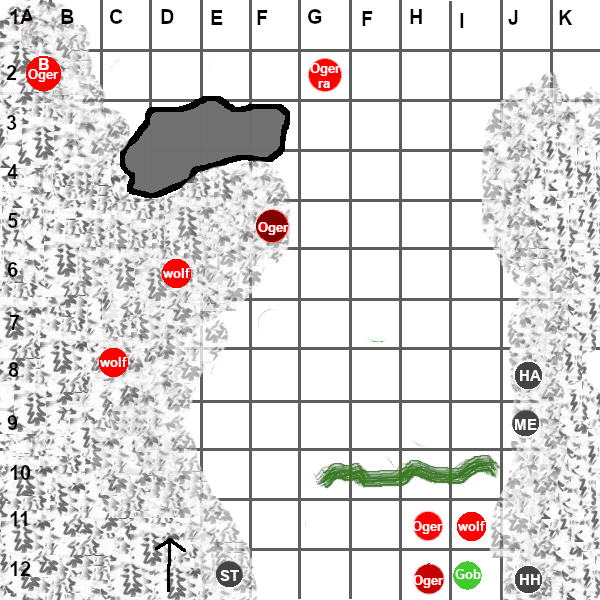 at this wery moment gob feel safe behind his nettels wall. Then around one of the sides two ogers and a wolf is coming at him, one of the ogers..YES IT IS GOBLINDS Gob is taking the massive attack. he staggering trying to keep up..he can hear howl from more wolfs coming for him..but if this is it. Gob know he saved the colonists to continue the fight. with or without him. his mine is drifting flowerpots..a think clay is the best ide.
if you are entering the map you will be ending up at D12 take one turn
you all are in combat no snike attack
green line "nettels wall blocking line of sight lasting two turns
Darkland wiki
https://steemit.com/rpg/@darklands/how-to-do-darkland-tutorial-wiki-regions-and-quest-rules-update-1-0#comments
Overview over all Colones and Quest Rules.
https://docs.google.com/spreadsheets/d/1yVIjhPnBVNHxymHEYQU-8-VolVaiTn8Us9iJWmcHaqU/edit?usp=sharing
●▬▬▬▬▬▬▬▬▬▬▬▬▬▬▬▬▬▬▬▬▬▬▬▬▬▬▬▬▬●
@cyber.explorer (ale,sausage,wolf pelt,wolf tooth amulet, 10 (the dam added to the weapons)
weapons (+5 two-handed iron hammer /w gem 8 dam)
4 hit points (17 of 28 Armor)(wounded)
1 healing potion
player

"Chief of Security" Maxwell (ale,amulet) 8 to hit. with Blaze w/spiked collar(+2 dam)
weapons (+5 one-handed iron hammer w/gem 5dam)
4 hit points (4 of 20 armor)(wounded)
1 healing potion
player

●▬▬▬▬▬▬▬▬▬▬▬▬▬▬▬▬▬▬▬▬▬▬▬▬▬▬▬▬▬●
@happyme (ale,ring, Moose sausage, Eye of accuracy) 8 (dam and range hit added to weapons)
weapons (+7 bow gem 7 dam)(+5 iron sword gem 7 dam)
4 hit points (30 of 30 armor)
0 Greater Healing potion (given to @methus)
player

●▬▬▬▬▬▬▬▬▬▬▬▬▬▬▬▬▬▬▬▬▬▬▬▬▬▬▬▬▬●
@stever82 (boar fangs amulet,+1 dam bear cub) 7
weapons (+5 bow 3 dam)(+5 iron sword/ gem 4 dam)
4 hit points (10 of 15 armor)(wounded)
2 health potions
player

●▬▬▬▬▬▬▬▬▬▬▬▬▬▬▬▬▬▬▬▬▬▬▬▬▬▬▬▬▬●
@hhayweaver (Ring,bear amulet) 8 (ranger helmet has added it to the bow)
weapons (+5 Bow 4 Dam)(+5 Sword 2 dam)
4 hit points (11 of 11 armor)
player

●▬▬▬▬▬▬▬▬▬▬▬▬▬▬▬▬▬▬▬▬▬▬▬▬▬▬▬▬▬●
@methus (ring,amulet) 7 (wizard armor + added to the staff)
weapons(+9 dark staff 2 melee damage and +2 spell dam)(+4 armor iron Shield)
4 of 4 hit points (18 of 18 armor) drank a Greater Healing potion from @happyme
2 healing potions
Player

Spells: Dark Missile, Dark Heal, Fireball
●▬▬▬▬▬▬▬▬▬▬▬▬▬▬▬▬▬▬▬▬▬▬▬▬▬▬▬▬▬●
Gob (cape of knowledge.amulet) 8
weapons (+9 dark staff 2 melee damage and +2 spell dam)
4 of 4 hit points (2 of 15 armor) (wounded)
1 Greater Healing potion
2 Armor potions
berserk, Netties wall , dark heal , Dark Missile
Player


●▬▬▬▬▬▬▬▬▬▬▬▬▬▬▬▬▬▬▬▬▬▬▬▬▬▬▬▬▬●
Ogers 5
weapons (+5 giant spike club 5 dam)
5 of 20 hit points
location H11
Oger 5
weapons (+5 giant spike club 5 dam)
4 of 20 hit points (wounded)
location F5 Dark red
Oger 5
weapons (+5 giant spike club 5 dam)
15 of 20 hit points (wounded)
location H12
player
summon wolf 7 (+2 charge attack distance)
weapons (+5 teeth 3 dam)
6 hit points
player

chief ogre (+2 dam added to the wepond barbarian ale) 7 (Cleric)
weapons (+7 Cleric staff gem 8 dam)
20 hit points (25 of 25 armor)
1 Greater Healing potion
spells: heal,summon wolf 3 of 3, rock shield, bless
player

oger archer (ale,amulet,ring) 9 (ranger)
weapons (+5 cross bow 8 dam)
20 hit points (10 of 10 armor)
player