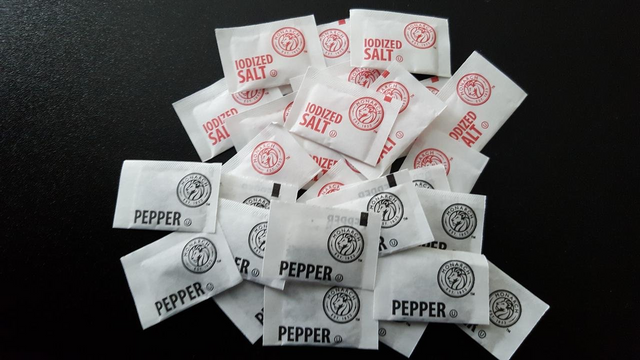 Last I left you...
Last I left you we were discussing slavery in the form of income tax here in the U.S., which has some people confused as being the U.S.A, but I won't get into that today. There is a difference between the U.S. and U.S.A and one day when I have plenty of time I will explain that in detail.
Today though I wanted to make a correction to the last Seasoned With Sult N Papper where I gave my theory on why the word "income" is not defined in the U.S. Code Section 26. My thought and theory was that since there is no lawful money here that a person can earn; there is no way what you earn could be considered income. We only have "legal tender" here in the U.S. in the form of Federal Reserve Notes, which are nothing more than a fancy looking I.O.U. that the government printing presses at the Treasury Department prints out signifying the government owes the Federal Reserve Bank money.
Well, it was a ...
Well, it was a good theory in my opinion and it may very well have something to do with it but after doing some research last Tuesday evening I found out that there have been several cases ruled on by the Supreme Court here in the USA that did in fact define the word "income" and those Supreme Court cases defined income as corporate profits.
So that explains why you won't find the word income defined in Title 26 of the U.S. code. The government doesn't want you to know any part of the truth about what they have done. That, I am pretty sure has you asking, "just what did they do?" That is a great question by the way; one that any American should be asking their congressmen and senators, but since you asked me I will give you what I know about it and you can then go ask your elected representatives for their explanation.
First off; you have a dual identity unbeknownst to you.
If you ever notice anytime you have anything to do with paper work from any government agency you will find that your name is always styled in all capital letters. That styling of your name in all capital letters signifies an artificial entity, a corporation.
The deception started the day you born and if you have a birth certificate there is a damn good chance if you take a look at it you will find what I am talking about as most birth certificates issued after the 1950's all have the names styled in all capital letters. So John Effin Doe as the name given by his parents would read on the birth certificate as JOHN EFFIN DOE. (It is not a misspelling, all the letters are correct; the proper term is "styled") So the government styled your name just like any other artificial entity; it just so happens that all corporations are also artificial entities and also are considered as "persons" in the eyes of the U.S. government.
So even though...
So, even though you go through life as a living human being you are nothing more than a corporation in the eyes of the government. Now do you see how your dual identity exists?
When you go through life all your friends and neighbors and associates see you as the living person but the government sees you as a corporation that exists and has been chartered using the social security number the government issued to the all capital letter styled name like JOHN EFFIN DOE.
Another thing with...
Another thing with government is that the U.S. government exists on presumptions; they presume you know this part about your dual identity and that you are good with it since you never have informed them differently. Since the government controls what is taught in the public education systems throughout the states they know damn well you don't know; and that is the way they would like to keep it.
They are tricky...
They are tricky bastards too, (the U.S. Government), they continue to get folks to acknowledge the corporate relationship you have with them on damn near every government form you are required to fill out when contracting with them. There always seems to be a box that you are required to check that asks if you are a "U.S. citizen" and each time you check it you are confirming your artificial corporate entity status of your all capital letter styled name. The federal jackasses even have the states doing it for them as well since the states ask the same questions about being a U.S. citizen on things like driver license applications and other occupational licenses issued by the states.
So Title 26 of...
So Title 26 of the U.S. code intentionally and maliciously keeps from defining income so that the words "corporate profit" doesn't show up in the definition; otherwise people might just put two and two together and start asking questions.
Being born on...
Being born on the soil of one of the fifty states doesn't make you automatically a U.S. citizen although most people believe it does. The U.S. citizen that you represent wasn't created until the paper work is completed in the form of the birth certificate and the social security number was placed with the all capital letter styled name.
So when the ...
So when the Secretary of the Treasury or the IRS Commissioner or any other employee of those agencies are heard saying that we have a voluntary income tax system they aren't lying, they will just never elaborate on how you can quit volunteering. You, the living breathing human, isn't required to pay income taxes, your artificial corporate person is though and the government presumes you know that since you have never disputed that you represent that corporation.
I used the word...
I used the word "contracting" earlier in this piece and that is what you are doing each and every time you have an interaction with any government official be it local, state or federal. You enter into a contract each time you put your signature on any government form. The thing about contracts is that it is required that full disclosure between the parties to the contract is a must and also that lack of full disclosure constitutes a fraud. Fraud nullifies and voids all contracts once discovered.
Iam going...
I am going to start a letter writing campaign to my elected officials demanding an explanation and I am going to do it in the form of an affidavit. Stating under penalty of perjury the facts as I understand them and have my elected officials either acknowledge or rebut them in the form of an affidavit as well. I am tired of being played for a fool by these politicians.
What about you? Now you have enough ammunition to at least start asking questions; will you?
For my readers...
For my readers outside the USA; this situation is not unique to the United States of America and if you are residing in a country with a central bank and birth certificates there is a good chance that you might very well be under the same scenario as those of us in the U.S.A. It all has to do with the banks controlling all the wealth in the world and they won't stop until they do.
I told you...
I told you that former U.S. President George H. W. Bush was a real piece of shit and I stand by the statement; but he did at least tell us that we would be under the rule of the New World Order. He just failed to mention that the NWO is the central banks of the world belonging to the International Monetary Fund.
I think this is enough seasoning for one night.
Until next time,
@sultnpapper

Note: Thanks for reading this edition of Seasoned with Sultnpapper. Please check out this post by my good friend and great author @ericvancewalton , the winter has ... well go read it for yourself, https://steemit.com/appics/@ericvancewalton/appics-im-13320