In this video I explained the potential of DCiti blockchain protocol and the value proposition of Dtoken to partners and investors.
I also talked about my view on airdrop which I call the new ICO for three reasons.
DCiti is currently offering 50 million DToken of the 25% Team and Partners allocations to private investors and partners, the fund generated through this will be utilized to power our blockchain on the EOS network and expand our team by hiring more professionals and developers to work with us.
Reach Bania through email: baniabtc@gmail.com
Read more about DToken here: https://github.com/DCITIIO/Document/b..
---
---
White Paper ➡️ https://drive.google.com/file/d/1qQql...
Telegram Official Group ➡️
https://t.me/joinchat/IHLjhRHZELLFLc7...
Telegram Announcement Channel ➡️ https://t.me/joinchat/AAAAAE6MJyZ7C8z...
Medium ➡️ https://medium.com/@dciti.io
Twitter ➡️ https://twitter.com/DCitiIO
---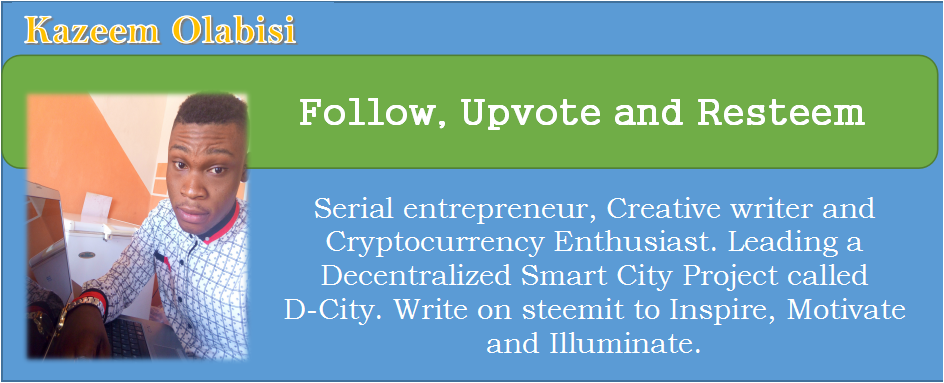 ---
If this post inspires, motivate, or educate you, please help resteem so others can experience the same. If you can upvote as well, I will be glad and your comment will make me believe you did one of the three.
---