Decentralized exchanges (DEXes) are a prominent application within the DeFi space, and play significant role in actualizing a truly decentralized blockchain universe. True DEXes enable users to trade tokens in a decentralized, anonymous and noncustodial way. Prior to 2018 when Uniswap V1 was launched, existing DEXes were struggling to be popular and useful until Uniswap came to the scene.
The advent of Uniswap is epochal in the blockchain ecosystem as it largely solved the low liquidity problem common to DEX with its innovative automatic market maker (AMM) protocol. This solution enables users to trade or swap tokens with smart contract rather than with other traders. This feature became an attractive tool for various DeFi crypto projects to harness, which thus cemented Uniswap's status as one of the leading DeFi protocols. Today, the volume of transactions done on Uniswap rivals that of top centralized exchanges. The success of Uniswap has led to the birth of other similar protocols such as Sushiswap, Pancakeswap but with very little improvements.
The DeFi industry is constantly undergoing evolution, so it is time to move past the age of Uniswap and upgrade the foundational protocol to a new phase that meets the fast paced demand of DeFi and its users.
There are still rooms for improvements in the. AMM DeFi protocol. Answering to this call for advancement of Uniswap is KingSwap.
What is KingSwap? An introduction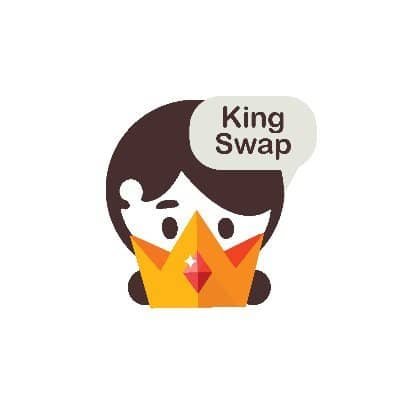 KingSwap is the latest innovative DeFi DEX protocol with improved features superior to Uniswap solution. KingSwap leverages Uniswap protocol and builds on it adding extra features that makes DEX protocol more efficient, valuable and attractive to users. By providing off-ramp fiat conversion, lucrative yield and staking rewards, and non-fungible tokens (NFTs), KingSwap elevates the game beyond the past and present, into a new future of open finance.
As an AMM protocol, KingSwap automatically creates a liquidity pool of listed tokens which are traded by smart contracts (liquidity pools) and not an order book as obtained on earlier DEX (like Etherdelta or centralized exchanges. This way, users can easily swap one ERC-20 token for another without any trusted party, KYC or token custody.
KingSwap is built as an upgrade to Uniswap with the addition of new attractive features that further align with the priorities of the blockchain community, especially pertaining to autonomous community governance and incentivization. With the introduction of King token, the proprietary token of the platform, KingSwap offers additional liquidity and opens new opportunities to liquidity providers and stakers to earn more rewards. Early LPs on the KingSwap platform benefit from various secret airdrops apart from a colossal
The accumulated benefits of this new incentive program can potentially revolutionize the DeFi industry.
What is KingSwap NFT?
A close watch of the DeFi ecosystem shows the emergence and popularity of a new class of digital set called NFT.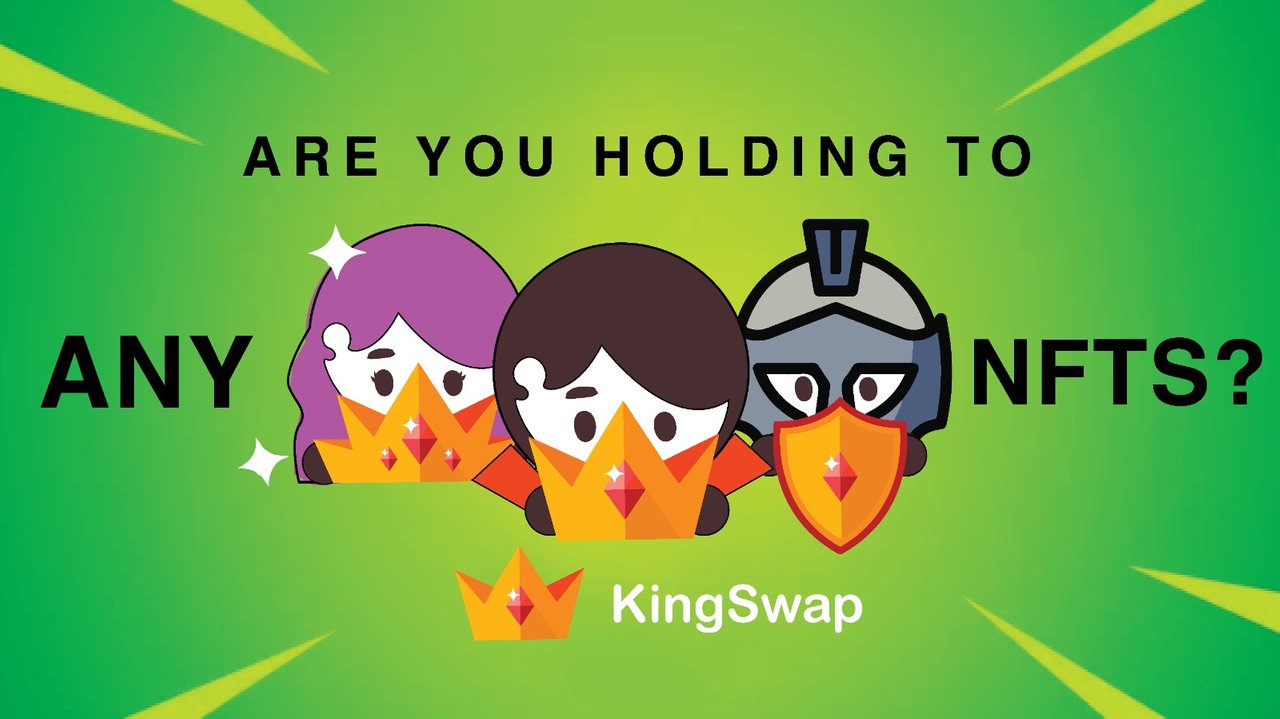 NFTs, Non-Fungible Tokens in full, are tokenized version of assets, digital or real-life. NFTs are unique, indivisible, and non-interchangeable with another. Developers are exploring the vast potential of NFTs in tokenization of various assets such as real estate, special in-game collections, art, precious stones, and so on.KingSwap NFT is a special crypto collectible that is designed to provide creative ways of participating in the blockchain digital economy and earn passive income via loyalty rewards issued by KingSwap project. Kingswap NFTs are in 3 tiers: King Camp, Queen Sparkle and Knight Lancelot, offering benefits (as loyalty rewards) in the form of KING token and future airdrops from projects launched via KingSwap DEX at 60%, 30% and 10% respectively.
You can purchase KingSwap NFTs by clicking on this link to be an early supporter and beneficiary of the loyalty reward.
Advantages of Using KingSwap DEX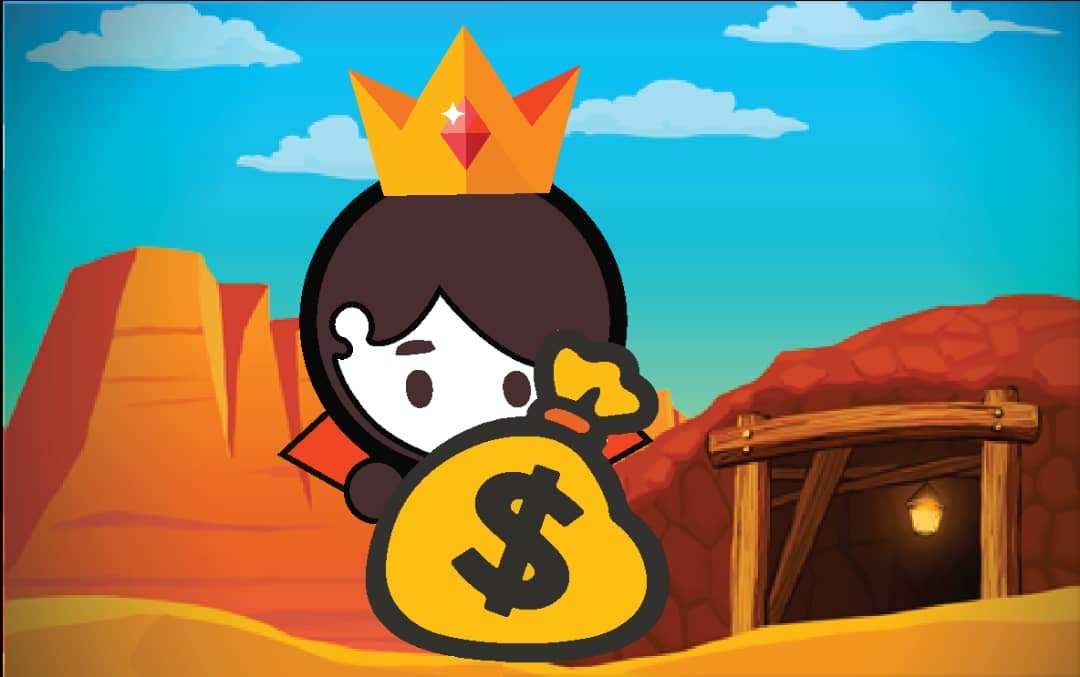 Anonymous
All transactions, swap, token exchange, liquidity provision, on KingSwap exchange are completely anonymous. No need for user KYC or identification. The platform is non-custodial with no central authority.
Secure
The KingSwap protocol is as secure and decentralized as the Ethereum network. All transactions are done right from the user wallet connected to the platform. Similarly, Kingswap smart contracts are secure since it is a fork of Uniswap protocol.
Instant Access to New Tokens
On KingSwap, anyone can create a new token pool paired with ETH to generate liquidity for that pool. This way, KingSwap provides users with instant access to swap new tokens with ease and speed.
Regulated
KingSwap DeFi is the first DeFi DEX to be regulated, conforming to strict regulatory standards. Unlike several other crypto projects which are faceless and suffer from exit scams, KingSwap is led by a team of credible and notable individuals.
Low Transaction Fees
All it costs to use KingSwap is a small 0.25% fee per trade lower than the 0.3% transaction fee charged on Uniswap and Sushiswapl. This improvement will further aid and encourage trading on KingSwap.
Trustless
KingSwap is entirely trustless and permissionless. Users are in custody of their tokens and are at liberty to trade them directly with the available liquidity pools.
Hyper Yield Reward System
KingSwap provides a high-yield reward in different ways. Kingswap offers 10,000 KINGS token per block to be shared among LPS apart from sharing the transaction fees accrued from swappers. Also both LPs and NFT holders who stake their KINGS token for the stipulated minimum time benefit from multiple secret airdrops including additional KINGS token and tokens from other projects promoted on the platform.
Lucrative Staking and Yield Farming Incentives
KING token stakers enjoy several benefits, especially when the tokens are staked for a longer period. Yield farming is highly lucrative on KingSwap, offering huge rewards to farmers. Some of these incentives include high staking rewards, 0% King's Card Transactions fee, and exclusive merchant benefits (free Spotify, and so on).
Off-Ramp Fiat Conversion
KingSwap also provides solutions for users to convert their tokens into fiat via the OTC portal using KingSwap VISA-issued debit cards. This way KingSwap DEX users can easily operate between both traditional and blockchain worlds.
Conclusion
KingSwap is an upgrade to Uniswap, bolstered with attractive features to improve user experience. No order book as it uses a liquidity pool, with LPs and stakers enjoying massive rewards in King tokens, amongst other loyalty benefits.
You asked for the best of Uniswap, now you get the king of all, KingSwap.
KingSwap Official Links
WEBSITE: https://www.kingswap.io/
TELEGRAM: https://t.me/kingswap
TWITTER: https://twitter.com/defi_kingswap
FACEBOOK: https://www.facebook.com/King-Swap-112444093946760
LINKEDIN: https://www.linkedin.com/mwlite/company/kingswap
MEDIUM: https://medium.com/@defi_kingswap/the-king-swap-project-b689c0f5ccff
GITHUB: https://github.com/KingLuigy/KingSwap
DISCORD: https://discord.com/invite/fD2DrJY
Writer: Mexite
BTT Profile URL: https://bitcointalk.org/index.php?action=profile;u=1418203