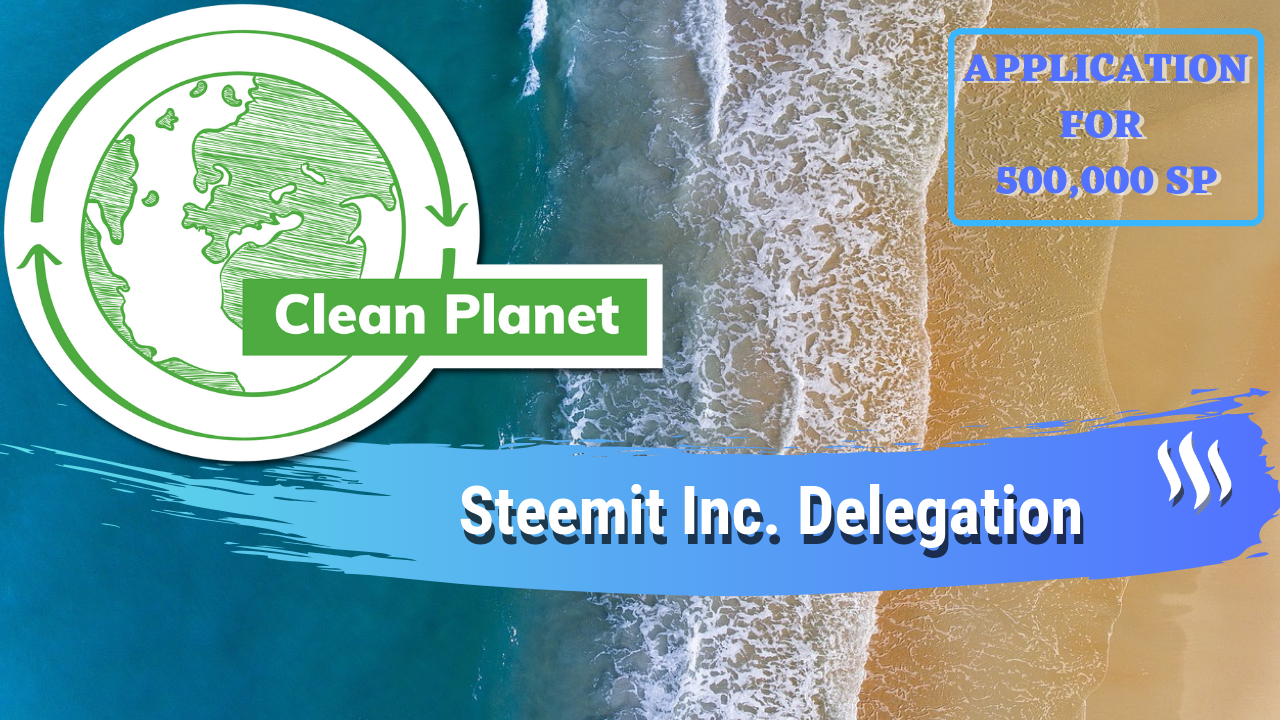 Project Information
Company name: CleanPlanet
Place of Incorporation: Association loi 1901 - Beaumont 63110, France
Token name : Clean Token
Token Type : Steem-Engine


Market
What problem is the project solving?
CleanPlanet encourages every citizen of the world to take action against the daily invasion of waste and this contribute to a cleaner planet.
Providing support through reward, for all those who volunteer, is the new alternative made possible by Blockchain technology.


Core Team Details
CleanPlanet is a fusion of ideas between @yann0975 who wanted to do something positive to fight the waste that invades our streets, mountains, beaches, seas and oceans @french.fyde was looking at how to make the Steem vote a reward for taking positive action. More information on our website
Team Clean Planet:
@yann0975 is the president of the French CleanPlanet Association.
He has been volunteering on this project every day since May 2018. He contributes to the evolution of the CleanPlanet movement in various functions such as communication (blogs/videos), as community manager but also for the curation of all #cleanplanet contents, upvotes, tokens distribution....

@french.fyde is the secretary of the French CleanPlanet Association.
He has been volunteering on this project every day since May 2018.
He is involved in the development of CleanPlanet through his Blockchain knowledge and experience as a company manager. He is also present for the creation of communication support, the curation of all #cleanplanet content, upvotes, tokens distribution...

@lecharles is treasurer of the French Association CleanPlanet.
He has been a volunteer on this project since October 2018.
He is a Biz-Dev and is dedicated to the search for new professional partners / associations / individual donors. He also represents CleanPlanet at various events (SteemFest /Dtube Forum/ K64...)

Minimum Viable Product
Cleanplanet is an environmental movement that rewards any eco-citizen act of collecting waste, according to established rules.
This incentive to have a useful contribution to our Planet is encouraged both by the community with their comments and by the joy of the rewards of upvoting.
Double Reward for each CleanPlanet content: @cleanlanet rewards, in addition to its Steem upvote, by offering Clean Token (CT). Our Token, the Clean Token (CT), was created in May 2019 on the Steem-Engine platform where we also performed an AIRDROP at launch. All the original distribution and other conditions are available here: Article 1 2 3
The process is simple! All a person has to do is take a picture or make a video while collecting waste and then share this content on one of the Steem platforms like Steemit or D.tube; with the tag #cleanplanet. After human verification of each content, @cleanplanet offers its upvote as a reward and distributes 100 Clean Tokens to each author.
Since August 2, 2019, in order to get the upvote of @cleanplanet (with or without the #cleanplanet tag) it is now necessary to burn (@null) the Clean Token (CT).


Business Strategy
Fiat Revenue Strategy:
We are an Association governed by the French law of 1901 and on this subject our entity is Non-Profit. Of course, like any Association, we work with donations from individuals and professionals. We already have a special association Paypal account that receives donations in € /$.
We are currently engaged in several negotiations with people representing both big names in the industry and small associations.
How will this increase the amount of STEEM being powered up?
Since the 1st day of creation of @cleanplanet we are in permanent power-up. Each Steem Donation is used to increase our Voting Power. It's necessary to maintain a high Steem Power to always bring motivation and satisfaction by voting to authors of positive content for our Planet.
Of every Fiat Donation made to CleanPlanet, 25% of the amount is used to acquire Steem on the exchange platforms to convert them into Clean Tokens.
Since the launch of the CleanPlanet movement on STEEM Blockchain, we have accumulated +37,000 SP of delegation from more than 100 Steemians.
What financial incentives are you willing to provide to Steemit, Inc.?
Our commitment since the beginning is linked to Steem, to show our devotion to this community, we are ready to offer 500,000 CTs
How will you become financially sustainable once the delegation is removed?
At the end of the CleanPlanet delegation period, we believe that the stability of our Clean Token will be established and this we will be able to deliver the rewards in full.

KPI Progress Measurement
KPI1 description: New Steem account that shares Cleanplanet content for the first time
KPI1 target: +10 / month
Since the beginning of 2019, there are on average between 2 and 4 people who make a #cleanplanet content for the first time.
KPI2 description: Number of eco-citizen acts published on Steem
KPI2 target: +300 #cleanplanet contents/ month
Since the beginning of 2019, there are on average 10 contents per month #cleanplanet on Steem.


Token Offering
Token Launch date: May, 2019

Total Token Supply : 34,934,880
- Fundraising target (in order to fund expansion into the operational / project growth phase / mass market adoption): CleanPlanet is a Non-Profit organization that only works with Donations
- Percentage of total token supply that will be airdropped to ALL Steem stakeholders (a/k/a SP holders) in proportion to their SP: Already done
- How many tokens will you offer Steemit Inc. in exchange for the delegation?
500,000 CLEAN TOKEN only once.
Do you plan to raise money from other investors?
Yes, CleanPlanet is in the process of finalizing an agreement with its first Fiat Donor. The CleanPlanet Team puts a lot of effort into convincing private companies and other partners to get involved with us in this community.
- Do you plan to launch an IEO, ICO, or other public token offering? No
Team members: Founders: none
Early investors: none
ICO investors: none
- % token distribution to:
50% for @cleanplanet Account
25% for the AirDrop
15.5% for Internal Financing
9.5% for the Team / Partners-Donators


Delegation Request
- How much of a delegation are you requesting : Test/Mid-Tier
- Specify the desired time frame for the delegation in 6 month increments: 2 years
- Which one of the following answers best describes how the delegation will be used to add direct value to Steem:
- A. It will be used to create new accounts
B. It will be used to give new accounts 15 SP to give them the resources needed to use Steem and purchase goods and/or services through our platform

C. It will be used to incentivize the creation of content that promotes Steem on external platforms

D. It will be used to provide limited trial or discount services to clients to encourage them to hold Steem and delegate in the future
If we have to choose only one, then "A", although we plan to use the delegation "C" as well.

We agree that our business will continue to leverage the Steem blockchain as long as we are receiving a delegation and 1 year following the removal of the delegation. During this time we also agree to promote the Steem blockchain as a valuable technological protocol that delivers unique value. We are willing to sign a legally binding contract with Steemit, Inc. to this effect.