Delegation Application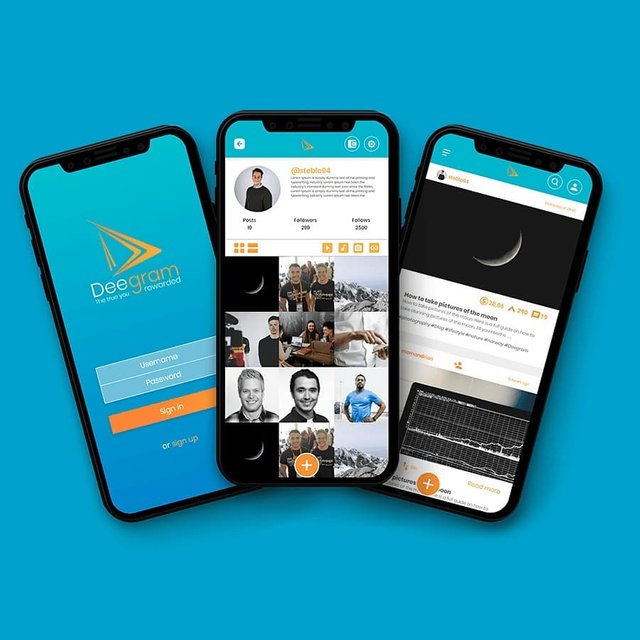 Project Information
Company name: Decentralize IT Inc. - Deegram
Place of Incorporation: Kristiansand, Norway
Token name (if applicable): N/A
Token Type (ERC20, Steem-Engine, etc.): N/A
Link to burning of SBD(application fee): https://steemd.com/tx/5756af2bc8a4c4372617547b458da50caa6be61c
Market
Bridge the gap between social media and blockchain by introducing the masses to a seamless experience of being social while also harnessing the power and benefits enabled by Steem.
Specifically targeting youth and students as a new market segment.
Core Team Details
Core team members (founders and owners):
Robin (@robinron) and Sondre (@sflovik) has worked together as students for years, and for the last two years they have operated Decentralize IT Inc. working as consultants and developers to fund development of Deegram. Over this period, in addition to a master's degree that includes business development, business processes and project management, they have gained professional experience with application development and business development in "the real world".
Robin Amir Rondestvedt Moudnib (@robinron):
Founder and CEO of Deegram. Bachelor's degree in IT and M.Sc. in Information Systems, master's thesis written about organizational adoption of blockchain technology. He is responsible for the daily operations of the company and business strategy development. He has previously worked with blockchain in the tax administration and as an assistant teacher. He is also former leader of university student organization for IT, and is currently serving his second term in the university board at UiA.
Linkedin https://www.linkedin.com/in/robinmoudnib/
Sondre Flovik (@sflovik):
Founder and CTO of Deegram. Bachelor's degree in IT and M.Sc. in Information Systems, master's thesis written about organizational adoption of blockchain technology. He is responsible for the overall technological development of Deegram and lead developer on the mobile app and UX.
He has previously worked with Quality Assurance (QA) for Electronic Arts Software in 2016 and 2017 during summer in his studies, and is responsible for technical testing and bug reporting.
Linkedin
https://www.linkedin.com/in/sondre-flovik-ba7517123/
Other team members (part-time):
John Martin K. Dahl - bachelor's in IT, graduated Microsoft University and has worked as a full-stack .NET / C# developer for 2 years.
Linkedin https://www.linkedin.com/in/john-martin-dahl-31a7b7100/
Tobias Albert - Web developer in his third year in a bachelor's in IT. Engaged as an assistant teacher/research assistant at University of Agder. Mainly developing on the web application for Deegram, while also doing some work on the mobile app.
Linkedin https://www.linkedin.com/in/tobias-albert/
Roy S. Bjørnstøl - UX, UI and marketing strategist. Student in Finance & Administration at University of Agder.
Advisors and mentors:
Dr. Rotem Shneor, Phd - Associate professor at the University of Agder (UiA) School of Business and Law in Norway, and serves as the academic director of the university's Center of Entrepreneurship. He holds a PhD in International Management from UiA and a Master's of International Business from the Norwegian School of Economics. He is leading the Nordic Crowdfunding Alliance of platforms since 2014, as well as serving as an associate researcher at the Cambridge University Center for Alternative Finance. Linkedin https://www.linkedin.com/in/rotem-shneor-40449b1/
Per Terje Skarning - The CFO at Egde Consulting, a technology consultancy house with offices in Grimstad and Kristiansand, Norway. Mentors Deegram with business development and economic planning. Linkedin https://www.linkedin.com/in/per-terje-skarning-627a206a/
Birger Eckhoff - Former Associate Professor and CEO of Connect Southern Norway, an investment network. He's been involved in Deegram as a business development and financial mentor. Linkedin https://www.linkedin.com/in/birger-eckhoff-0674874/?originalSubdomain=no
Minimum Viable Product
Links to project:
https://www.deegram.com (landing page, soon to be web platform)
http://www.deegram.no (web platform, soon to be moved to .com)
Download links:
Android (on Play Store): https://play.google.com/apps/testing/com.DecentralizeIT.DeeGram
iOS (via TestFlight): https://testflight.apple.com/join/LHy49keZ
Deegram is a social media with social impact, currently with a mobile application in testing on Android and iOS and with a web client freshly launched. The main objective of the application is to empower users to let their social media activity generate revenue that can be withdrawn personally or donated to sustainable initiatives.
An open beta-version was launched as planned in August 2019.
Business Strategy
Fiat Revenue Strategy:
Beneficiary, premium features exclusives such as extended editing, higher quality media files (and video), and higher reach. Single post promotion.
Fiat Revenue Projections in $/user every month:
The most important part in the beginning is building mass. Revenue streams are subject of exponential growth based on user adoption, e.g. promoting content and sponsored spots increase in value as potential reach increases.
How will this increase the amount of STEEM being powered up?
Deegram offer services for Steem as a recipient or between two actors, such as content boosting and content promotion agreements. Users are incentivized to increase stake by being awarded Deegram points for holding SP.
What financial incentives are you willing to provide to Steemit, Inc.?
Increased onboarding which introduces new users to the Steem ecosystem. We also aim to incentivize vesting which benefits the whole ecosystem.
How will you become financially sustainable once the delegation is removed?
Honestly, we will probably re-apply for a higher tier delegation after a completed test period here when we've validated our concept and proven worthy of the delegation. Financial sustainability is a bit longer down the line for us, but will hopefully come due to a range of features like content promotion, premium features in-app etc.
KPI Progress Measurement
KPI1 description: New users onboarded to Deegram
KPI1 target: 100 per month
KPI2 target: New steem accounts created by Deegram
KPI2 target: 50 per month
KPI3 description: Posts made through Deegram
KPI3 target: 150 per month
Token Offering
This is not applicable to us as of now, as we wish to test our solution solely on Steem initially. We are developing a centralized point system that acts as a pilot to gather statistical data to be used for a potential token design.
Delegation Request
How much of a delegation are you requesting?
Test-Tier.
Specify the desired time frame for the delegation in 6 month increments:
3 months as that is the guidelines of the Test-Tier.
Which one of the following answers best describes how the delegation will be used to add direct value to Steem:
Mainly A, but C will also be very important, and perhaps B.