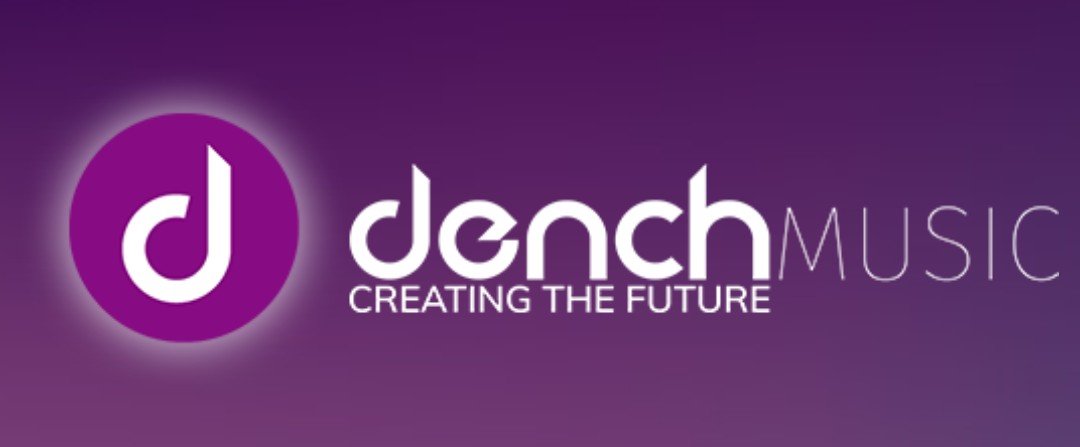 Hello my crypto friends how are you?
Today I'll talk to you about a new cryptomoney or platform called Dench Music.
What is Dench Music?
Dench Music is a full-service music production company that produces music and music videos, recruits and manages music talent, and offers a full suite of music production and distribution services for national and international markets, is launching an ICO to fund its expansion in the for-profit sector. Producing the best music videos in their class, with A-list artists, talented backgrounds of Dench music, but not yet famous around the world.
Dench Music is dedicated to creating a world in which people from all over the world can participate in the creation of songs with their favorite artists. Imagine being able to finance your favorite singer's song and receive future profit sharing from its popularity. From the clicks and streaming of Spotify on YouTube or Vimeo to the costs of international PRO, these songs will generate revenue in many ways.
It's as simple as that. We run ICO to raise funds for the creation of up to 50 songs (depending on the artist and production involved). Any participant who decides to invest in our company will obtain a legal document called an Investment Agreement. According to this document, participants will earn up to 30% profit sharing based on the level of Hard Cap compliance and the amount of ET invested by participants. The proceeds will be distributed over a period of 6 years (until December 2023) and will cover all income streams associated with the song made with this ICO. These include Spotify clicks, Youtube views, Vimeo views, iTunes downloads, song promotion events, performance and order rates, International Performing Organizations (PRO) rates that we get paid every time a song is played around the world, and more. All of this yourself,
Vision
Our vision is to allow everyone to participate in the creation of songs by their favorite A-list artists, who associate with new emerging talents; to interact personally with the world of music; to enjoy access to interactions and benefits never before offered; to use decentralized processes and Blockchain technology; and to make a profit while enriching the world with exceptional music.
Characteristics
Finance the songs
With our ICO, the general public can fund the creation of songs and music videos of their favorite artists. The ICO will fund approximately 40-50 songs when the maximum limit is reached. Our Soft Cap will cover the costs of the first song and music video
Profit sharing
Dench Music's ICO is innovative and completely legal. Investors will receive a return of up to a 30% share of the profits (directly proportional to the amount of ETH invested) through an Investment Agreement. Profit sharing will be distributed on a quarterly basis over a period of 6 years.
Free MIC Tokens
Participants also receive free MIC tokens that can be exchanged on our Blockchain-powered Dench Music Retail Platform for benefits and opportunities that are offered exclusively to chip holders.
Benefits 
This platform helps to maximize the artist's promotion through various online channels and takes full advantage of pay-per-view features as its primary business model to generate revenue for artists. They also take part as a commission and keep the young talent. They work with international talent and give young people the opportunity they deserve to work with them and get useful exposure and guidance, which would be to their full benefit. They not only market the work of young artists, but also hire them for various shows and present them in other music videos. It uses blockchain technology to keep track of all transactions and kryptonite tokens as well, which are highly reliable from a security perspective.
Pay per view and download revenue
Revenues from platforms such as YouTube, Spotify, Vimeo, iTunes and other national and international channels.
Order and performance revenues
We actively promote our talented artists and solicit venues that complement their creativity, including performances around the world, major club events, concerts, festivals, world tours and more.
Making the right organization
All songs registered with PRO revenue worldwide and eligible for distribution are paid to Dench Music each time a song or video is played or publicly displayed worldwide.
Dench Music Platform Revenues
We organize events, launch parties, VIP parties, special gatherings and greetings, and even lifestyle opportunities such as star auctions, wardrobe and props video sales, attending video sessions, beyond the back stage, cameo video appearances and more.
Road Map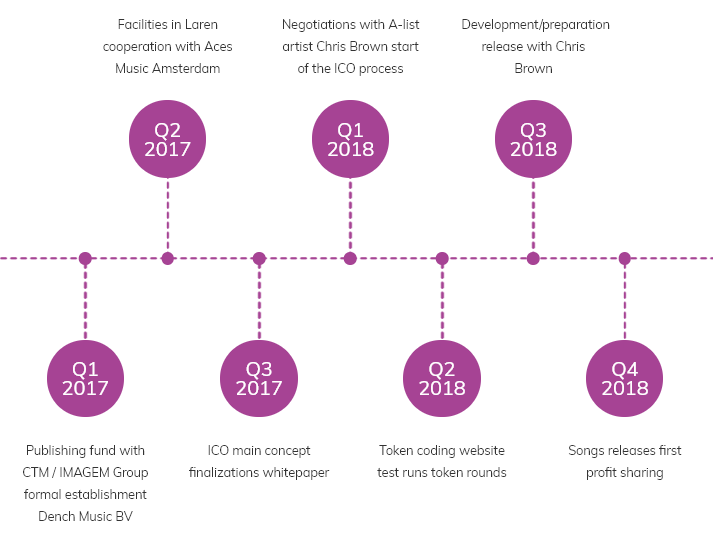 Token
MIC Token
Platform Ethereum
Standard ERC20
Quantity 500,000,000,000 MIC
Price 1 MIC = 0,0004 ETH
ETH payment
Soft cap 500,000 EUR
Hard cap 35,000,000,000 EUR
Distribution
Prizes and gifts (5%) 
Commands (10%) 
Sales (85%) 
The distribution of the funds collected 
Promotion (6%) 
of the year free online (5%) 
of the photo shoot (1%) 
of the cost of the law (33%) 
video budget, voice budget (6%) 
Travel (6%) 
Modeling (20%) 
Management (13%) 
The product (4%)
Important Links
Author
User: paycoin
Portfolio: 0x25cB9d8a016A89401764333e9E9F168142D548AA