Chicken salad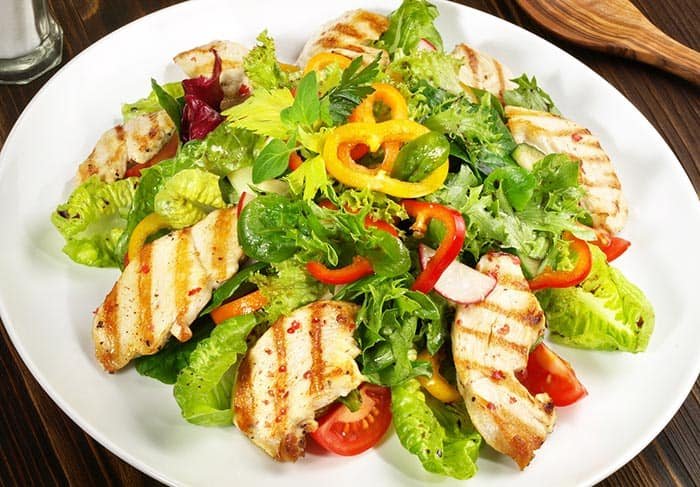 This recipe for chicken salad apart from being healthy, dietetic and perfect for those who are on a diet, is a delicious and very nutritious dish that is also easy to make. And if that were not enough, it is a dish that uses leftovers from the previous day: in this case the chicken. You can take the baked or grilled chicken that you had left over from the previous day to re-season it and turn it into the protagonist of this delicious salad. The chicken salad is mandatory in your selection of recipes, if you meet some of these two requirements: You maintain a healthy and balanced diet.
You are looking for new ideas of dishes to prepare with the arrival of heat. If you were in agreement with the two conditions, well let's not talk. This recipe for chicken salad is for you.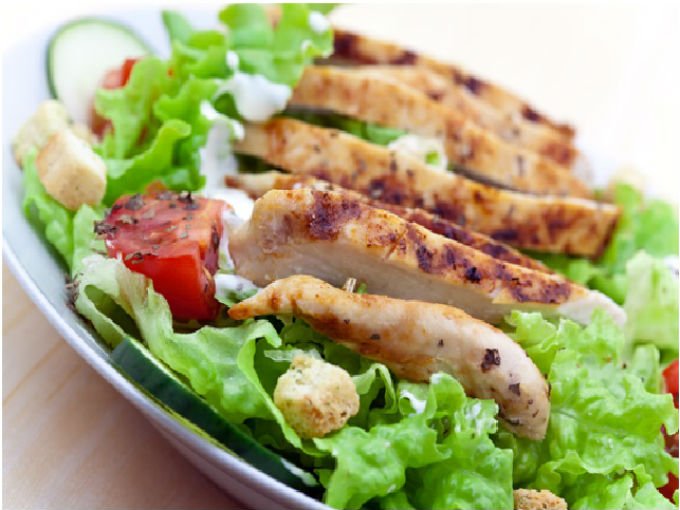 Type of recipe Salads, Chicken
Type of cooking Homemade, Healthy
Total time 20 minutes
Servings 2
Ingredients
1 thick fillet of chicken breast cooked preferably grilled or grilled.
200 grams of fresh lettuce.
12 cherry tomatoes chopped in half.
1/2 red or yellow pepper, or both
½ cup of sliced ​​black olives.
Olive oil.
Balsamic or wine vinegar.
Preparation
The first thing is to make sure to use a very clean lettuce. We are going to separate the leaves and wash them well. Apart from passing each sheet under the water jet, I prefer to dip them also in a container, where I have previously diluted a stream of vinegar in water. You leave them there for a few minutes.
Depending on the mood they have on the day of preparing this chicken salad, they can decide two things: cut the lettuce leaves into strips or leave them complete. I prefer to do the latter, but it is true that when this recipe becomes habitual in a kitchen (which is what will happen in the case of you, I am sure), it is fun to change this type of detail with each preparation.
Arrange the lettuce leaves in a salad bowl.
Add the black olives cut into casters, the pepper in strips and the halves of cherry tomatoes.
Now it's time to cut chicken breast into strips, widthwise. The interesting thing about this ingredient is that you can play with the temperature: it can be used hot, if the chicken has just been cooked, or cold, if it was prepared in advance. You can also season the chicken to taste. Then, we will reserve the pieces for a few minutes.
We return to the mix of the rest of the salad. We are going to add salt and pepper to the taste, add a good squirt of olive oil and another balsamic vinegar.
Now it's time to mix everything with two spoons or salad spoons.
The next thing is to decorate with the pieces of chicken.
To finish the dressing, add a last strand of olive oil over the chicken.
roasted chicken salad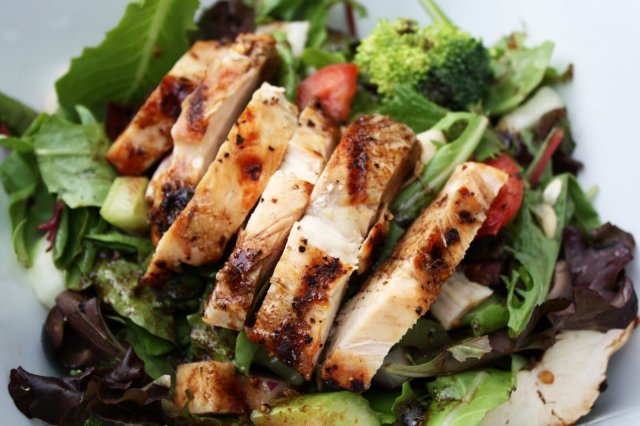 Rich roasted chicken salad marinated in orange juice. It is a fresh and delicious option. The chicken has a sweet and citrus flavor that will make you addicted. It is a light recipe that you can prepare for lunch or dinner. Do not stop preparing it and enjoy its flavor.
Ingredients
4 portions
1 piece of garlic
2 tablespoons chopped chives
1 cup of orange juice
4 tablespoons of oil
200 grams of lettuce disinfected in pieces
to the taste of basil disinfected
1 pack of penne type pasta
1/2 cup chopped caramelized walnut
to the taste of salt and pepper
4 Boneless chicken breasts cut in Milanese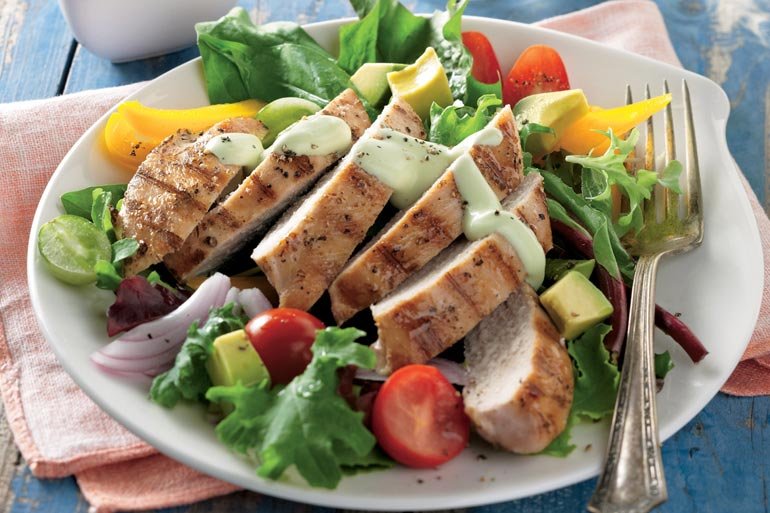 Preparation
MIXES The first 3 ingredients and season with salt and pepper and marinade with this mix the milanesas for 2 hours in the refrigerator.
ASA With a spoonful of roast oil each Milanese. Chill and slice into strips. Reservation.
PLACE The marinade liquid in the pan where the milanesas are roasted and leave on medium heat for 3 minutes. Strain, cool and reserve.
POUR In a pot 4 liters of boiling water and salt cook the pasta according to package instructions. Drain and cool.
SERVE In a plate of lettuce and basil mix with the pasta and place the milanesa and the nuts, bathe with the dressing.
grilled tuna salad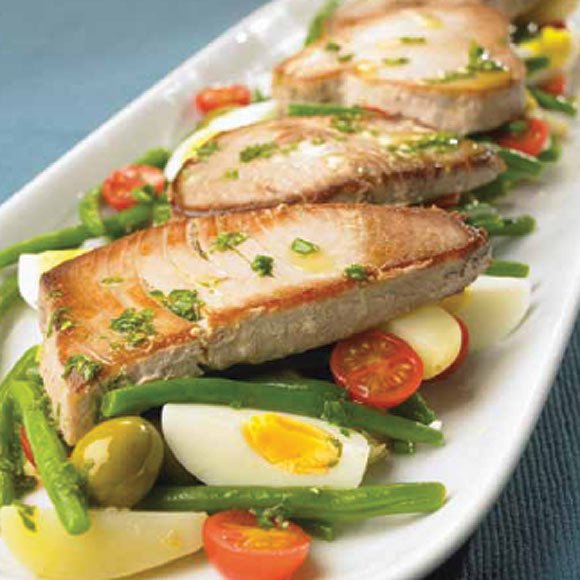 Type: Fish
No. of people: 6
Ingredients:
6 tuna steaks of 120 g
3 boiled eggs
3 potatoes
6 cherry tomatoes
250 g of green beans
2 c.s. of chopped parsley
30 g of green olives
Olive oil
Salt
Pepper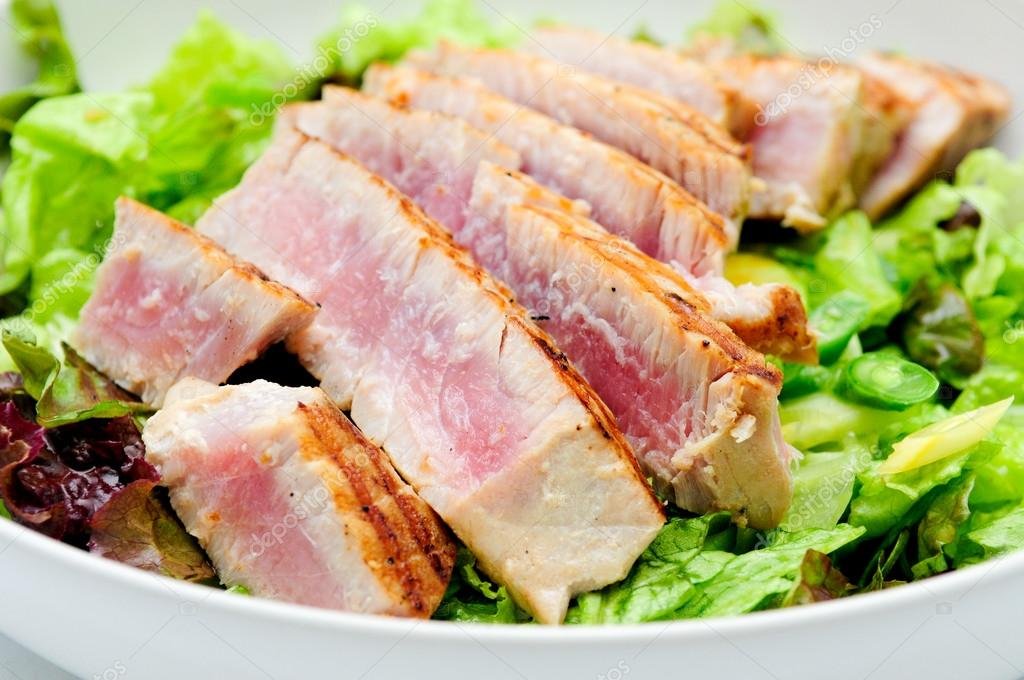 preparation:
Peel and wash the potatoes. Chop and wash the green beans. Cook 20 min steamed potatoes and green beans. Wash the cherry tomatoes and cut them in half. Peel the eggs and cut them into quarters. Divide vegetables, eggs and olives in 6 plates and season with salt and pepper. Brown the fillets in a pan with 2 c.s. of oil for 2 min on each side. Place on vegetables, season and sprinkle with parsley.
Trick HoLa!
Use for this same recipe other blue fish, such as mackerel, salmon, palometa, chicharro or corvina.
Nutritional assessment:
Carbohydrates: 22 grams / 88 kcal
Proteins: 31.7 grams / 126.8 kcal
Fats: 27.99 grams / 251.91 kcal
Salad with avocado, tomato and tuna with couscous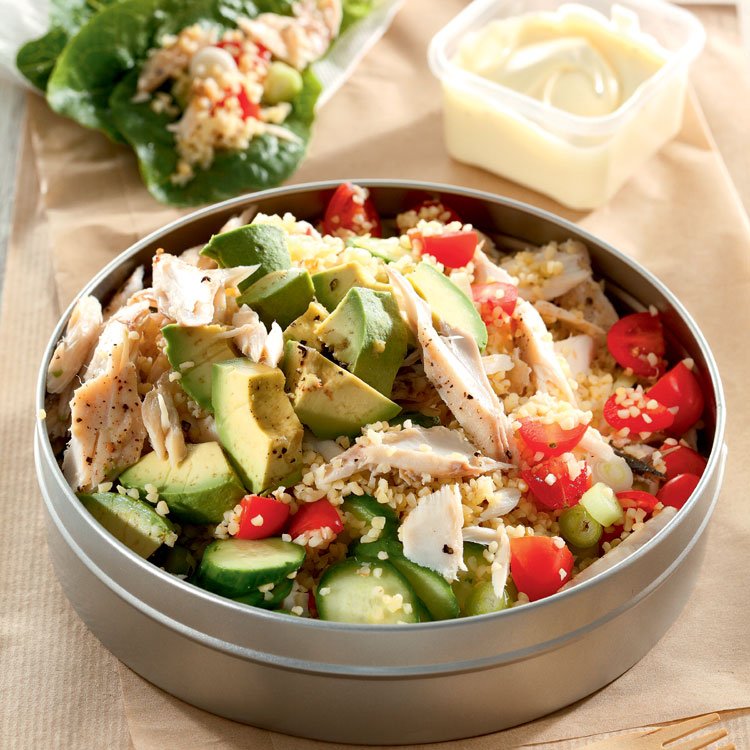 Type: Salads
No. of People: 4
Ingredients:
2 avocados
2 small cucumbers
12 lettuce leaves
150 g of precooked couscous
200 g of canned tuna
100 g of cherry tomatoes
Salt
For the aioli:
2 cloves of garlic
2 egg yolks
120 ml of sunflower oil
30 ml of sesame oil
Sal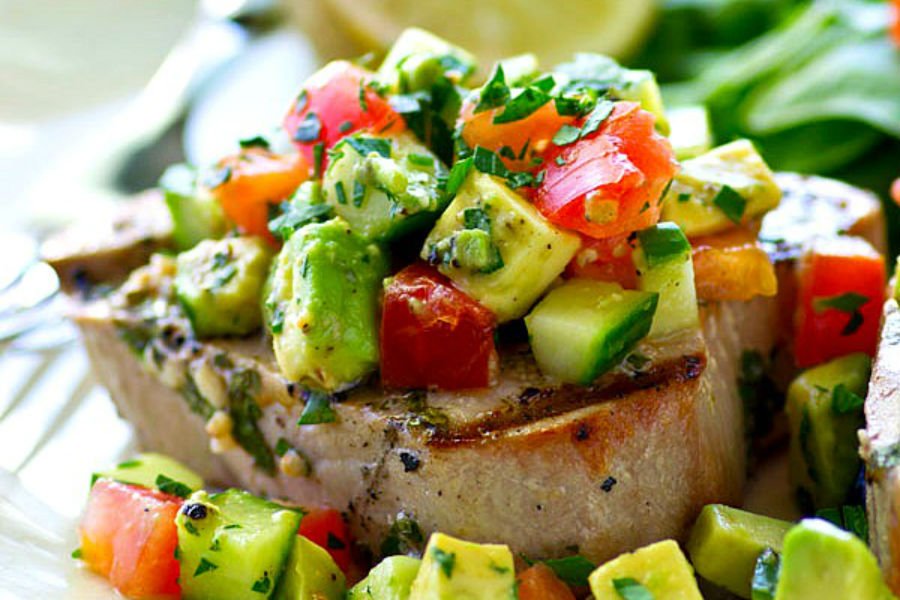 preparation:
For the aioli. Peel the cloves of garlic, chop them and throw them into the blender cup with the oils, the yolks and a pinch of salt. Grind until a uniform and dense sauce. Hydrate the couscous following the manufacturer's instructions. Remove the tips from the cucumbers, wash them and cut them into slices 1 cm thick. Peel the avocados, remove the bone and cut them into pieces of the same size. Wash the tomatoes and cut them into quarters. Crumble the tuna. Remove the tips and the last layer to the scallions and cut them into slices. Wash and dry the lettuce leaves.
Presentation:
Distribute the ingredients of the salad on lettuce leaves and accompany with the aioli.
Nutritional assessment:
Carbohydrates: 13.3 grams / 53.2 kcal
Proteins: 15 grams / 60 kcal
Fats: 30.3 grams / 272.7 kcal