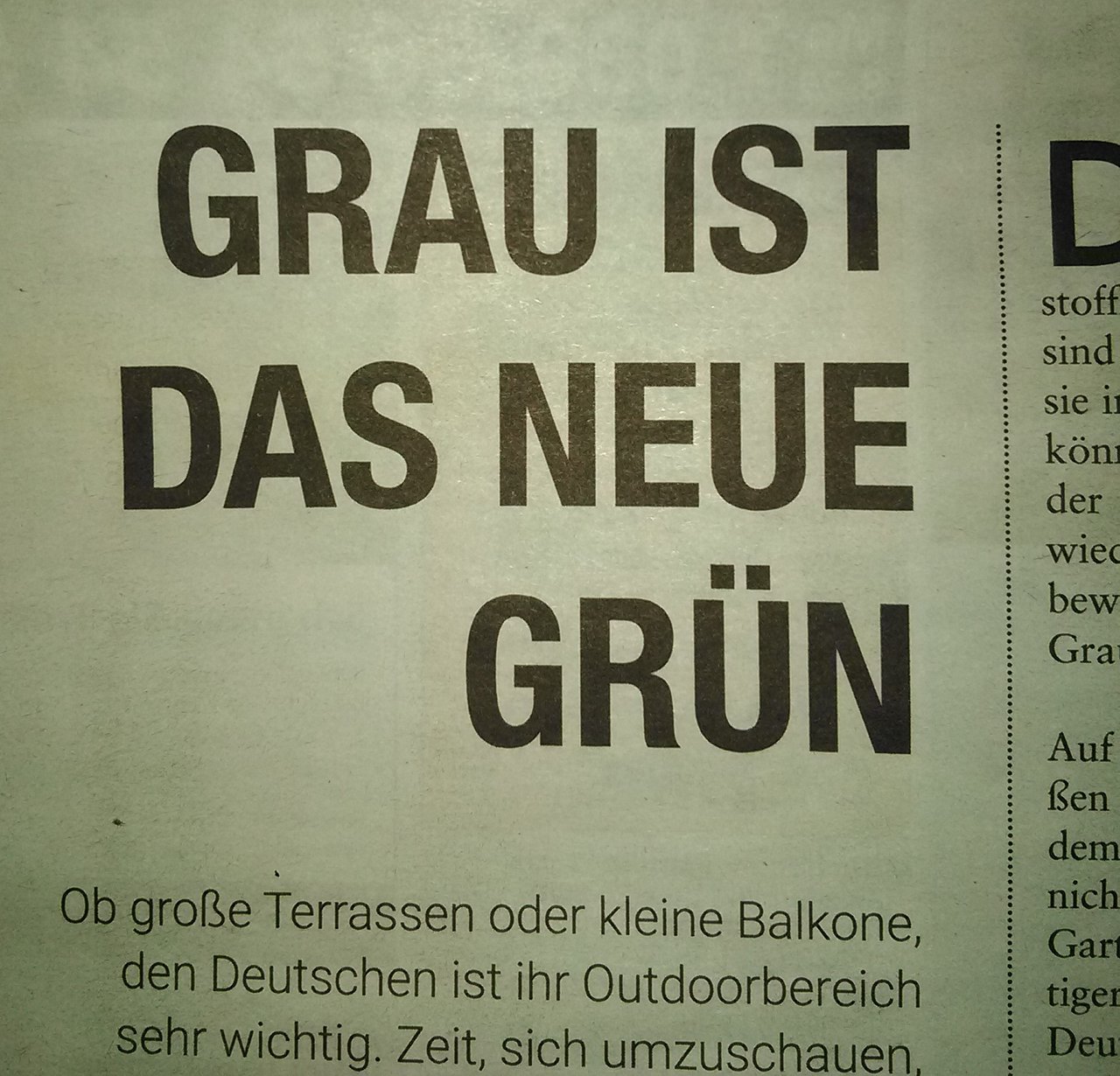 Schon seit einiger Zeit versucht man uns Grau, als die In-Farbe zu verkaufen. Mit dem Slogan Grau ist das neue Grün schaltete ich von meiner Alltagstrance wieder auf bewusstes Denken. Was soll diese Aussage bedeuten? Dabei weiß jeder der sich mit der Farbenlehre beschäftigt, das Grau überhaupt keine Farbe ist. Grau steht für Kreativitätslosigkeit und für Depression. Nicht umsonst hat in der Geschichte Grau eine negative Bedeutung. Nehmen wir die sogenannte graue Maus deutschen Sprachraum. Aber Grau steht auch für Disziplin und Pünktlichkeit, doch die wird uns Deutschen doch schon mit der Muttermilch mitgegeben. Im asiatischen Raum hält man sich von Leuten die viel Grau verwenden fern, da das die Lieblingsfarbe von psychisch Auffälligen ist.
Genauso ist dies mit Weiß. Die Farbe steht einerseits für Reinheit und andererseits für Verunsicherung. Aus diesem Grund ist Weiß schon lange aus Großraumbüros und Krankenhäuser verschwunden. Denn wer ist mit sich so im reinen das er nicht von weiß verunsichert wird? Nun warum grade die Farben Weiß und Grau uns täglich als die In-Farbe suggeriert wird, mag sich jeder selber denken.
Als ich neulich ein Blumenstrauß kaufte, viel mein Blick darauf und blieb regelrecht daran hängen. Ich hatte das Gefühl, als würden meine Augen die Farbe in sich aufsaugen. Es war so erholsam diese Farbvielfalt zusehen, das mir wieder auffiel, wie grau unser leben geworden ist. Ich werde jetzt auf jedenfalls wieder meine Wohnung richtig bunt streichen und jegliches Weiß und Grau aus meiner Wohnung verbannen. Es ist wirklich erstaunlich wie man sich von den Suggestionen der Werbung einfangen lässt. Heute braucht man, übrigens auch eine Überschrift, Mut zur Farbe. Mut zur Farbe? Und dann sieht man ein kleines buntes Kissen auf einer grauen Couch. Zum Glück bietet der Frühling wunderschöne Farben. Vielleicht werft Ihr auch mal einen längeren Blick darauf.
Also dann lieber umgekehrt:
Grün ist das neue Grau
Viel Spaß
For some time now we have been trying to sell Grau as In-Color. With the motto Gray, the new Green, I switched from my everyday trance back to conscious thinking. What does this statement mean? Anyone who deals with color theory knows that gray is not a color at all. Gray stands for unimaginative and depression. Not for nothing does gray have a negative meaning in history. But gray also stands for discipline and punctuality, but that is already given to us Germans with mother's milk. In Asia, people keep away from people who use a lot of gray, because that is the favorite color of the mentally disturbed.
Take the so-called gray mouse in German-speaking countries. It's the same with white. The color serves on the one hand the purity and on the other hand the uncertainty. White has long since disappeared from open-plan offices and hospitals. For who is so pure that he does not become uncertain in the color white? Why exactly the colors white and gray are proposed as advertising colors, everyone can think for themselves.
When I recently bought a bouquet of flowers, I looked at it and stuck to it. I felt like my eyes were seeing the color. It was so relaxing to see this variety of colors that I realized how gray our lives have become. In any case, I will now paint my apartment colorful and banish all white and gray from my apartment. It's really amazing how you react to the advertising suggestions. By the way, today you need a headline, courage to dye. Courage for the color? And then you see a little colorful pillow on a gray couch. Fortunately, spring offers beautiful colors. Maybe you will look at it longer.
So the other way around:
Green is the new gray
Have fun