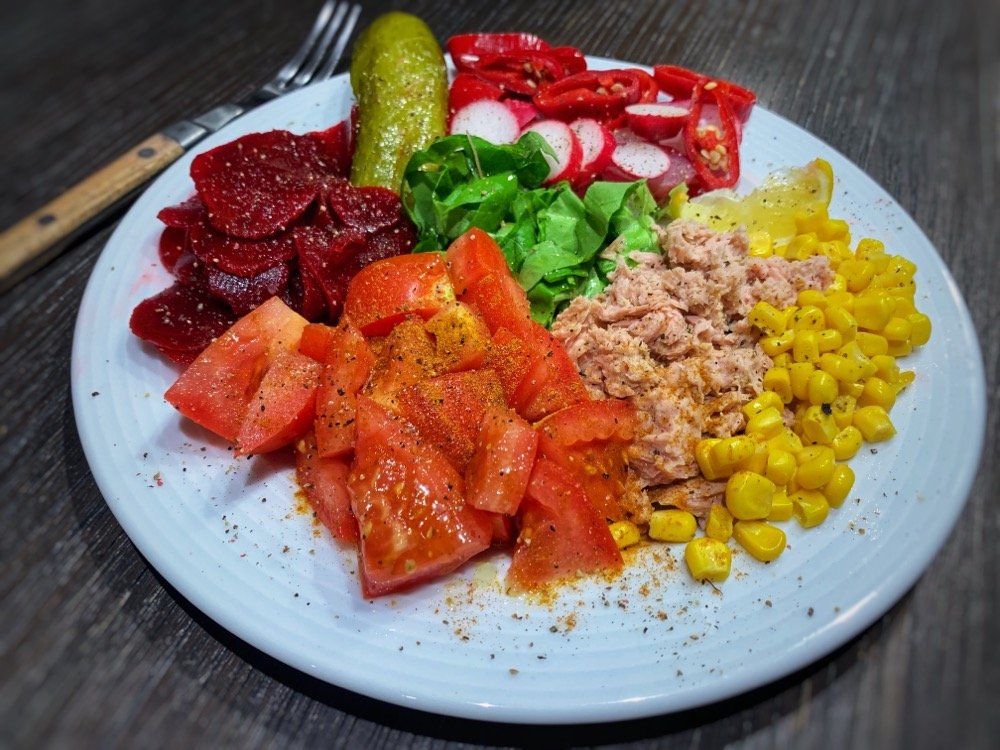 You know it definitely ;-), eat in the evening and then rolling in bed ...
Too many calories and the stomach is full.
Then take maybe something light and healthy before going to bed 😀
Tuna, tomato, beetroot, a bit of corn, cucumber and a few radishes and chilling for the pop 💥 :-) I have added some olive oil with rosemary flavor for refinement.
Perfect 👌 and 250Kcal at a time, can pass as a snack or with a piece of wholegrain bread as a full meal.
—- 🥗🥗🥗
Ihr kennt es bestimmt ;-), sich abends vollfressen und dann im Bett rumwelzen...
Zu viele Kalorien und der Magen ist voll.
Dann lieber mal was leichtes und gesundes vorm schlafen gehen zu euch nehmen 😀
Tunfisch, Tomate, rote Beete, ein bisschen Mais, Gurke und ein paar Radieschen und chilling für den Pepp 💥 :-) hab noch zur Verfeinerung etwas Olivenöl mit Rosmarin Geschmack hinzugefügt.
Perfekt 👌 und grad mal 250Kcal , kann als Snack oder mit einem Stück Vollkornbrot als vollwertige Mahlzeit durchgehen.
Posted using Partiko iOS