Deutsch/ English
Seit fast zwei Jahren grassiert nun auf der gesamten Welt die Corona Pandemie und die dazu gehörige Panik. Anfangs rettete ich sogar eine ältere Dame, weil 5 Passanten es sich nicht trauten diese bei einem schwächeanfall aufzuhelfen. Sofort lies ich mein Werkzeug fallen, und stürzte mich todesmutig ins getümmel, um der Dame aufzuhelfen. Um sie 10 Meter weiter in die nächste Apotheke zu begleiten damit sie sich vom Sturz erholen kann.
Jetzt wird in Deutschland eine Impfpflicht für Pflegekräfte diskutiert. Was mich besonders betrifft ist ,dass jetzt ein Lockdown für ungeimpfte eingeführt werden soll. Obwohl ich seit 2 Jahren kerngesund bin und mich mit vollem Geistigenbewusstsein gegen eine Covid19 Impfung entschieden habe, soll ich früher oder später in den Lockdown.
Um geimpfte vor mir als ungeimpften zu schützen?
Eins hat mir diese Politik bestätigt. Politiker sind dazu da um die Gesellschaft zu spalten. Dafür werden Menschen wie ich als Querdenker in die rechtsradikale Szene geschoben, oder hauptsächlich ungebildete oder AFD Wähler würden sich gegen eine Impfung entscheiden.
Selbst meine Schwiegermutter hat mittlerweile Angst davor als geimpfte sich bei mir als ungeimpfter anzustecken. Diese hat ihr Leben lang Lotto gespielt und wundert sich warum sie immer noch nicht Millionär geworden ist.
Anfang 2020 schrieb ich schon...
Wer sich nicht mit Kryptowährungen beschäftigt, gehört zu den Corona Pandemie verlieren!
Seit 2017 habe ich in verschiedene Kryptowährungen investiert und möchte nun von diesen berichten wie sich diese entwickelt haben. Dabei ist mir vollkommen bewusst dass nicht jede Investition profitabel war... Wer Risikokapital investiert wird halt nicht immer belohnt. Denn von 10 Investitionen können 5 miserabel performen, 3 performen mittelmäßig aber 2 von 10 könnten das nächste Goggle oder Amazon werden.
Diese Kryptowährungen zählen derzeit zu meinen Favoriten...
Bitcoin
Ethereum
Ripple
Stellar Lumens
Cardano
Aave
Solana
Polkadot
Maker
Uniswap
Basic Attention Token
Yearn.finance
Compound
Chainlink
Axie Infinity
Filcion
Cro Token
dydx
Helium
Atom
Civic
Power Ledger
Tron
Steem ,Hive, Leo
VeChain
Ontology
Algorand
Tezos
Neo
Dank dieser 31 Kryptowährungen bewegt sich meine finanzielle Freiheit langsam in die Richtung um selbst über mich entscheiden zu können.
Selbst bei einem Berufsverbot für ungeimpfte könnte ich dieses nun zwei Jahre aussitzen. Und weil Staking und Lending mittlerweile ein interessantes Thema geworden ist, lasse ich einige Kryptowährungen mit bis zu 10% verzinsen.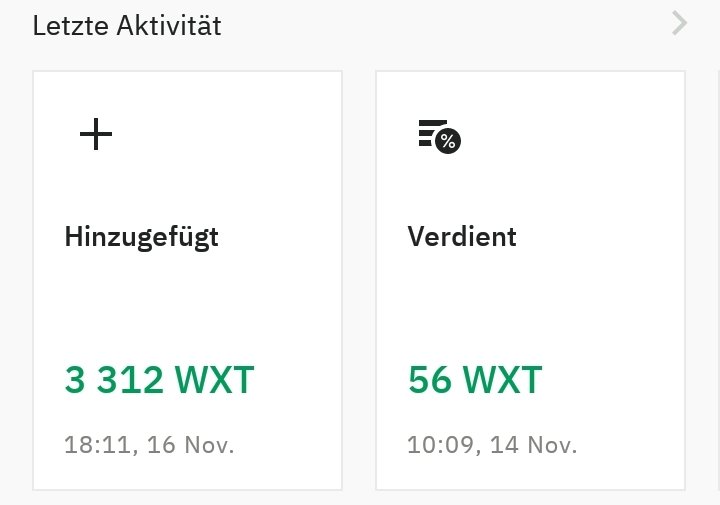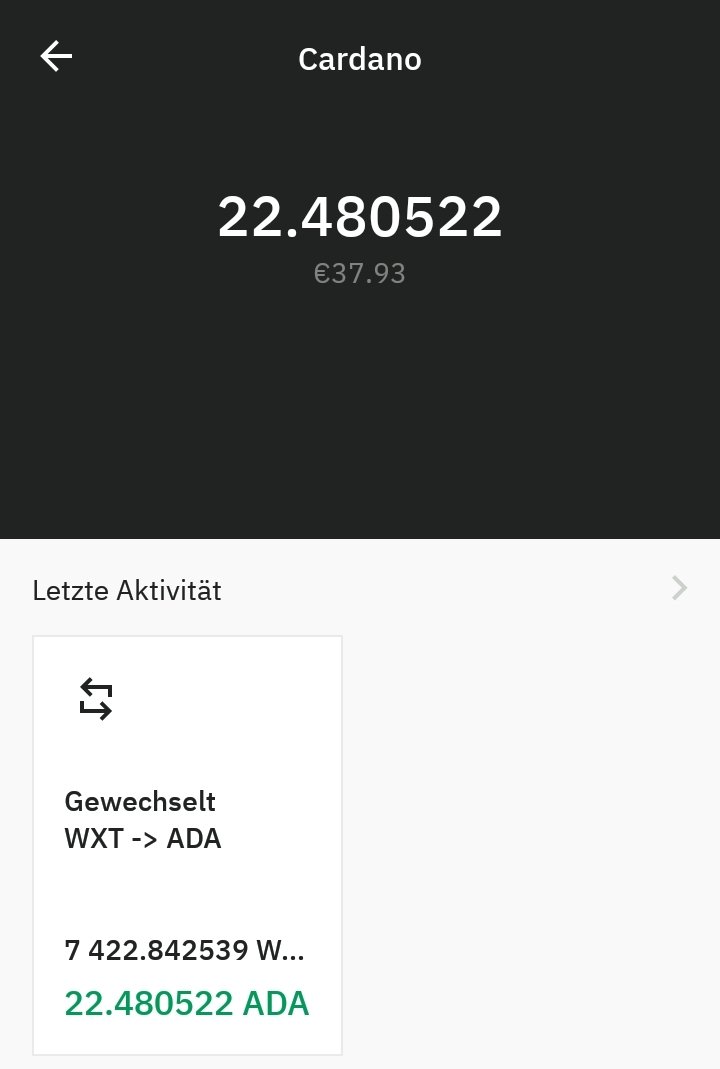 Dabei lasse ich die Zinsen aus BITCOIN und Co. aus steuerlichen Gründen in WXT Token auszahlen um diese in eine andere interessante Kryptowährung einzutauschen.
Mach mit bei Wirex! Wenn du dich registrierst und ein paar Kryptowährungen mit deiner Kredit-/Debitkarte kaufst, erhalten wir beide eine Prämie.
https://wirexapp.com/r/owwwsqg0yl
Momentan gibt es 30€ Rewards in WXT Token wenn du diesem Empfehlungslink folgst.
Ps. Keine Kaufempfehlung für diese erwähnten Kryptowährungen! Dieser Post dient nur der Unterhaltung. Jeder ist seines eigenen Glückes Schmied!
English
The corona pandemic and the panic that goes with it has been raging around the world for almost two years. At first I even saved an elderly lady because 5 passers-by did not dare to help her up when she was weak. Immediately I dropped my tools, and dreamed of death rushed into the fray to help the lady up. To accompany her 10 meters further to the nearest pharmacy so that she can recover from the fall.
Compulsory vaccination for nurses is now being discussed in Germany. What concerns me in particular is that a lockdown is now to be introduced for the unvaccinated. Although I have been very healthy for 2 years and have decided against a Covid19 vaccination with full mental consciousness, I should sooner or later go into lockdown.
To protect vaccinated from me as unvaccinated?
One thing has confirmed this policy to me. Politicians are there to divide society. For this, people like me are pushed into the right-wing radical scene as lateral thinkers, or mainly uneducated or AFD voters would decide against a vaccination.
Even my mother-in-law is now afraid of being vaccinated from being infected as unvaccinated. She has played the lottery all her life and wonders why she still hasn't become a millionaire.
At the beginning of 2020 I already wrote ...
Anyone who does not deal with crypto currencies belongs to the corona pandemic lose!
I have invested in various crypto currencies since 2017 and would now like to report on how they have developed. I am fully aware that not every investment was profitable ... Those who invest risk capital are not always rewarded. Because out of 10 investments, 5 can perform miserably, 3 perform mediocre, but 2 out of 10 could become the next Goggle or Amazon.
These cryptocurrencies are currently one of my favorites ...
Bitcoin
Ethereum
Ripple
Stellar Lumens
Cardano
Aave
Solana
Polkadot
Maker
Uniswap
Basic Attention Token
Yearn.finance
Compound
Chainlink
Axie Infinity
Filcion
Cro token
dydx
Helium
Atom
Civic
Power ledger
Tron
Steem, Hive, Leo
VeChain
Ontology
Algorand
Tezos
Neo
Thanks to these 31 crypto currencies, my financial freedom is slowly moving in the direction of being able to decide about myself.
Even with an occupational ban for unvaccinated, I could now sit it out for two years. And because staking and lending have become an interesting topic in the meantime, I let some crypto currencies yield up to 10% interest.
! [Screenshot_20211116-191724_Wirex.jpg] (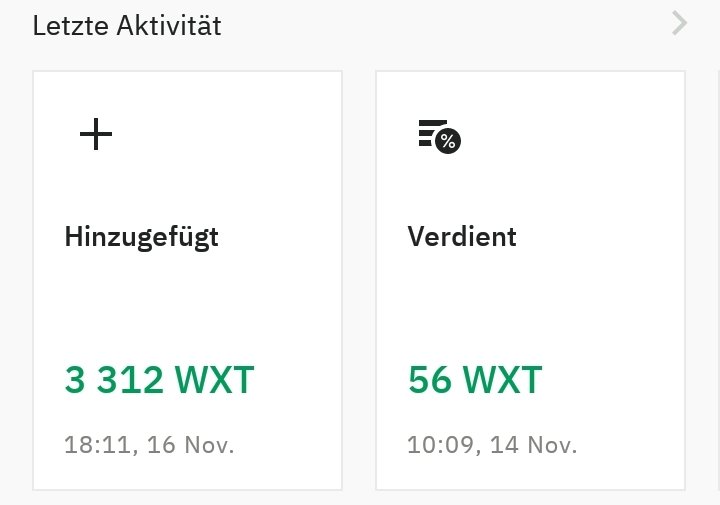 )
! [Screenshot_20211116-191704_Wirex.jpg] (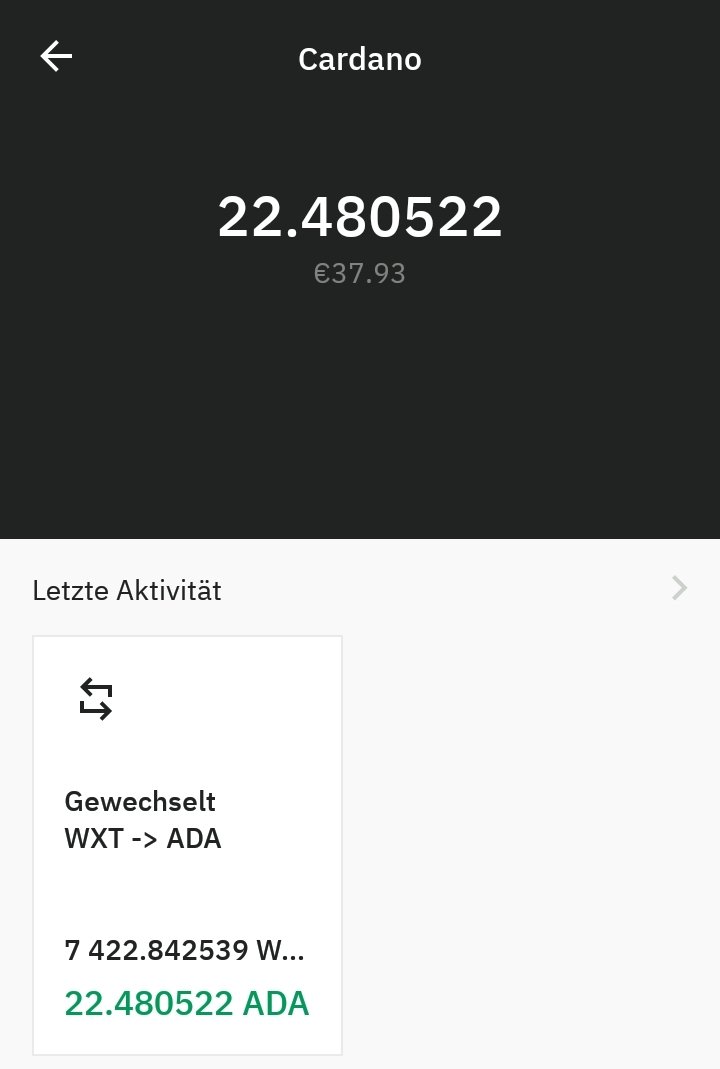 )
For tax reasons, I have the interest from BITCOIN and Co. paid out in WXT tokens in order to exchange them for another interesting crypto currency.
Join Wirex! If you register and buy a few cryptocurrencies with your credit / debit card, we will both receive a reward.
https://wirexapp.com/r/owwwsqg0yl
There are currently € 30 rewards in WXT tokens if you follow this referral link.
Ps. No purchase recommendation for these crypto currencies mentioned! This post is for entertainment only. Everyone is forge their own happiness!