Bernie's post got me in the mindset to pretend I was a badass blockchain developer exploring Steem for the first time.
So, it's freewrite time... but a different one than usual...
---
Let's begin on this journey...
If I went to Steem.com as a curious developer, and ignored the fake looping stream of blockchain activity from 6 imaginary accounts (sigh), I'd likely see Developer tab and head there. P.S. I can only see this tab if my browser is maximized as the scaling of the page isn't dynamic.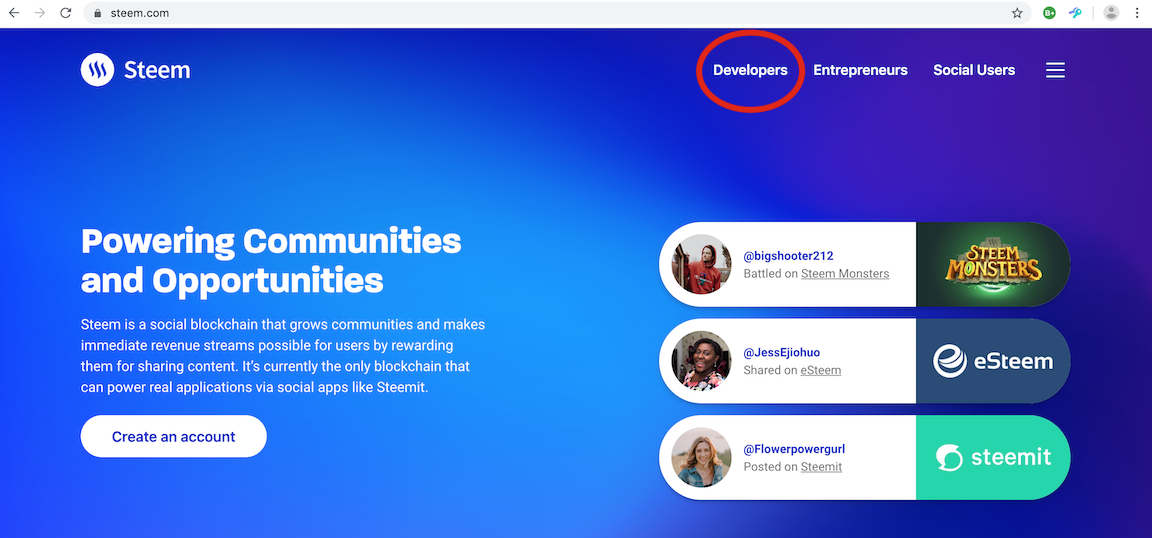 The big reveal! Not a lot of options with bare bones text for half a trackpad scroll if you go down, which caps off with another button to press to "Start Building." I guess I'll just click it.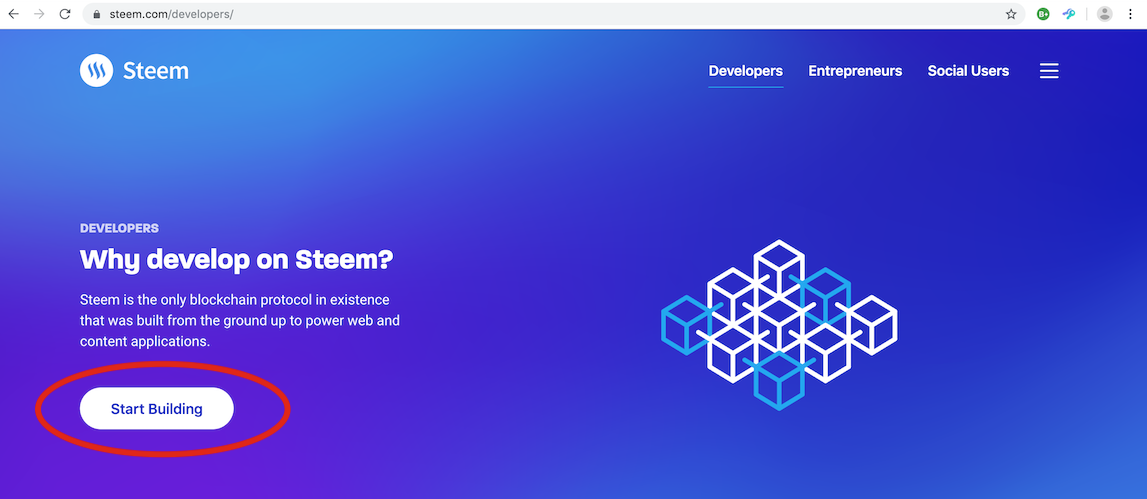 Ok, this is a little more promising. I flipped through several tabs and it seems like there's sufficient info for a tech guru to get rolling.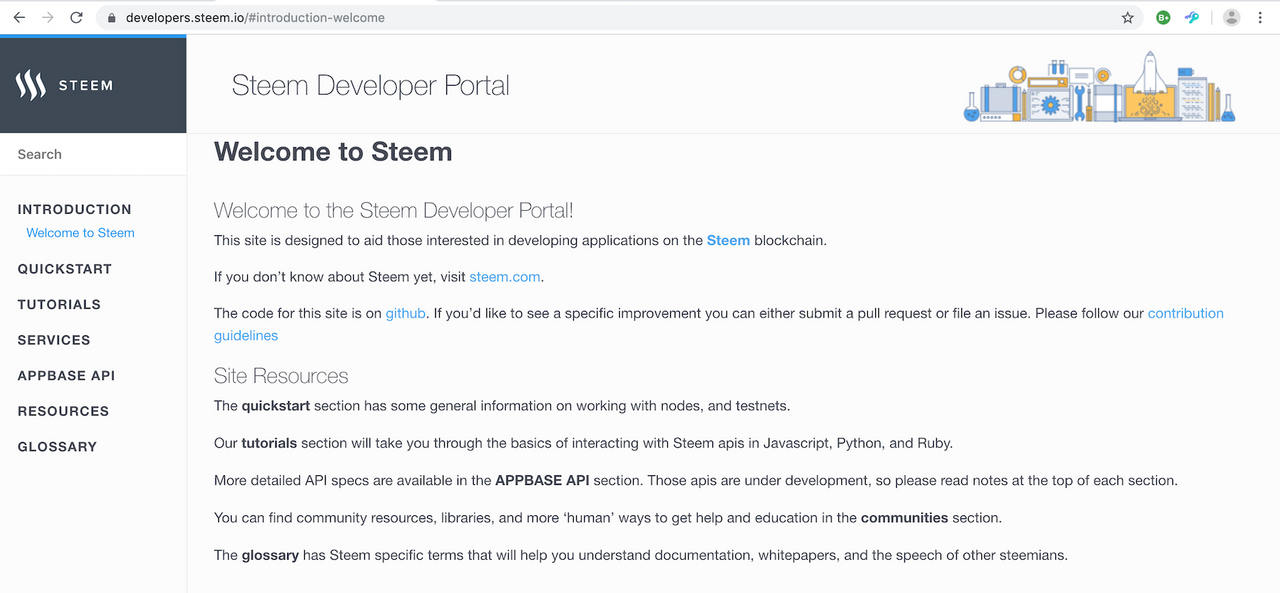 My main takeaway is that I'd need to get familiar with the API portal to do anything. I think this portal overview page above needs to be much more prominently advertised. It's thorough and very valuable.
After this resources page, the next step seems to be the Github Dev Portal. This appears promising, so now it's time to get into the weeds to see what's going on!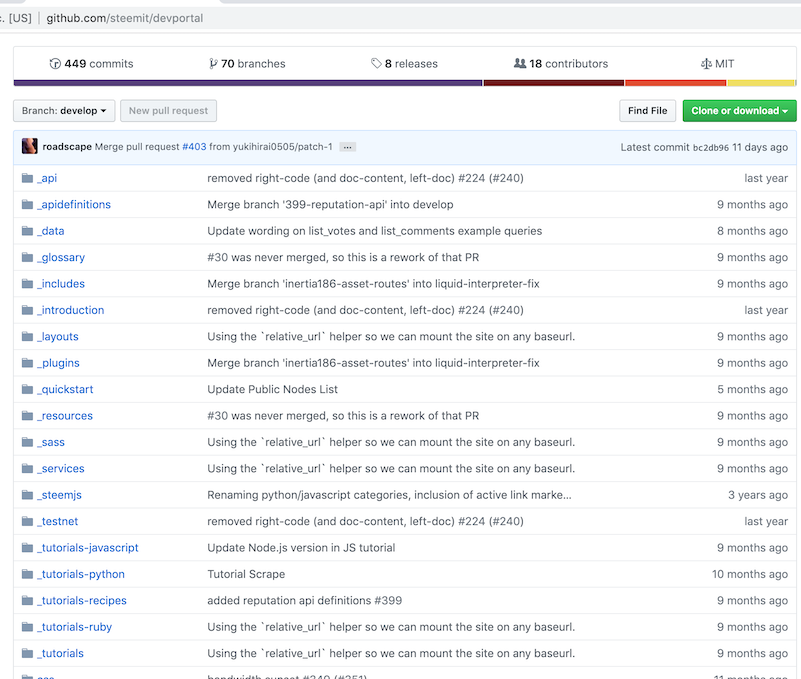 Hmm, under the "develop" branch, things look rather stale. Maybe those are older issues or higher level folders, and all of the fresh activity fueling our technological advancement is within. From what I can find, that's not really the case. Unless I'm missing some big veins here, it looks like only a small amount of developers are active here, and activity is pretty sparse. New activity seems pretty light.
Critical role playing as newbie: Does this mean not much development is going on at Steem or Steemit? Seems pretty boring and not much going on. Ehh.
First impressions are important, but I'm not completely scared off yet. I'll check out the issues tab to see what the pulse is...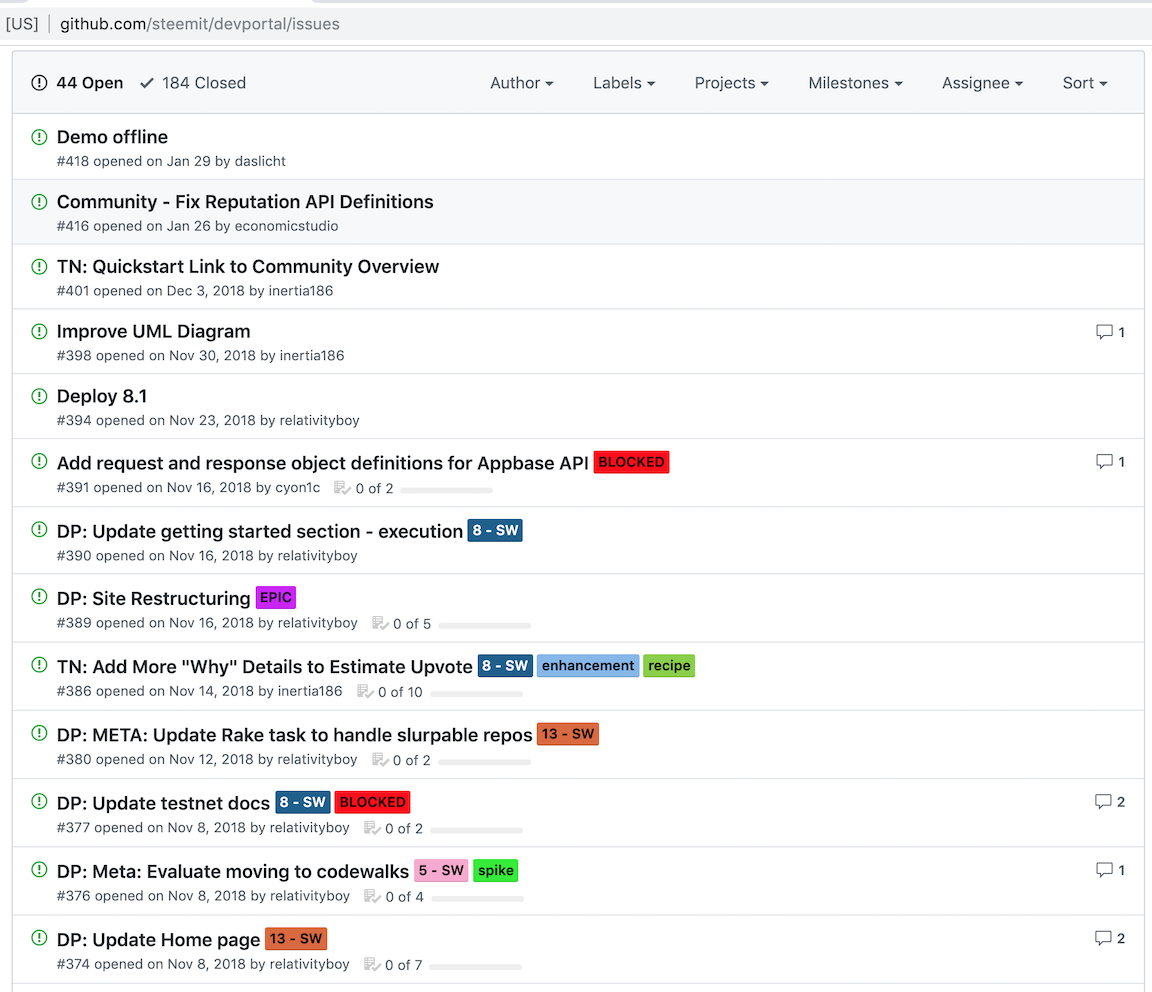 The 44 open issues all seem pretty old. Is this a ghost town? Why are so many issues still open? Spoiler alert, the closed issues tab list has one closed issue as of 11 days ago, and then NOTHING since January 3, 2019. That doesn't seem exciting to me as a "developer exploring Steem."
I'll check the pull requests then... There's got to be some life there. Just 5 in the last 9 days by one Steemian, one in July, and then nothing since January.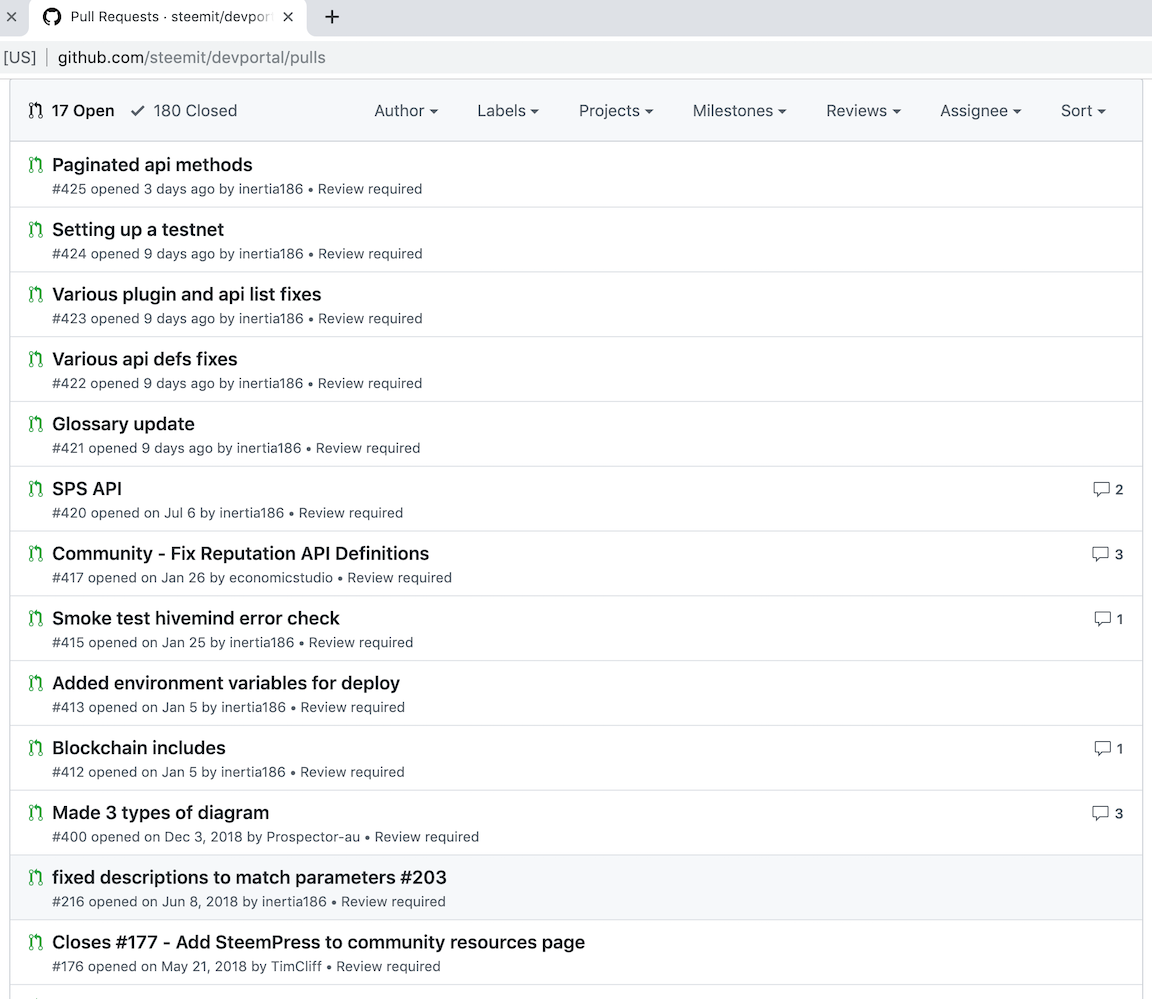 Maybe I'm looking at this wrong. I'll try to zoom out and see the bigger picture. Luckily I stumbled around to find this.
Commits:


Additions: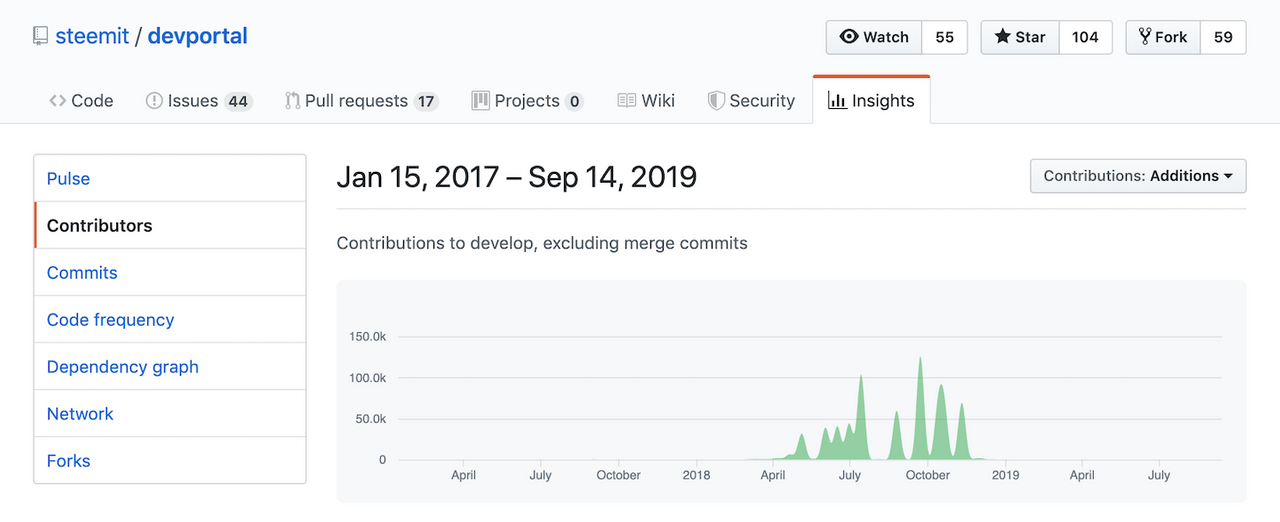 This is pretty disappointing, even if it's not accurate (maybe). This is what people are going to see when they dig around for the first time.
Still trying to be optimistic, I fumbled around to find this, which looked promising with other 50 sub-portals. However, most are very stale.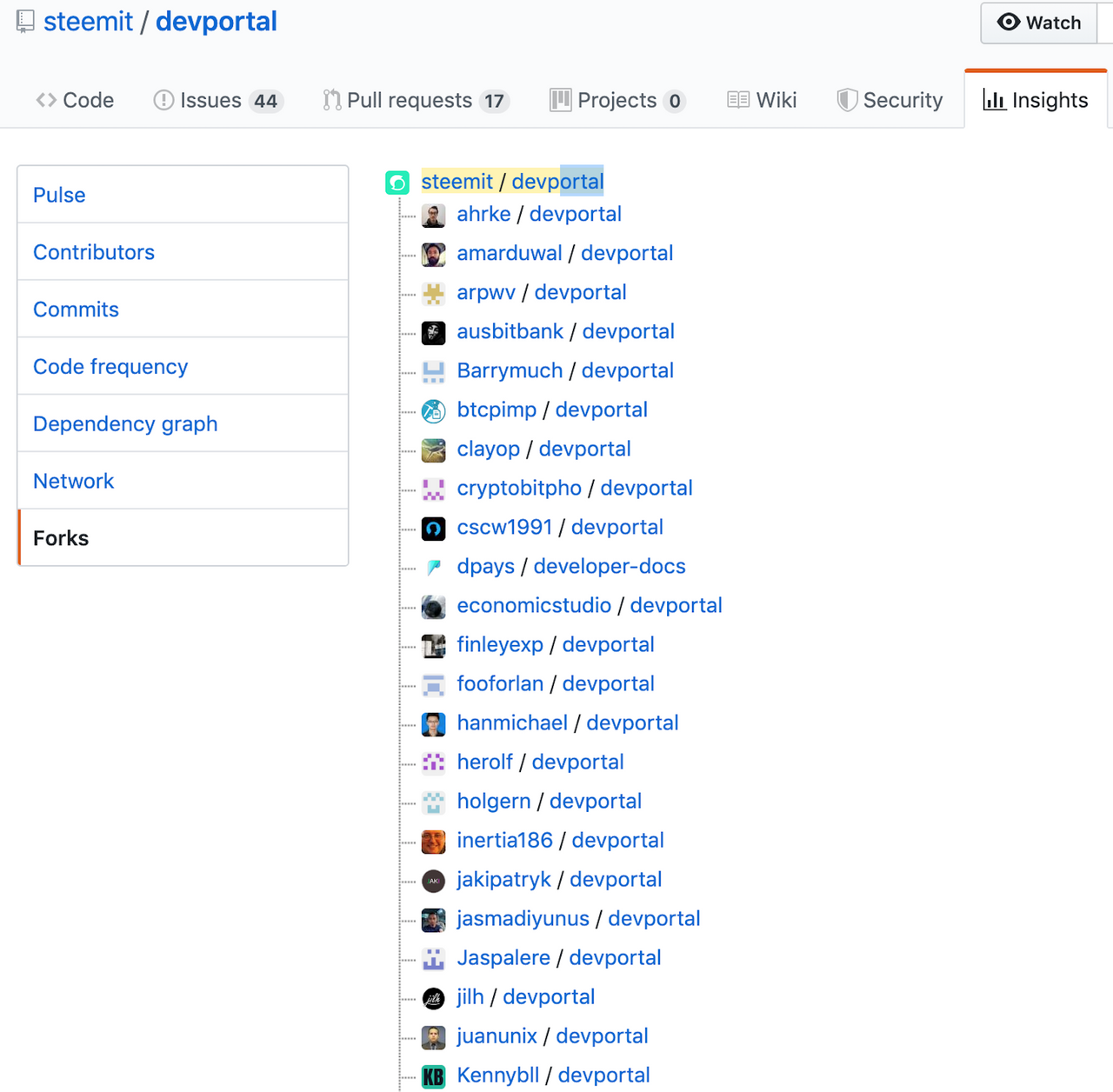 ---
It's my conclusion (as a random dev exploring Steem for the first time), that the Dev Portal seems relatively barren and mundane. Where's the budding life of a top blockchain I'd want to get my hands on?
I suppose the API code that's already written is where the excitement is and motivation to get involved should becoming from?
I'll see if the community can elaborate and educate me on that last question. I'm not
---
I'm not bashing here. It's vital that we put our best foot forward if we can new users and devs to flock to Steem. In all honesty, and I'm not a programmer at all, this would've completely turned me off or left me hanging without a direction for a next step.
If I visited Steem curious, I'd have a hard time getting excited about taking the next step. That interest would likely need to come from signing up to start blogging/reading blogs to get a better idea of things.
If not, how else would I be able to learn about development on Steem or Steemit without familiarity with the ins and outs of browsing the blogging platforms... if I got that far?
There's not much on YouTube and it's hard to search on Steemit. We've been conditioned to accept the latter, but it's likely shooting ourselves in the foot in the name of new adopters.
Thanks,
@steemmatt