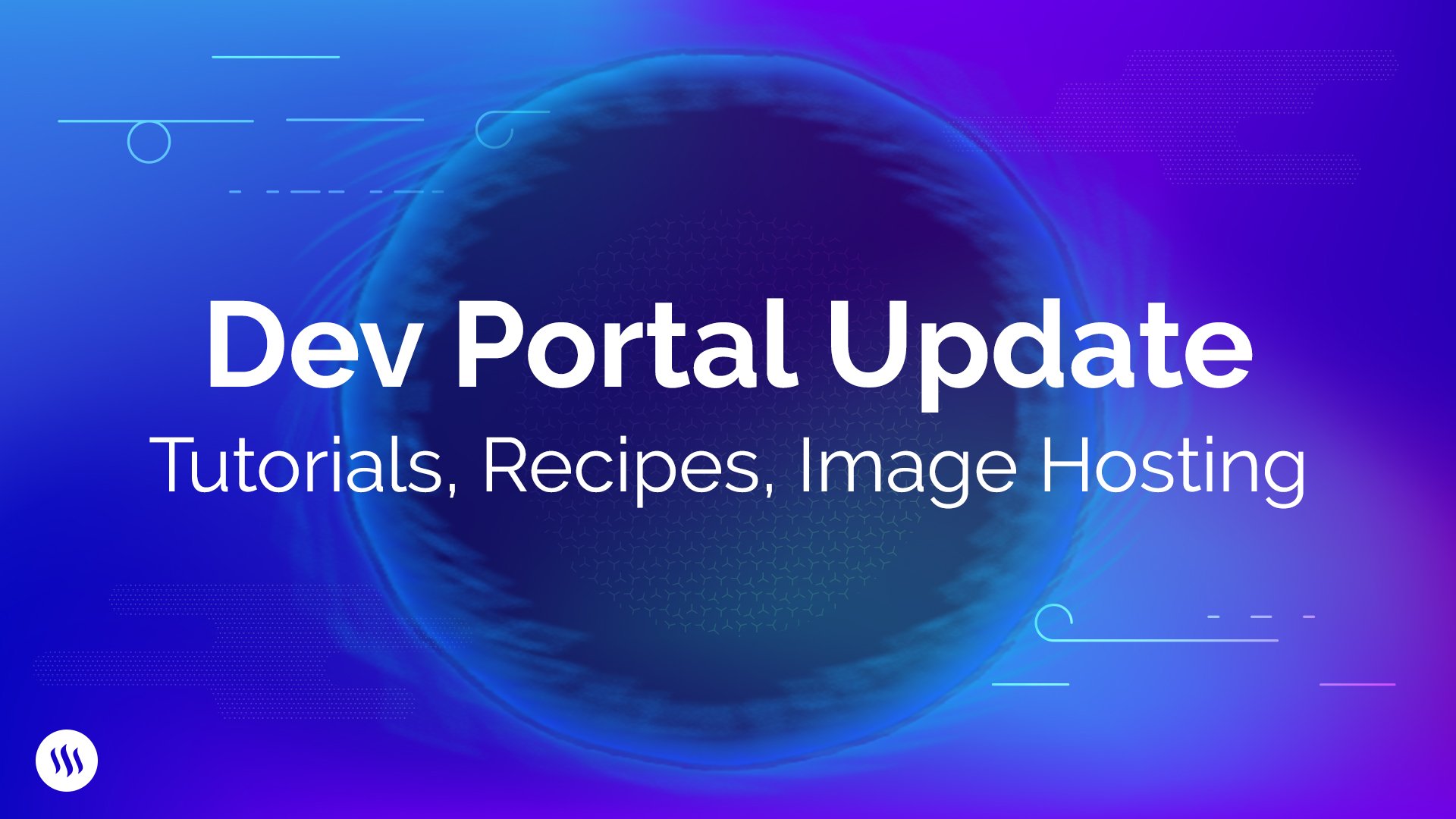 In our previous Dev Portal Update, we described our expanded documentation on Jussi, how Community Contributions work, our improved tutorial structure, and the new Recipes section.
In this update our primary focus was adding new tutorials. We also improved our API definitions, added ImageHoster information, improved mobile support, and completed other minor tweaks.
Tutorials
We added 18 new tutorials. Seventeen of those are Javascript and Ruby. In addition, the beginning of every tutorial now has a link to the executable GitHub repo and a link to the tutorials directory within that repository.
Each tutorial outlines a specific task such as "get all posts by an author" or "claim rewards." These tasks are perfect for developers who want to create a new front-end or improve automation on existing products. We plan to keep adding more solutions to common problems to make it even easier for developers to quickly build amazing applications.
We want to help developers understand these tasks rather than leave them to reverse-engineer the tasks in isolation. Hopefully by fully documenting the most common functionalities, even developers seeking to leverage different languages will find these tutorials helpful.
API Definitions
The API Definitions page lists every method available to developers for accessing the current state of the blockchain. The entire list of methods is broken up into namespaces and listed here: https://developers.steem.io/apidefinitions/
In this update, the definitions now include more detail such as the hardfork, in which a particular method was first introduced, as well as which methods are disabled. Under the hood, we're using steem-ruby to evaluate the current methods, which is much faster than before because it uses json-rpc-batch to get the method signatures.
Image Hoster
We believe that Steem is the best blockchain protocol in the world for powering web applications, and we want to maintain that status by making it even easier for developers to delight their users with amazing experiences. Hosting images is one example of a seemingly simple aspect of every website that is critical for creating a great user experience. That's why we've added documentation for running and using ImageHoster to the Services section. This will be helpful for developers looking to host and proxy images in their own front-end applications.
Improved Mobile & Other Updates
The site's mobile navigation has been improved with a functional "hamburger" (☰) element, as well as "back to top" footers to keep your thumb from cramping up.
We also added SteemConnect4j to the community resources section, which is a software development kit for interacting with SteemConnect in Android products.
---
As always, the Steemworks team is working hard to make sure that Steem does too. We'd love to hear from you. Drop in on the SteemDevs discord chat or by email to Steemit's Developer Advocate at da@steemit.com, with the subject line "devportal - $subject".
Steem On!
Steemworks Team