Here's me as Commander Shears, U.S. Navy.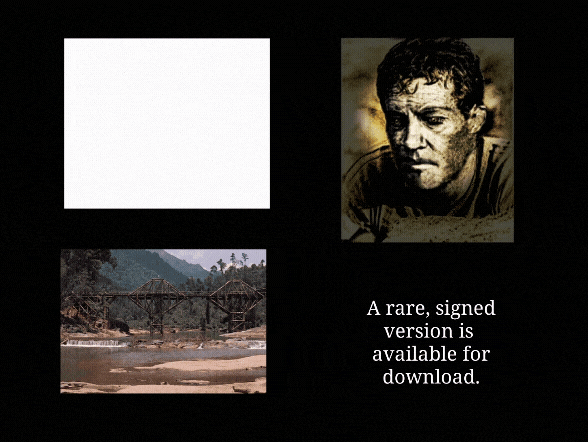 "CDR Shears".gif
"A rare, signed, higher resolution and non-watermarked version of this image is available for download at: https://creary.net/digitalart/@jaichai/cdr-shears-the-bridge-on-the-river-kwai-movie-fan-art
The Bridge on the River Kwai is a 1957 epic war film directed by David Lean and based on the 1952 novel written by Pierre Boulle.
In early 1943, a fresh contingent of British POWs arrive at a Japanese prison camp in Thailand, led by Colonel Nicholson.
One of the inmates he meets is Commander Shears of the U.S. Navy, who describes the horrific conditions.
Nicholson forbids any escape attempts because they were ordered by headquarters to surrender, and escapes could be seen as defiance of orders.
Dense jungle surrounding the camp renders escape virtually impossible.
(Source: https://en.m.wikipedia.org/wiki/The_Bridge_on_the_River_Kwai)
May you and yours be well and loving life today.
In Lak'ech, JaiChai
(JaiChai 2022. Simultaneous multi-site submissions posted. All rights reserved.)