Utility:
The state of being useful, profitable, or beneficial.
Currently, the "marketcap" for all cryptocurrency projects is over $130 billion. I'm using air-quotes there because we don't really know how much of that value is real. What percentage of token holders could drive down that number if they decide to liquidate for some other form of value like fiat currency, gold, or silver? How much of that value is real and exchangeable for other goods and services?
If you've been following my blog for any amount of time, you know I'm a huge fan of cryptocurrency and somewhat of a hopeful optimist. I'm also attempting to be a realist in terms of using reason, logic, and evidence to directly impact my understanding of reality. When I see ICO projects raising tens of millions of dollars in "value" in moments, I have to wonder, is this for real?
I get how much value is escaping the fiat currency system and how almost any blockchain-based value token is a better form of money (i.e. a better ledger which, at its core, is what money actually is). But I can't help but notice what happens when the hype around a cryptocurrency project dies away, and we're left to evaluate its actual utility at accomplishing stated goals.
When this happens, speculators turn into investors. They turn off the wishful thinking and start making more rational comparisons to other players in the space both inside and, importantly, outside the cryptocurrency scene. Once a project starts actually doing the thing it claims to disrupt within a market vertical, we can no longer pretend it will be world-changing unless it actually is changing the world.
I'll give two examples to illustrate my point. Right now, from my perspective, two cryptocurrencies are clearly delivering on their stated promises with a proven track record of success: BitShares and STEEM.
BitShares is a fully-functional, decentralized exchange with self-funded, ongoing development, multiple levels of security, and great flexibility for creating all kinds of secure tokens either as pegged or free floating value assets. Many of the promises made by other up-and-coming decentralized exchange projects can be seen right here which forces us to ask the question: how valuable is this as a real market service? Who's wiling to pay for it and how much will they pay?
BitShares is currently trading for less than $0.08 and is 28th on coinmarketcap.com.

Speculators will have a much more difficult time telling new stories about how BitShares will disrupt the world because the reality is already up and running. Now it's just a matter of deciding what we're going to do with it and whether or not those actions provide enough value to justify a high token valuation.
STEEM is also delivering on its promise with ~40k accounts active in the last 30 days. This system is functional right now. It's no longer a promise of some idea at some point in the future. We can now evaluate it against existing competitors in the space such as Facebook, Twitter, Medium, Reddit, and the like. We can ask questions like, "How well does it hold up? How much utility is it providing?"
STEEM is currently trading at $1.13 and is ranked 21st on coinmarketcap.com.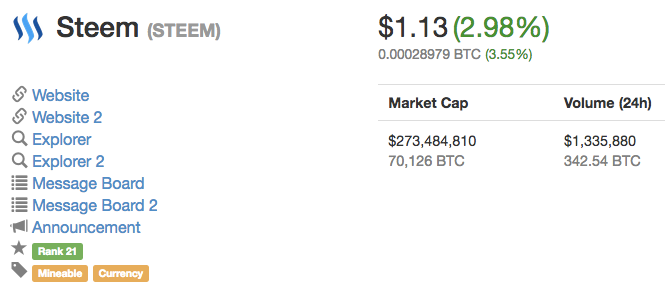 Like BitShares, it can process thousands of transactions a second and has super quick blocktimes (only 3 seconds!). STEEM also has completely free transactions! Compared to many other cryptocurrency projects, it is technically far superior. So why the low price? Why are there so many other projects with higher valuations that haven't really done much yet but promise great things in the future?
Could it be we love the promise of future disruption and avoid the reality of current utility?
Even Bitcoin, the cryptocurrency flagship, has to deal with the gap between perception and reality. As a tool for the unbanked or a cheaper/faster remittence system or a consumer banking and payment platform alternative, it's currently coming up short. The fees are too high, the transfer time is too long, the global adoption by merchants is too low, and the conflict with governments seems to be increasing daily.
And yet, I still agree with Rick Falkvinge's 2013 post: The Target Value For Bitcoin Is Not Some $50 Or $100. It Is $100,000 To $1,000,000.
Bitcoin certainly has hurdles to overcome – scalability and usability being two of them – but it has done remarkably well in maturing in the two years since I started looking at it. My prediction of a mainstream breakthrough around the year 2019 remains, and it still depends on getting mainstream usability; a target market cap may be reached about a decade after that happens, as a technology typically takes ten years from mainstream breakthrough to maturity.
We're still dealing with scalability and usability issues more than 4 years later. And yet, the price is no longer $41, as it was in 2013 when that was published. Today it's $3,800+.
How much of that is again pricing in future value? How much of that is based on actual utilty today?
These are some tough questions we should be asking ourselves. In many ways, the markets are not rational and neither are we humans. Things will be all over the place as we play our games of hopeful optimism and irrational exuberance. At the same time, when the dust settles and fiat continues to noticably decline in purchasing power, we'll have to ask ourselves, where do we want to be?

While there's great speculative money to be made as ICO projects rise and fall, I also think there's wisdom in storing your long-term value in demonstrated real-world utility. Eventually, the speculators will have to find shelter somewhere. The comparison between the cryptocurrency markets today and the Internet dot-com bubble of 2000 is a good one. Do you want to be wrapped up in a pets.com speculative investment or backing the next Google or Amazon?
When making your investing/speculation decisions, keep utility in mind. Find projects you're excited about because they meet real needs. Eventually, I think you'll be glad you did.
What do you think about the cryptocurrency space when it comes to utility and value?
I'm adding the #discussion tag based on a recent post by @timcliff because great discussion here really does separate this platform from many others.
---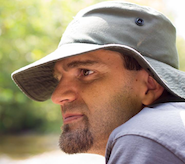 Luke Stokes is a father, husband, business owner, programmer, and voluntaryist who wants to help create a world we all want to live in. Visit UnderstandingBlockchainFreedom.com







I'm a Witness! Please vote for @lukestokes.mhth