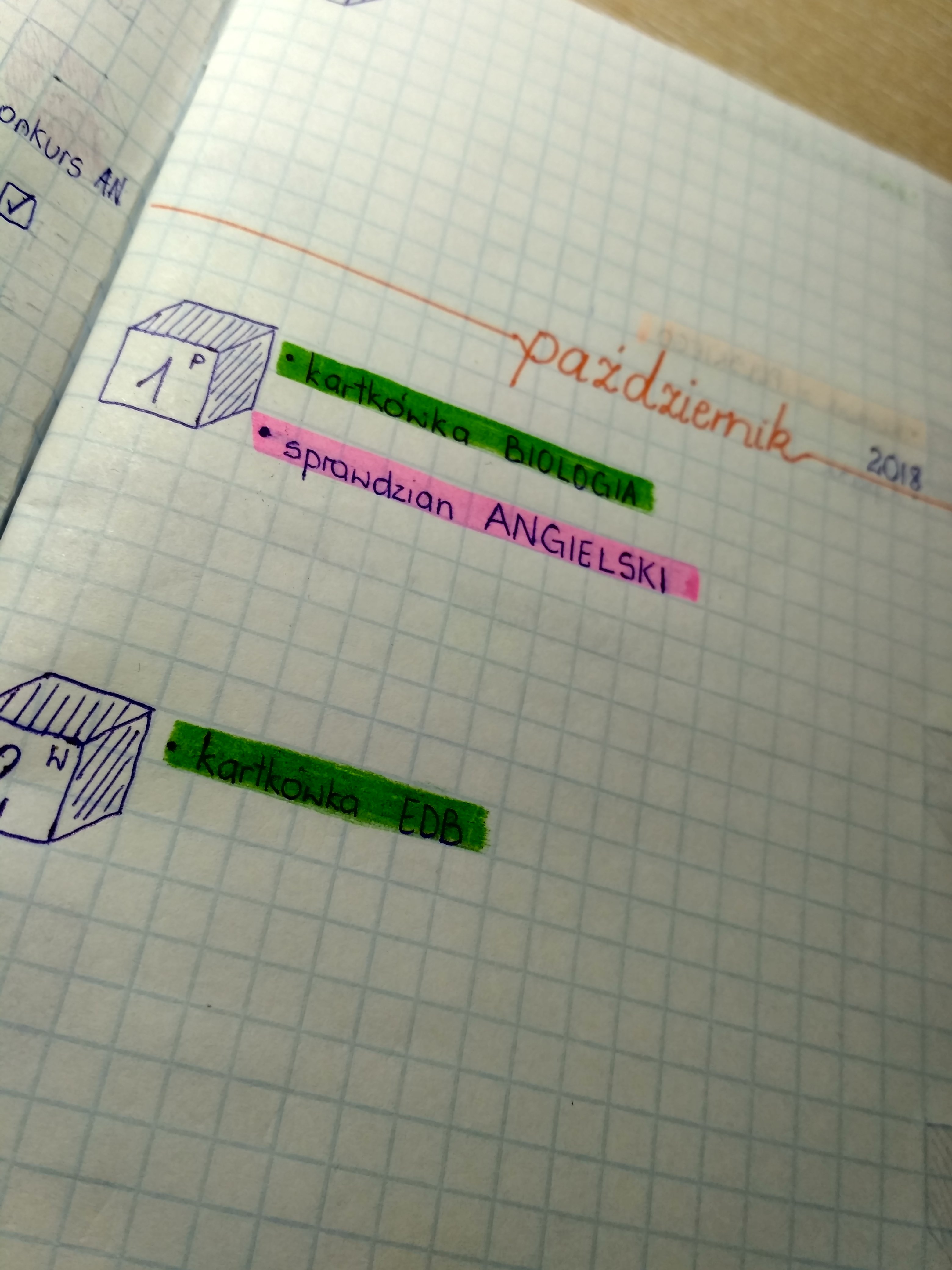 Cześć!
Dzisiaj przyszłam do was z pomysłem na szybki, minimalistyczny, tani PLANER! Na wszelkich rynkach jest mnóstwo planerów, lecz u mnie się one nie sprawdzają. Skupiam się wtedy na tym, aby go ładnie uzupełniać, bo wydałam na to ciężko zapracowane pieniądze. Zresztą, połowa z tego planera mi się w ogóle nie przydaje. Ostatnio chciałam bardzo, aby w moim życiu wreszcie zagościł ład, dlatego stworzyłam sobie właśnie taki planer.
• Co musisz mieć, aby go stworzyć?
zeszyt ( byle jaki )
długopis
cienkopisy, kredki ( cokolwiek do malowania )
karteczka samoprzylepna
• Jak zrobić?
Otwórz zeszyt na stronie od której zaczniesz, weź długopis i narysuj sześcianik, aby zmieścić w nim datę i dzień tygodnia. Ja zrobiłam to tak ⬇
Masz zrobiony już jeden dzień! Jeśli jednak chcesz, zrobić od razu cały planer, radzę Ci go troszeczkę ozdobić, na przykład kolorowe miesiące? Ja zrobiłam to tak ⬇

Świetnie! Teraz wystarczy wykorzystać jeszcze do czegoś twoje sześcianiki. Zróbmy wykaz samopoczucia!
Ja wybrałam 3 kolory i podzieliłam na:
dzień prodyktywny
dzień średni
dzień słaby (mało produktywny)
Chodzi tutaj o to, że gdy wykonacie wszystkie, prawie wszystkie lub żadne zadanie podsumujecie sobie cały dzień.
Moim zdaniem ten planer jest świetnym pomysłem dla osób które chcą od dzisiaj zacząć planowanie, a nie mają planera, który ma wszystkie rzeczy ( przydatne lub nie ). Warto poświęcić to 10 minut, dzięki którym każdy wasz dzień będzie zaplanowany i zaoszczędzicie pare godzin.
Zapraszam was również do wszelkiej aktywności na moim profilu!
Cześć!
Hey!
Today I came to you with an idea for a fast, minimalistic, cheap PLANER! There are a lot of planners in all markets, but they do not work for me. I am focusing on completing it nicely because I spent a lot of hard-earned money on it. Besides, half of this planner is not useful at all. Recently, I wanted very much to make my life come true in my life, that's why I created such a planner.
• What do you need to have to create it?
notebook (anyhow)
pen
finials, pencils (anything to paint)
sticky note
• How to make?
Open the notebook on the page from which you start, take a pen and draw a cube to fit the date and day of the week. I did it so ⬇

You have already done one day! However, if you want to do an entire planner right away, I suggest you decorate it a little, for example colorful months? I did it so ⬇
Excellently! Now, just use your cubes for something. Let's make a list of well-being!
I chose 3 colors and divided them into:
productive day
average day
weak day (not very productive)
The point here is that when you do all, almost all or no tasks, you will sum up the whole day.
In my opinion, this planner is a great idea for people who want to start planning today, and do not have a planner that has all the things (useful or not). It is worth spending 10 minutes, thanks to which every day of your day will be planned and you will save a few hours.
I also invite you to any activity on my profile!
Bye!