Source
Decentralized Finance is receiving a great deal of attention. The growth it saw in 2019 was astounding. This carried on into the early part of 2020.
Most of the Decentralized Finance (DeFi) applications are located on Ethereum. There is now over $1 billion in DeFi, much of it received in the last year.
Charlie Lee, the founder of Litecoin, is not very impressed. He came out harshly against it. This was triggered by the attacks on the bZx Fulcrum protocol. During that attack, someone was able to trick the protocol into forking over $350,000.
Equally as disturbing is the attacker was able to use an "Admin" key to access over $600,000 in Bitcoin that was not taken.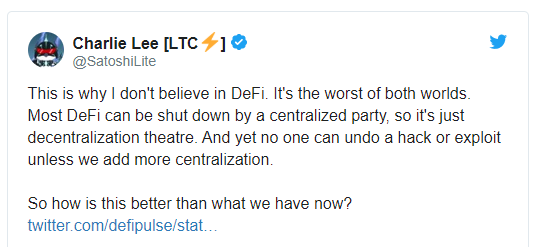 Dlease provides decentralized financial services on the Steem blockchain. Unlike most of the DeFi that is out there, the keys are never turned over. This means that one is in full control of the asset at all times.
This is in stark contrast to what takes place on Ethereum. Most of those DApps require one to put up the tokens, similar to an exchange. In this situation all control of the assets are lost. The trust that comes from blockchain is now in the hands of a centralized entity. As the bZx episode once again shows, outside entities cannot be trusted fully. Hacks that occur put your assets at risk.
Dlease offers more protection since it is true peer-to-peer lending. Steem Power holders are not dependent upon Dlease for the security and protection of their asset.
Using staked tokens that are delegated is a much safer approach. The tokens are always in possession of the lessor while the lessee receives the utility and influence benefit.
Non-payment is also not an issue since the delegation can be revoked at any time. This protects the lessor from having to remain exposed to a bad agreement.
Cryptocurrency is repeatedly showing how true the mantra "not your keys, not your tokens" is. Dlease looks to provide solid decentralized financial services based upon peer-to-peer interaction.
Many feel the problems with DeFi are not going to improve any time soon. In fact, there is a line of thinking that says it will get worse before it gets better.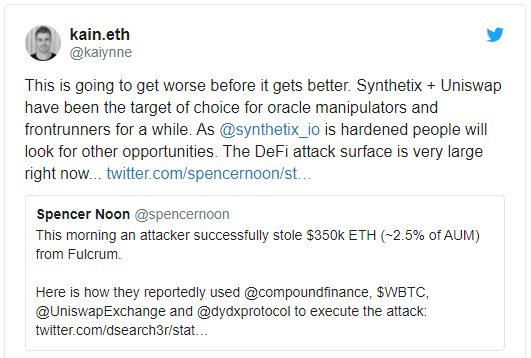 Unlike the counterparts on Ethereum, Dlease does not have these issues. Being a peer-to-peer system where token holders maintain control of their keys at all times makes it a much safer choice.
All this in addition to providing better returns than most of the alternatives.
---
---
---
---
| Visit our website for more! | Subsribe to our YouTube Channel |
| --- | --- |
| | |
Set it up today and contribute to building a better tomorrow!


( Want an easier way? Use our SteemConnect proxy link! )


Get support and connect with us and other BuildTeam fans!



---
Disclaimer: This is a @steemvoter subscription payment post. Thank you to Steemvoter customers for allowing us to use your Steem accounts to upvote this post by virtue of your free subscription to the Steemvoter.com curation automation service. @steemvoter is proudly a @buildteam subsidiary and sister project to @dlease, @tokenbb, @ginabot, @steemsports, @btuniverse, techinvestor.io, @steemsports-es and @minnowbooster.